DAF respects your privacy. We use cookies for a variety of purposes, such as website functionality, improving your experience of our website, building integration with social media and helping target marketing activities within and beyond our website. By continuing your visit on our website, you are consenting to our use of cookies. However, if you want to customize your cookie preferences, click on 'Change settings' below. You can withdraw your consent at any time. For more information, please visit our Cookie Notice.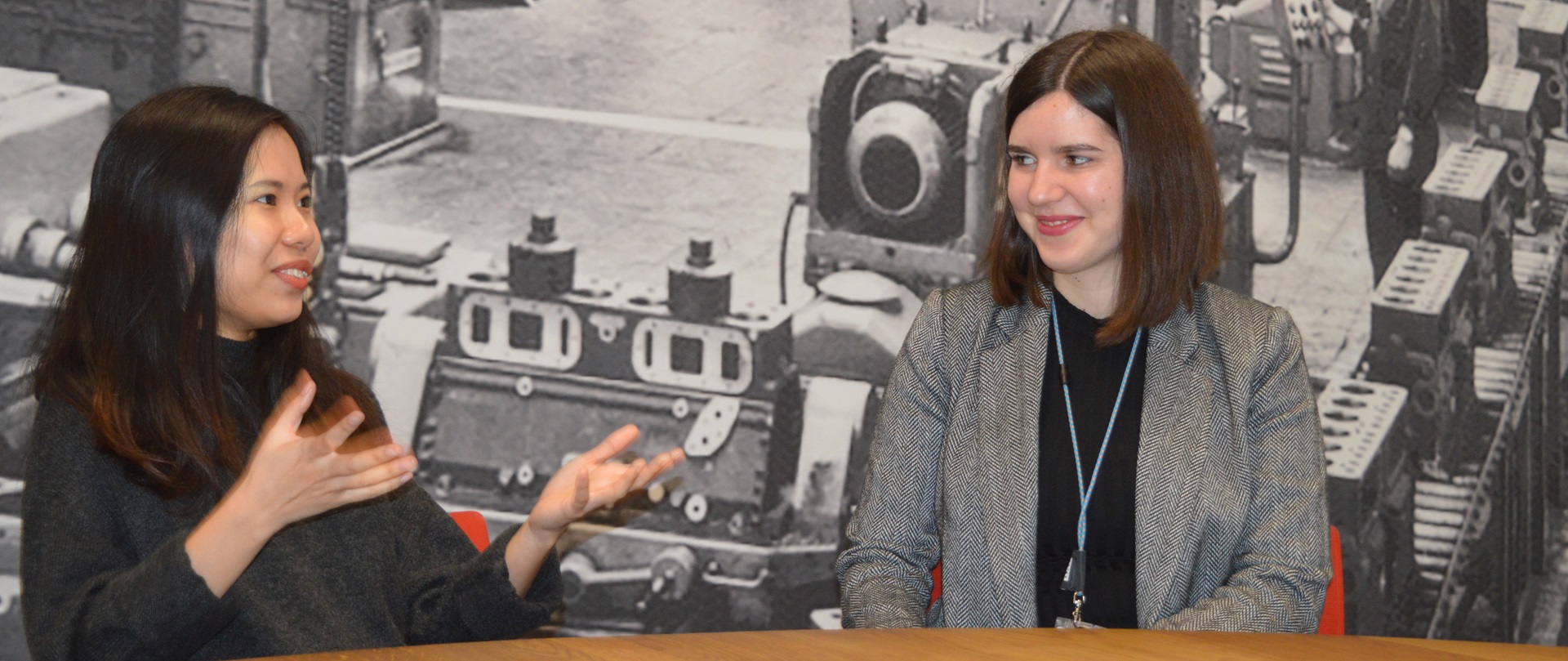 'The mindset at the DAF Digital Technology Center is very modern.'

Technology is getting more and more significant in trucks. Therefore multidisciplinary teams work together on digital solutions in the DAF Digital Technology Center. One example of a solution like this is DAF Connect. DAF Connect is the innovative connectivity solution for truck owners and provides them with data-driven insights of their DAF truck(s). Paula (Heinrich Heine University) and Ngan (Fontys Hogeschool Marketing, Eindhoven) got the change to do their assignment at one of those teams and became part of the DAF Connect team. They received the task to carry out two projects as part of their internship. According to their manager Meral Kilinc the results of the students were above and beyond what was expected.
What kind of projects did you work on during your internship?
Paula: One of the projects was focused on the internal organization. Here, the challenge was to initiate and implement an internal communications campaign targeting directors and middle management from five key departments. The result was a seminar that was attended by the targeted group.
Ngan: We also worked on a project that had an external focus. Here we had to create a campaign that targeted DAF dealers and promoted DAF Connect. We created a pack of seven visuals that were adopted by the Marketing department and will now be added to DAF company owned dealers marketing packs.
What were your experiences of working at DAF as an intern?
Paula: The atmosphere is very open at DAF. You are not seen as an intern but as a co-worker. It's very natural and not forced. There is space for a personal touch.
Ngan: You are in the same room with the senior individuals. There is no hierarchy at DAF Connect.
Within our department, there is freedom in development. But to make things happen, that means you have to be self-disciplined..
We started with these independent student projects with no pressure for an end result as the process would already be a learning opportunity, so we were free to develop and have ownership of our ideas.
The mindset at the DAF Digital Technology Center is very modern. More and more you see that we are talking about the end user, the end customer and not only about the trucks. The focus on the customer is becoming clearer. You can feel that DAF the premium brand is taking shape as 'truck as a service'.
We also had open brainstorming sessions about Connectivity. Together with our managers Meral Kilinc and Jorg Wijnands we went to Amsterdam and were inspired by several developments that we could translate to our service, DAF Connect. What does the customers want or expect from us? How can we engage with our customers? It was an incredible and creative way of thinking out-of-the-box that helped us to develop new ideas for future projects.
How is it like to work as an international student in a Dutch organization?
Ngan: There is freedom to speak up. Colleagues will ask me for my opinion, even when it is not directly a positive view for the company. Where I come from it is not usual to talk with directors without allowance of your manager. Here at DAF everybody is equal.
Paula: Everyone around us speaks English and that is typical for the Netherlands. You see this also in the behavior of colleagues: they are open and willing to listen to new ideas and be challenged. The Netherlands is much more open than, for example, Germany where I come from. I know a number of larger German companies and the English language is not yet the official language there.
What are your next steps?
Paula: I do not know what I am going to do in the future. After my internship at DAF, I will focus on my master at Tilburg University. And maybe I will come back to trucks?!

Ngan: I will start a minor at Fontys on digital business in Scandinavia, which I am excited about.
Last words about your internship at DAF?
Ngan: The project we are working on will go on. Therefore, I am curious what will become of this baby that I helped bring to life. There is opportunity for this to grow further and I believe it will continue and become part of DAF's regular business.
Paula: Bittersweet! It's been a really good experience.