DAF respects your privacy. We use cookies for a variety of purposes, such as website functionality, improving your experience of our website, building integration with social media and helping target marketing activities within and beyond our website. By continuing your visit on our website, you are consenting to our use of cookies. However, if you want to customize your cookie preferences, click on 'Change settings' below. You can withdraw your consent at any time. For more information, please visit our Cookie Notice.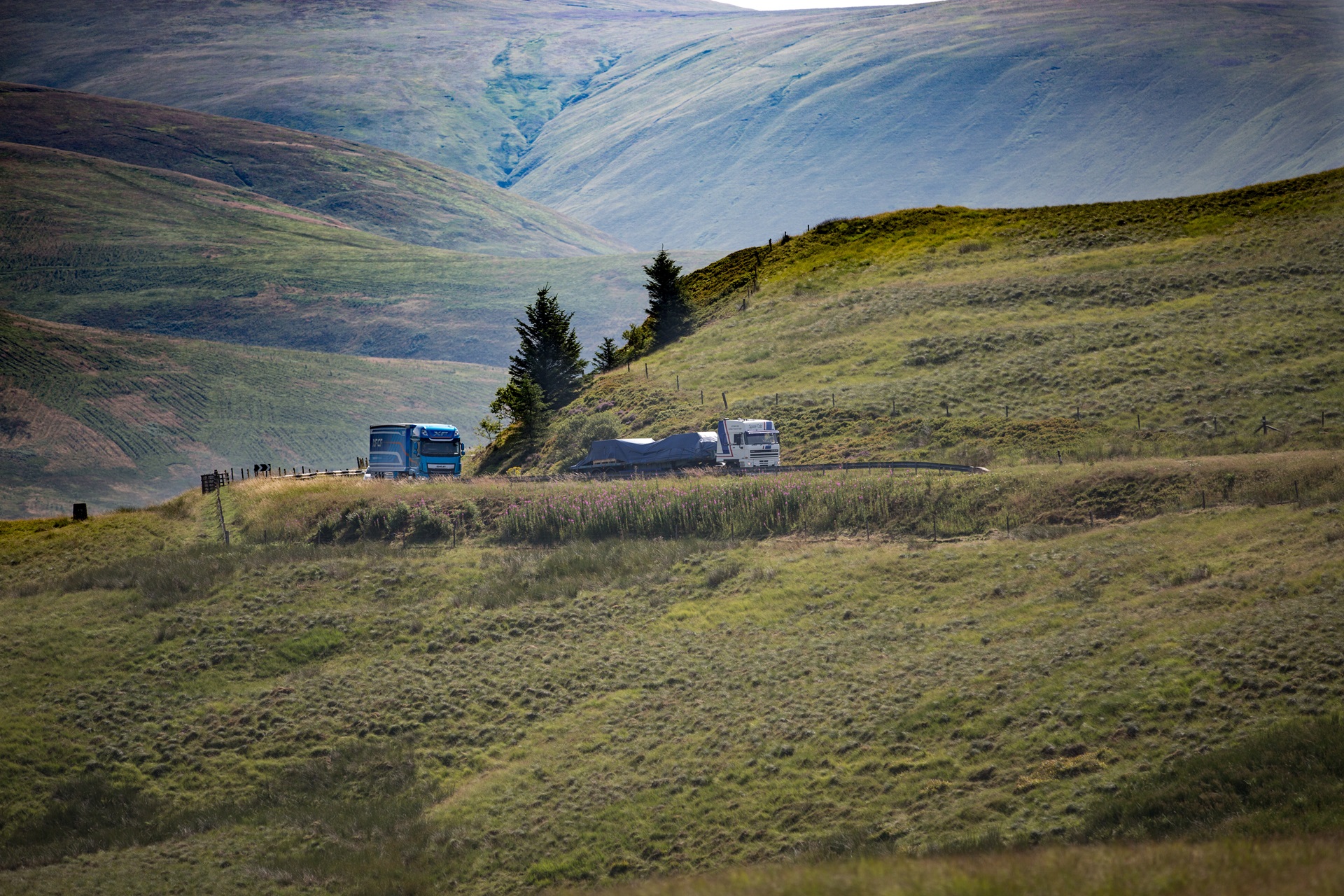 Double Dutch
The new XF vs DAF 3300
Brian Weatherley compares a 3300 with its latest 21st century counterpart.
It started with a phone call. "We're giving journalists the chance to drive an old DAF 3300 Space Cab in Scotland and compare it with a new XF 530 Super Space Cab. How would you like to join us?" My history with DAF goes way back. The very first truck I ever drove, even before I got my HGV licence, was a DAF 2500 on a test track. After two laps I was hooked. Then, after I passed my HGV driving test in 1986, the first 'proper' artic I tried was a beautiful black-painted DAF 2800 demonstrator. Right from the start I've always thought that DAF made 'friendly' trucks and 30 years, on I still think that. So I was keen to relive past glories by piloting a classic 3300 with its 330hp ATi engine and iconic Space Cab, but would the rosy-glow of yesteryear still be as I remembered it?
"There's one more thing" said the voice on the 'phone. "We're shooting a video of the event and want you to present it!" What did they want me to say? "Just talk about the history of the 3300 and the new XF and the things they have in common." Well both are perfect examples of DAF listening to what
drivers and operators want from a truck—and building it. So I duly did my bit in front of the two tractors, before offering some on-the-road comments in the 3300.
How different IS a DAF 3300 from a new XF? In truth, they're worlds apart, though that's hardly surprising. The new XF represents three decades of constant product improvement. It's DAF's best XF ever. Green, quiet, powerful, frugal, comfortable, spacious, serene…it's what a 21st century top-weight tractor should be. But didn't we say similar things about the 3300 when it broke cover in 1982, and two years later when Eindhoven launched its ground-breaking Space Cab and ATi engines?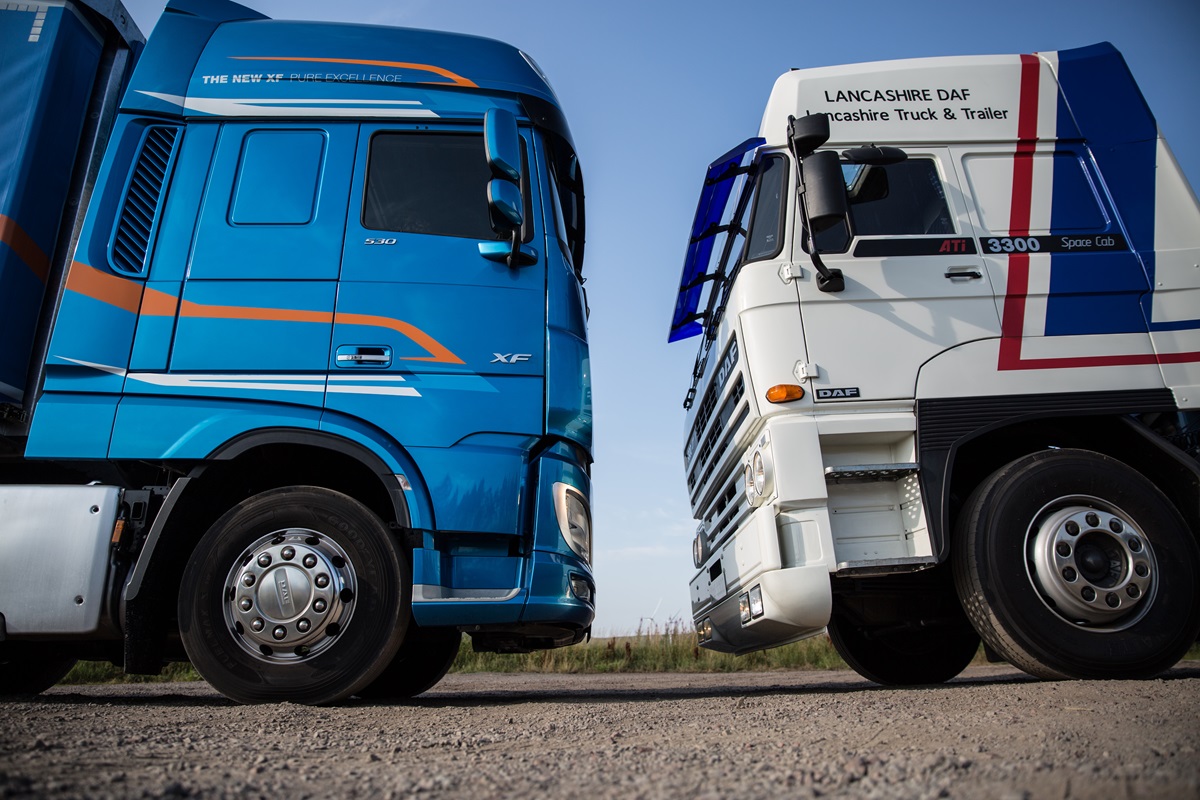 The new XF shows just how far we've come in 37-years. Sit in a Super Space Cab with the 'Exclusive Line' luxury trim package and you want for nothing. Its ergonomic dash and control layout ensures everything is perfectly placed, while DAF's MX-13 530 engine and TraXon 12-speed two-pedal auto, deliver an effortless drive at 44-tonnes—even over the toughest Scottish country roads.
Yes, but what about the 3300? Well it was always going to be a mismatch. Climb into the iconic Space Cab and you step back into a world where driver comfort was finally coming to the fore in truck design. Sitting down on the distinctly 'low-back' seat I reached for the steering column adjuster…only there isn't one! Back then drivers had to fit the truck, not the other way around like today. It's a real stretch too, to reach the crude slider controls for the heating and ventilation, set in the flat, utilitarian dashboard—not made any easier wearing a fixed (non-inertia reel) seatbelt! And as for the old-fashioned park brake on the engine hump: Ergonomics? What Ergonomics?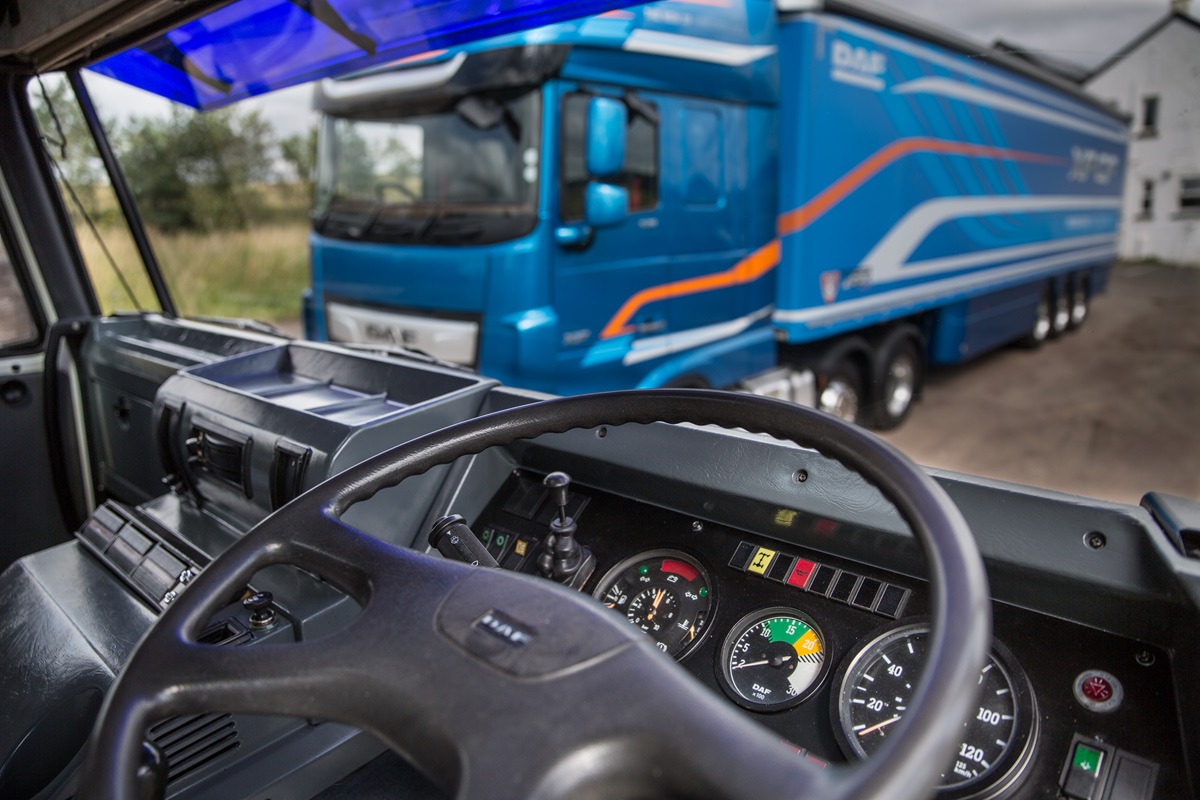 The sheer 'bareness' of the Space Cab also surprises me. Yes, it hasplenty of room, but apart from a couple of open-cupboards on thefront wall there's very little enclosed storage space and certainly noexternal-lockers. Compare that to the new XF and you can see whyDAF continues to set the standard for the best use of internal space ina top-weight tractor.
As for the driving 3300, cruisecontrol is your right foot and'secondary retardation' is aheel-operated exhaust brake,working a simple butterflyvalvein the downpipe. To get it working hard you need to get the11.6-litre engine's revs, and yellow shaded area in the centrallymountedrev counter helpfully shows where they should be. Inpractice, it works OK…'ish'. But it's no MX-engine brake!
It's a while too since I've needed my left foot in a heavy truck. Fortunately, ZF's 16-speed Ecosplit box is like riding a bicycle – you never forget how to do it. However, unlike the two-pedal TraXon in the new XF, gear-changing in the 3300 is strictly 'manual labour'.After two hours shoving the long lever back and forth we certainlyknew about it. It's all a far-cry from the new XF where you spend farless time 'physically' driving the truck, and more monitoring whatyou've asked it to do for you. The result is a calmer, less-tiring trip.

One thing you certainly can't miss in the 3300…the noise. Even when its 530hp MX-13 engine is pulling strongly it's whisperingly quiet inside the new XF's Super Space Cab. Shove your foot down hard on the throttle in the 3300 and the ATi engine's 'growl' echoes through yourears. Things have also moved on from the 3300's steering (not bad butnot great) and general ride too, though to be fair a lightly-ladensteel-sprung tractor was always going to be 'lively'.

After nearly three-hours driving the 3300 Space Cab, did I still yearn forthe good-old-days? It's ironic how far we thought the industry hadcome when the 3300 first appeared in 1982. Is it still a friendlytruck? For the occasional heritage run you bet, and fun too. Nostalgiadefinitely has its place in truck manufacturing, but given the choicebetween a 3300 and a new XF, no offence to the 3300 but I'll takeprogress every time!

Also interesting to read: