DAF respects your privacy. We use cookies for a variety of purposes, such as website functionality, improving your experience of our website, building integration with social media and helping target marketing activities within and beyond our website. By continuing your visit on our website, you are consenting to our use of cookies. However, if you want to customize your cookie preferences, click on 'Change settings' below. You can withdraw your consent at any time. For more information, please visit our Cookie Notice.
DAF Trucks in 2022: superb performance in a challenging year
European market leader in 6 European countries and in tractor segment
With a market share of 17.3% in the European heavy truck market and a total production of 68,000 units, DAF Trucks has set new records in 2022. These excellent achievements reflect the high demand for transport thanks to a strong economy as well as the impressive success of the New Generation DAF XD, XF, XG and XG⁺ series.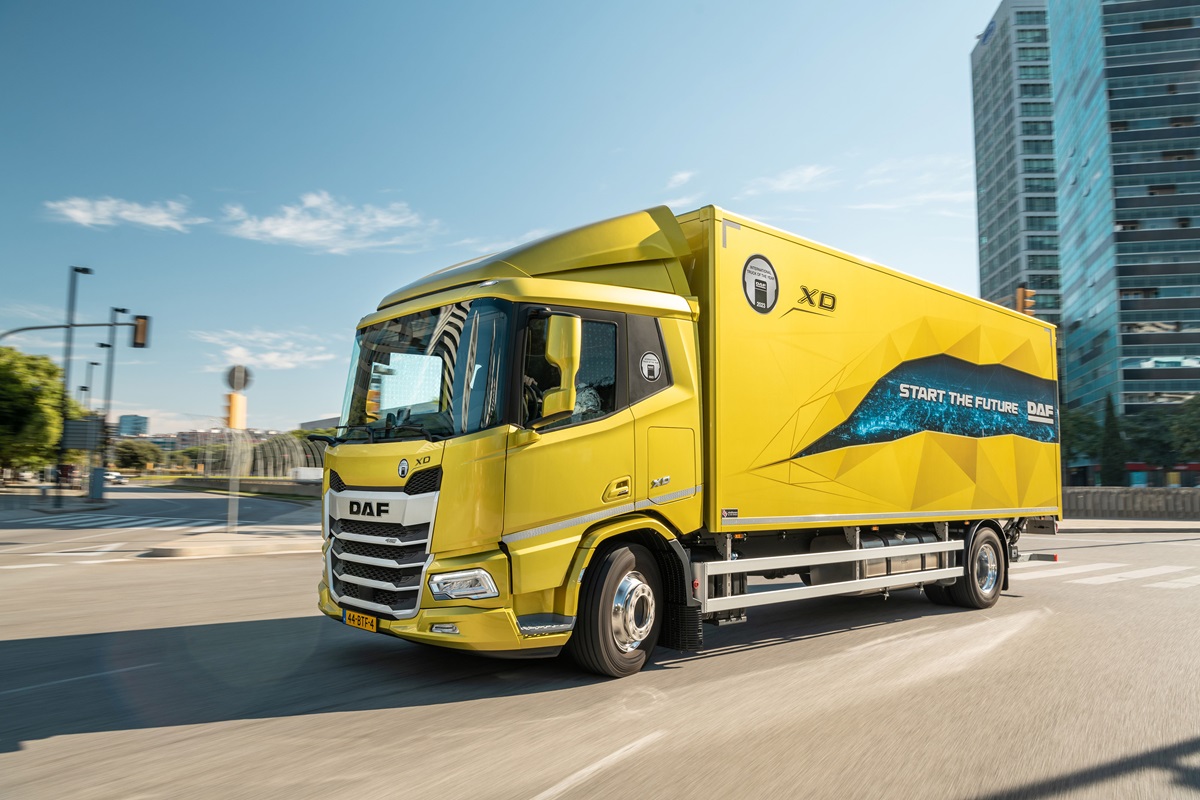 In 2022, DAF introduced its New Generation DAF XD series, representing a new generation of distribution and vocational vehicles. The versatile DAF XD sets new standards in safety, efficiency and driver comfort. As a result, the XD truck was awarded 'International Truck of the Year 2023' by an independent jury of leading European transportation journalists, succeeding the 'International Truck of the Year 2022' which was awarded to the long-haul DAF XF, XG and XG⁺ one year earlier.
At the IAA truck show, DAF unveiled a fully new generation of battery-electric XD and XF trucks with 'zero emission' driving ranges of 500 kilometers and which will enter production in April 2023. These will produced in a brand new Electric Truck Assembly plant in Eindhoven.
Record production of 68,000 trucks
Despite material shortages which impacted the entire automotive industry last year, DAF continued production and even increased build rates, which resulted in record production volumes last year. In 2022, some 56,000 medium and heavy duty CF, XF, XG and XG+ trucks came off the production line (49,000 in 2021) as well as some 12,000 LF distribution trucks (11,000 in 2021), setting a new production record.
Market leader in six European countries
DAF increased its European market share in the 16+ tonne segment to a record 17.3% (2021: 15.9%) and achieved market leadership in the United Kingdom (31.1%), the Netherlands (32.5%), Belgium (23.6%), Poland (22.4%), Hungary (24.4%) and Bulgaria (26.4%). DAF continued market leadership in the European heavy-duty tractor segment and is the leading import brand in Germany. In the light segment, DAF realized a market share of 9.7% (2021: 10.1%) and continued its market leadership in the UK (37.5%).
Sales outside Europe
DAF sold over 7,500 trucks outside the European Union in 2022. In Taiwan, DAF remained the heavy-duty market leader among European manufacturers. Record truck sales were achieved in Israel, Colombia, Ecuador and Australia.
20% growth in Component Sales
In 2022, DAF shipped more than 2,700 PACCAR engines to leading manufacturers of coaches, buses and special vehicles world-wide. This represents an increase of more than 20% compared with 2021 (2,250 engines). DAF started delivery of the first CF Military vehicles to the Belgian Armed Forces out of a total order of 879 all wheel drive vehicles – equipped with or without ballistic cab – which will be delivered up to 2025.
'Records, again!'
"A record number of new trucks were delivered with a DAF MultiSupport repair and maintenance contract", said Richard Zink, member of the DAF Board of Management with responsibility for Marketing and Sales. "This means that more customers are opting for maximum uptime support, both in terms of costs and vehicle availability." For the same reason, a record number of 1,100 transport operators are relying on the excellent services of PACCAR Parts Fleet Services. In addition, PACCAR Financial reached a record portfolio size and sold record number of used vehicles.
A promising 2023
"It is estimated that European truck industry registrations in the 16+ tonne market in 2023 will be in the range of 270,000 - 310,000 trucks", stated Harald Seidel, president of DAF Trucks. "With our full array of New Generation DAF XD, XF, XG and XG⁺ trucks and a complete series of Electric trucks, DAF is in an excellent position for yet another excellent year. Thanks to our industry-leading trucks and first-class services and together with our wonderful employees and professional dealers, we are ready for the next step in success."
Press Contacts
Are you a journalist and do you have a question? Please contact:
Rutger Kerstiens
Corporate Communications Department
For general questions about DAF, please use: