DAF respects your privacy. We use cookies for a variety of purposes, such as website functionality, improving your experience of our website, building integration with social media and helping target marketing activities within and beyond our website. By continuing your visit on our website, you are consenting to our use of cookies. However, if you want to customize your cookie preferences, click on 'Change settings' below. You can withdraw your consent at any time. For more information, please visit our Cookie Notice.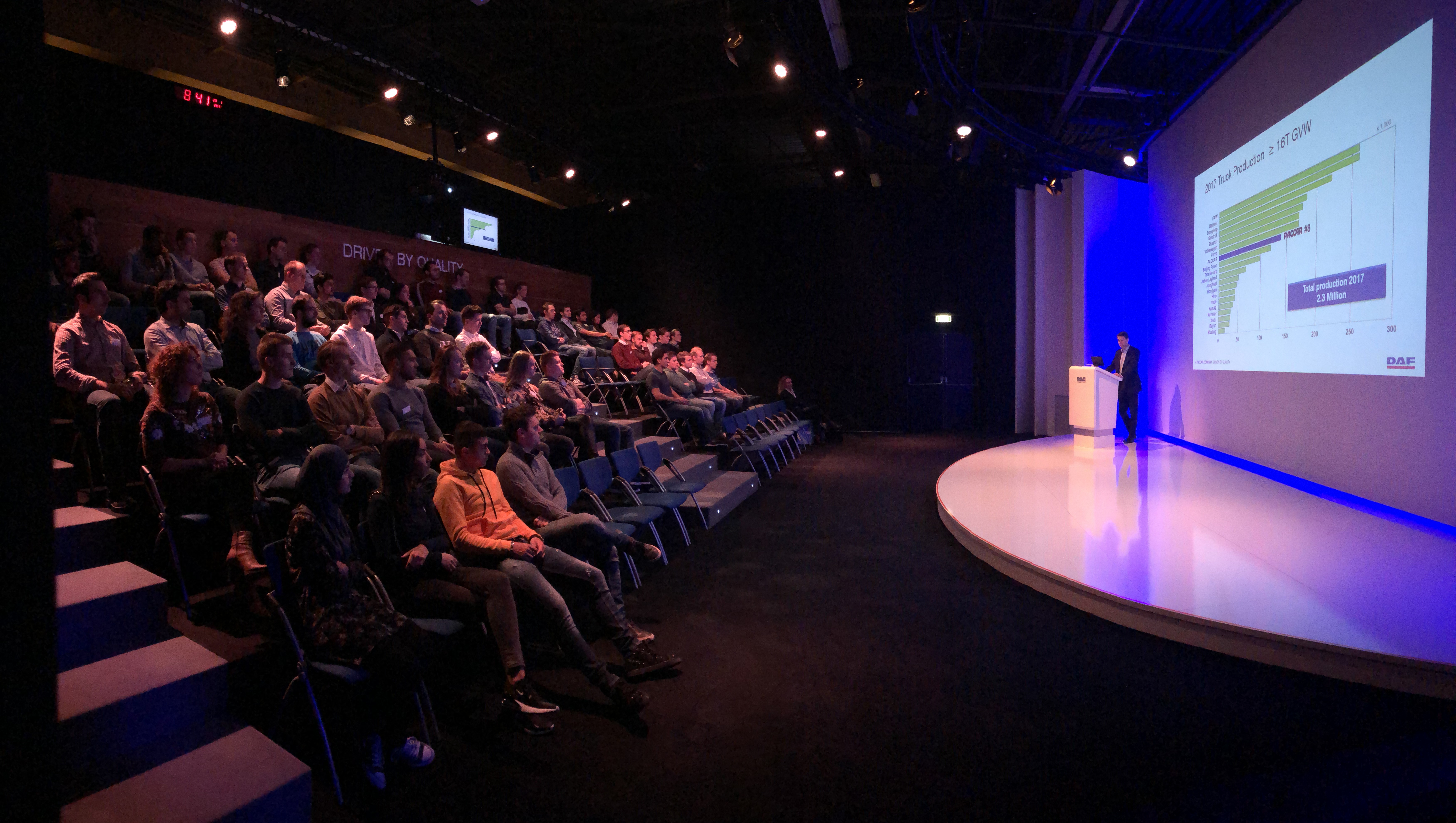 DAF Trucks develops not only the trucks of tomorrow but also develops the employees of tomorrow.
Every year, 150 students work as an intern or graduate student at DAF and are involved with the future developments of DAF. To involve the students even more with DAF and learn them more about our organization, the Student Day Event is organized every six months.
In November the Student Day Event took place. Early in the morning the students were welcomed with coffee and delicious pastries. You could see that they were excited and were curious what this day would bring.
The opening presentation was given by board member and Director of Operations, Jos Habets. He told the students more about DAF and the parent organization PACCAR. After that, the students were divided into 4 groups. All the groups got a tour through the production locations and were invited to the Engine Test Center, which is normally closed for public.
Taking the assignment of the afternoon into account, Loek van Seeters (Director Product Planning) and Caspar Lievaart (Director of DAF's customer and partner Jan de Rijk Logistics), gave more insight into the future of road transport.
The morning ended with a spectacular movie in the DAF Experience. The DAF Experience is a great location where the students got a nourishing lunch, in order to be completely energized for the afternoon program.
It was time for the assignment. The students needed to come up with an answer to the question: 'How should DAF enter into the future with a view to less C02 and electrical driving?' The teams consisted of students with a mixed educational background. They had two hours to work, to negotiate, to design and to prepare themselves to present their best ideas to the jury.
The jury consisted of board members, Jos Habets, Dick Leek and Loek van Seeters. There was one group unanimously chosen as the winner. Of course they were rewarded by the jury with a special prize.
During the cocktail hour at the end of the day, it turned out that the students were already 'professional' networkers and that they've learned a lot about each other and about DAF. We would like to thank the input of all the students and wish them good luck with their studies. Hopefully, we can welcome them as new colleagues in the near future!