DAF respects your privacy. We use cookies for a variety of purposes, such as website functionality, improving your experience of our website, building integration with social media and helping target marketing activities within and beyond our website. By continuing your visit on our website, you are consenting to our use of cookies. However, if you want to customize your cookie preferences, click on 'Change settings' below. You can withdraw your consent at any time. For more information, please visit our Cookie Notice.
New Generation DAF trucks ready for 100% HVO
90% CO₂ reduction 'Well-to-wheel'
In addition to the introduction of a complete series of fully electric trucks and the development of hydrogen technology, DAF is getting its combustion engines ready for new types of fuel to further reduce CO₂ emissions. HVO – Hydrotreated Vegetable Oil – is a biofuel of the latest generation that enables a reduction in CO₂ emissions of up to 90% and can perfectly be used in all New Generation DAF trucks.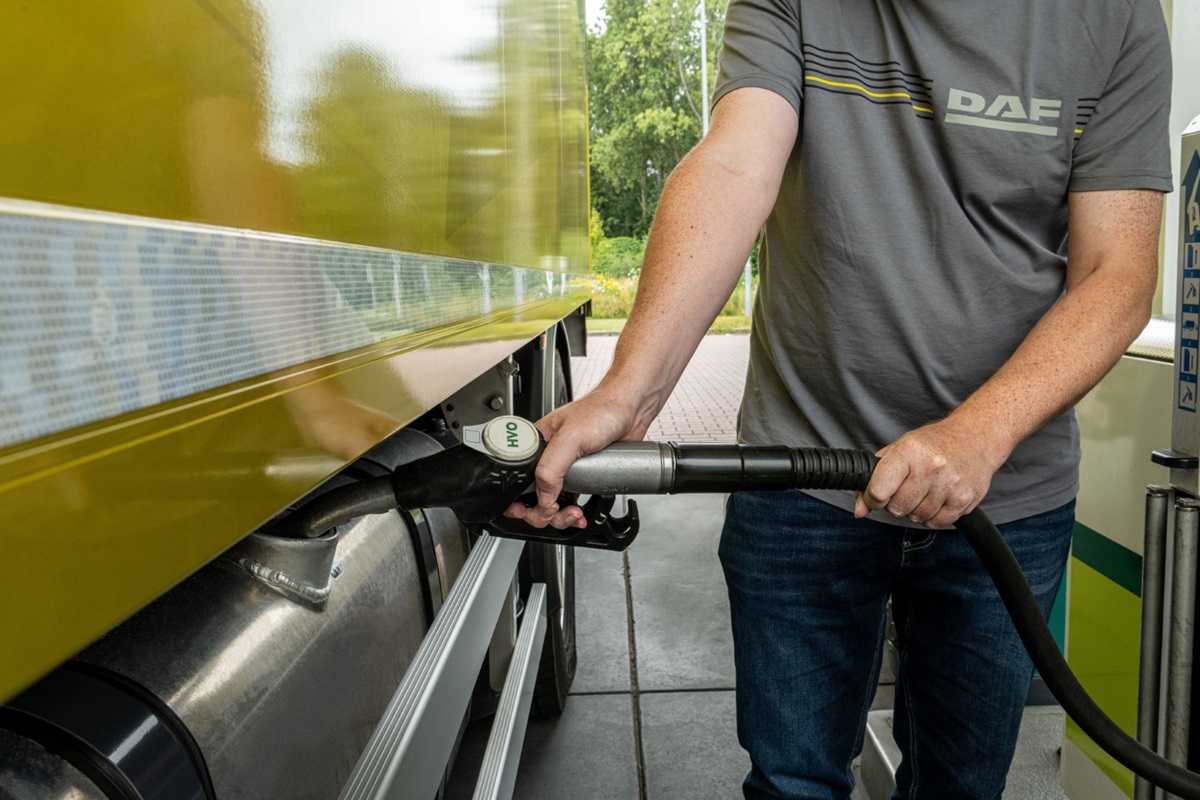 Hydrotreated Vegetable Oil (HVO) is made from waste products and fats from the food industry. It is currently the most sustainable fuel on the market for diesel trucks and offers a reduction of up to 90% in CO₂ emissions ('Well-to-wheel') compared with regular diesel. Unlike previous generations of biofuels, HVO has no impact on food production.

In addition to the environmental benefits, another important advantage is that HVO can be used in DAF trucks without any adjustments to the vehicles, while maintaining the trucks' excellent performance, as well as the service intervals of up to 200,000 kilometres for long-distance transport.


Suited for the full DAF product range
All of the newest generation of DAF trucks are ready to use 100% HVO, including the popular LF series for distribution transport, the versatile XD ('International Truck of the Year 2023') for distribution and specific applications and the 'top-of-the-range' XF, XG and XG+ ('International Trucks of the Year 2022') for heavy and long-distance transport.

"DAF is at the forefront of our society's ambition to reduce CO₂ emissions", according to Patrick Dean, chief engineer at DAF Trucks and member of the Board of Management. "In 2018 we were the first to launch a fully electric truck and last year we presented a completely new generation of electric trucks with 'zero-emission' ranges of up to 500 kilometres. We are also getting ready for the new generations of fuels. HVO is enabling us to make a giant leap in the reduction of CO₂ emissions, already today, with the current trucks on the market and more importantly 'well-to-wheel'. When it comes to CO₂ certification of trucks, it would be a huge step forward if European legislation would value the contribution of clean fuels to reduce CO₂ emissions, as we cannot afford to leave opportunities unused to achieve sustainable road transport. This should expand focus on the total chain – from energy source up to what's coming out of the exhaust – instead of focusing on 'tank-to-wheel' only."