DAF respects your privacy. We use cookies for a variety of purposes, such as website functionality, improving your experience of our website, building integration with social media and helping target marketing activities within and beyond our website. By continuing your visit on our website, you are consenting to our use of cookies. However, if you want to customize your cookie preferences, click on 'Change settings' below. You can withdraw your consent at any time. For more information, please visit our Cookie Notice.
Gábor Szabados from Hungary wins International DAF Driver Challenge 2022
15 candidates from across Europe compete at the Goodyear proving ground
Hungarian Gábor Szabados has been named 'DAF Driver Challenge Champion 2022'. In a thrilling international final at Goodyear's impressive proving ground in Luxembourg, 15 candidates from across Europe competed this weekend for the coveted title. Second and third places went to Pierre Emmanuel Huet from France, and Emanuel Mezei from Romania respectively.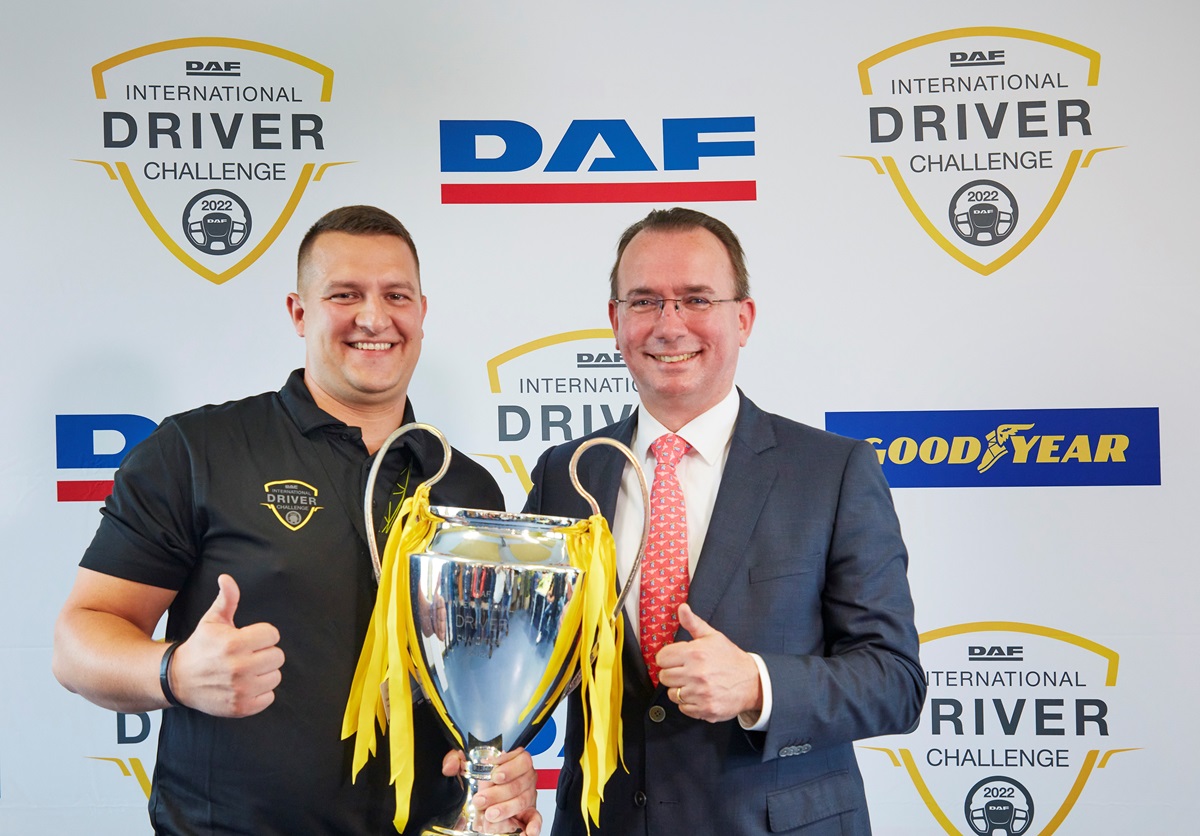 "I hardly can describe how happy I am right now", said an excited Gábor Szabados (32), who is a truck driver for Gogolak Gabor on a daily basis. "The competition was fierce. We all had to really push ourselves to the limits."
All driving tests were performed behind the wheel of the New Generation DAF truck series, including the brand-new DAF XD for vocational and distribution applications – revealed just two weeks ago and awarded 'International Truck of the Year 2023'. "The challenges, which included practical driving tests with trucks and trailers, were extremely tough and the exams that we had to take covering technology, legislation and regulations tested us to the limit," said Gábor. "Driving an electric truck was completely new to me – and I have to admit, I loved it!"
The best of Europe
With over 1,000 contestants in total, the DAF Driver Challenge competition began in 2021 with national events in 20 countries, leading to the international final last weekend, for which only the ultimate 15 best truck drivers made the grade. A jury carefully monitored the performance of the competitors at all stages.
'Truck drivers are true craftsmen'
Harald Seidel, DAF Trucks' president and chairman of the jury, noted: "An excellent truck driver needs a great skillset. This final has again confirmed that. Only those who combine knowledge, experience, skills, dedication and cool-thinking can boost the performance of their truck to its maximum. DAF really feels that truck drivers are true craftsmen and deserve to be on a podium!"
'It's the driver who unlocks a vehicle's potential'
Richard Zink, Director Marketing & Sales and Member of the Board of Management of DAF Trucks: "We build trucks that offer market leading efficiency, safety and driver comfort. However, it's the man or woman behind the wheel who unlocks a vehicle's potential. That's why we develop our trucks with the driver in mind. It was impressive to see Europe's best drivers demonstrating their exceptional skills behind the wheel of our award-winning vehicles."
Press Contacts
Are you a journalist and do you have a question? Please contact:
Rutger Kerstiens
Corporate Communications Department
For general questions about DAF, please use: