DAF respects your privacy. We use cookies for a variety of purposes, such as website functionality, improving your experience of our website, building integration with social media and helping target marketing activities within and beyond our website. By continuing your visit on our website, you are consenting to our use of cookies. However, if you want to customize your cookie preferences, click on 'Change settings' below. You can withdraw your consent at any time. For more information, please visit our Cookie Notice.
DAF XD awarded 'International Truck of the Year 2023'
'New truck series for vocational and distribution transport sets new benchmark'
DAF's New Generation XD series for vocational and distribution transport has been elected 'International Truck of the Year 2023'. Harald Seidel, President of DAF Trucks, received the most prestigious award in the transport industry tonight during an award ceremony at the IAA Transportation in Hanover, Germany. The XD series – including a full array of fully electric variants with ranges of over 500 kilometers on a single charge – was officially revealed at the IAA earlier today.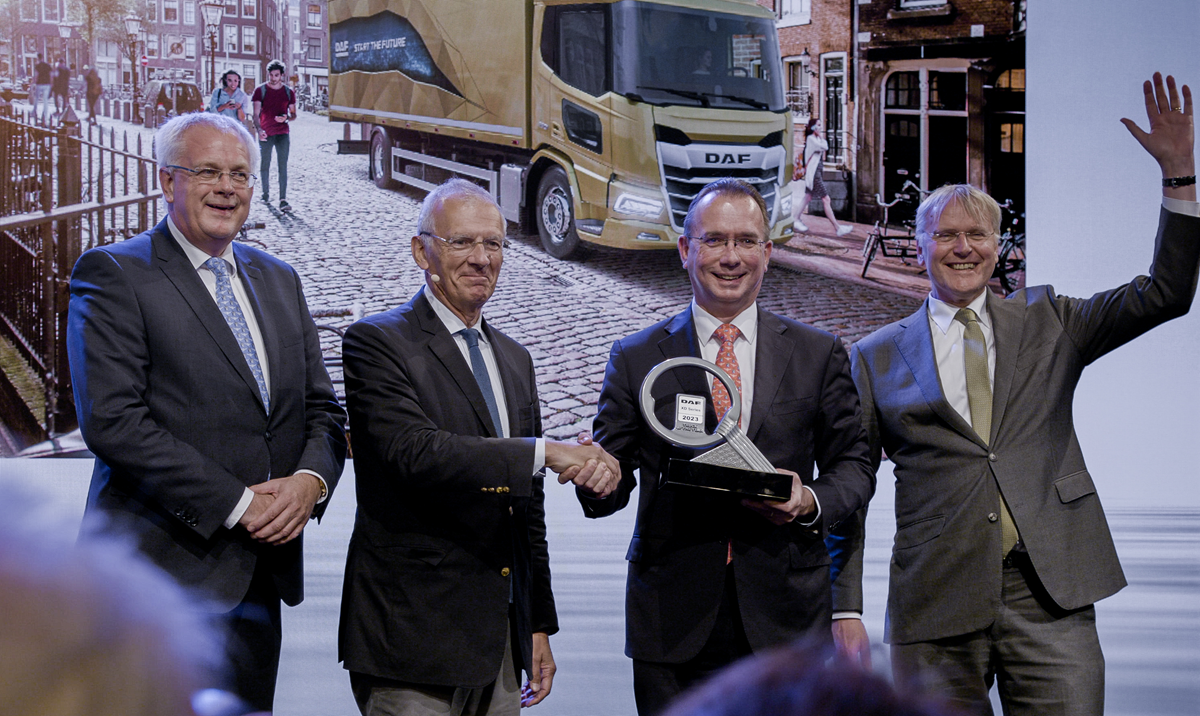 The New Generation DAF XD series was awarded 'International Truck of the Year 2023' by a jury of 24 commercial vehicle editors and senior journalists, representing 24 major trucking magazines throughout Europe. Just last year, the New Generation DAF XF, XG and XG⁺ series for long haul and heavy transport was elected 'International Truck of the Year 2022'.
Contribution to road transport efficiency
Based on the International Truck of the Year (IToY) rules, the annual award goes to the truck introduced into the market in the previous 12 months, making the most significant contribution to road transport efficiency. This judgment relies on several critical criteria, including technological innovation, comfort, safety, driveability, fuel economy, environmental 'footprint' and Total Cost of Ownership (TCO).
'New benchmark'
Summing up the jury vote, International Truck of the Year Chairman Gianenrico Griffini commented: "With the introduction of the new XD series, DAF has delivered a state-of-the-art distribution truck that sets a new benchmark in its class. The truck range significantly improves direct and indirect vision thus safety, a key factor for distribution vehicles. Also, the vehicle's efficiency and driver comfort are introducing a new standard in this segment."
All-around visibility
Griffini stressed that the IToY jury appreciates the driving position and the all-around enhanced visibility provided by a large, curved windscreen, side windows with low beltlines, and the optional kerb-view window. "These features - along with the corner view camera and the optional digital vision system that replaces the traditional main mirrors – improve safety of vulnerable road users in an impressive way."
Electric and diesel engines
In addition, the 24 jury members also praised the performance of the new, highly efficient powertrains of the XD, featuring the powerful PACCAR MX-11 engines with ZF TraXon automated gearbox with advanced predictive features. Also the announcement of a series of brand-new, fully electric powertrains impressed the jury committee.
'A wonderful recognition'
DAF Trucks' President Harald Seidel commented: "Winning the International Truck of the Year Award 2023 is a wonderful recognition for our DAF employees and dealers. It proves that the premium DAF XD sets the new industry standard for customers in vocational and distribution applications, offering first-class safety, efficiency and driver comfort."
Press Contacts
Are you a journalist? Contact us for more information about the company, our products and services or any other subject.
Rutger Kerstiens
Corporate Communications Department