DAF respects your privacy. We use cookies for a variety of purposes, such as website functionality, improving your experience of our website, building integration with social media and helping target marketing activities within and beyond our website. By continuing your visit on our website, you are consenting to our use of cookies. However, if you want to customize your cookie preferences, click on 'Change settings' below. You can withdraw your consent at any time. For more information, please visit our Cookie Notice.
DAF CF Electric tames Europe's most challenging mountain pass
First fully electric truck on the Grossglockner High Alpine Road
A DAF CF Electric with a 26-tonne GCW has become the first fully electric truck to tame Austria's highest mountain pass — the 48-kilometre Grossglockner High Alpine Road with 36 hairpin bends and 12% inclines. The accomplishment proves that zero-emission driving is also perfectly possible in mountainous areas.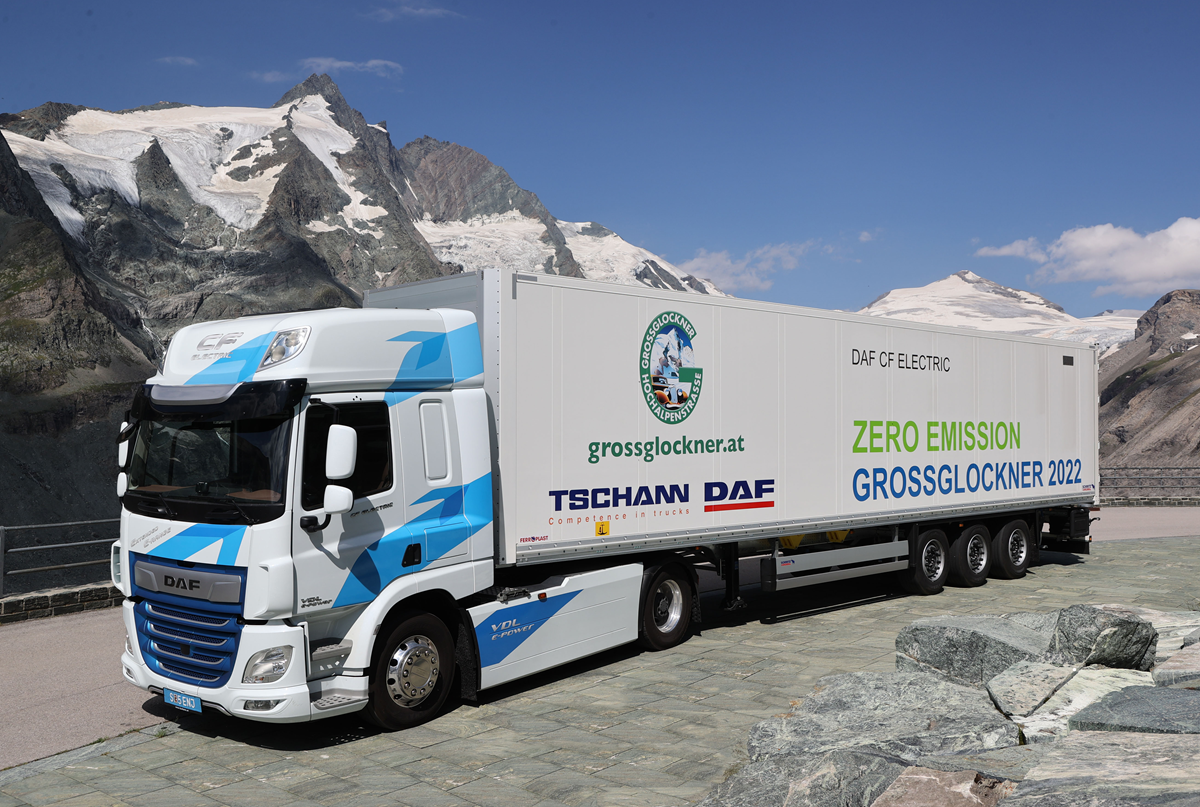 The DAF CF Electric has been on the market since 2018 and is available as a 4x2 tractor unit and a 6x2 rigid. The fully electric vehicle – the third generation of which is now on the road – is already in use in amongst others the Netherlands, Germany, Belgium, the United Kingdom and Hungary for various applications including supermarket distribution, refuse collection and container transport. With smart planning and intermediate charging, customers are able to drive up to 500 km per day with the CF Electric.
Proof of usability in mountainous areas
However, some transport operators in mountainous areas appear to have their doubts about the use of electric vehicles. Official DAF dealer from Austria Tschann, decided that it was about time to put an end to this scepticism, with some assistance from DAF Trucks. "Where else but on the most challenging, yet beautiful mountain road in Europe could you prove the quality and usability of the CF Electric?", stated Tschann director Enrico Simma.
Sharp turns and steep slopes: The ultimate test
The CF Electric with a GCW of 26-tonne drove from Salzburg to the foot of the Grossglockner High Alpine Road on motorways and provincial roads. From there, a course was set to the Kaiser-Franz-Josefs-Höhe, the finishing line of the winding, spectacular mountain pass. Simma continued: "As breath-taking as the view is along the way, the 48-kilometre route with 36 sharp hairpin bends and its steep slopes of 12% remains a challenge. It's the ultimate test for any vehicle — and the CF Electric passed with flying colours! This is the proof that the CF Electric can be used on any route as long as there is a good charging infrastructure!"
Press Contacts
Are you a journalist and do you have a question? Please contact:
Rutger Kerstiens
Corporate Communications Department
For general questions about DAF, please use: