DAF respects your privacy. We use cookies for a variety of purposes, such as website functionality, improving your experience of our website, building integration with social media and helping target marketing activities within and beyond our website. By continuing your visit on our website, you are consenting to our use of cookies. However, if you want to customize your cookie preferences, click on 'Change settings' below. You can withdraw your consent at any time. For more information, please visit our Cookie Notice.
DAF names 'International Dealers of the Year 2022'
Dealers all over Europe awarded
The French dealer Groupe Lefevre has been awarded 'DAF International Dealer of the Year 2022' at the online DAF International Dealer Meeting. Groupe Lefevre exceeds customer expectations in every field and has mastered the principle of 'First Time Right' in their workshops, making them the deserved winner for 2022.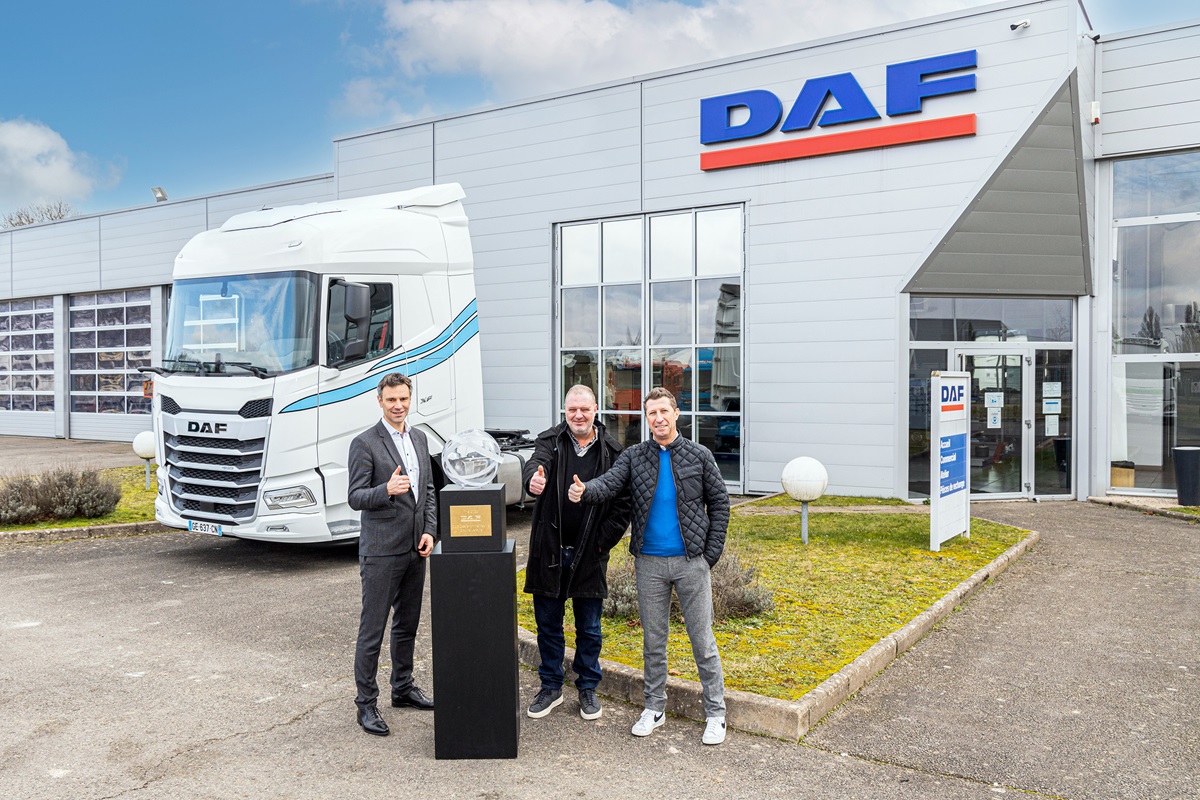 Each year, DAF recognizes its best performing dealers with an award. While some receive an award for outstanding customer satisfaction, others are acknowledged for outperforming on growth, general business performance or the sales of new or used trucks, financial services or parts. The dealer that stands out in all fields is named 'International Dealer of the Year'.

'Best possible partner for customers'
"Only a dealer that sets new benchmarks in customer experience on the one hand and has a constant drive to grow its business by investing in premises and training on the other, deserves the title 'DAF International Dealer of the Year'," said DAF Trucks president Harry Wolters at the online prize-giving ceremony. "Group Lefevre is determined to be the best possible partner for its customers in every field: Heavy and Medium Duty trucks, PACCAR Parts, PACCAR Financial, DAF MultiSupport, you name it. This dealer – with multiple locations in the north-west of France – is the Top Performer in customer satisfaction with excellent sales advice, long opening hours and highly-skilled and well-trained people. Combined with their 'First Time Right' results in the workshop, this is what sets them apart, from the perspective of their customers."

PACCAR Financial, PACCAR Parts, Used Trucks and DAF MultiSupport Awards
Best performing dealers in the fields of financial services, parts supply, used truck sales and repair and maintenance contracts are also acknowledged at the annual DAF International Dealer Meeting.

Gerrit-Jan Bas, Managing Director of PACCAR Financial Europe, shone the spotlight on France Poids Lourds for exceeding their used trucks sales targets and on Wilhelm Fricke in Germany for their excellence in offering the best financial services support to its customers. Van Tilburg-Bastianen Groep (the Netherlands and Poland) was praised by Dick Leek, General Manager of PACCAR Parts Europe, for their performance for the exceptional availability of parts, resulting into maximum uptime for their customers. EBB in Germany was honored with the DAF MultiSupport Award for outstanding performances in the area of repair & maintenance contracts.

Gold, Silver and Growth Awards
DAF also rewarded a number of its dealers for their general performances (Gold and Silver Award Winners) or customer care and business growth (Growth Award)

Gold Award:
Greenhous (UK), Centrako Group (LT), Watts Trucks Centre (UK), ESA Trucks Polska (PL), Lawrence Vehicles (UK)
Silver Award:
SERVIDAF (ES), Zarpellon Veicoli Industriali (IT), Ford & Slater (UK), Truckland (NL), Wietholt (D), Dtruck (IT), Poids Lourds 86 (F), Turbo's Hoet (BG), Neva Group (CZ)
Growth Award:
Bakker Bedrijfswagens (NL), Tschann Nutzfahrzeuge (AT), Gazzola (IT), Hergovisa (ES)
With over 1,100 locations across Europa and abroad, DAF customers are always assured of a dealer or service location nearby that offers first-class back-up and a comprehensive range of services and support designed to increase uptime and reduce both maintenance and operating costs.
Press Contacts
Are you a journalist and do you have a question? Please contact:
Rutger Kerstiens
Corporate Communications Department
For general questions about DAF, please use: