We use cookies for a variety of purposes, such as website functionality and helping target our marketing activities. Some cookies are essential, others help us improve your experience by providing insights into how the site is used. For more information, please visit our Cookie Notice.
Leyland Trucks builds 200,000th DAF LF
Leyland Trucks celebrates the production of its 200,000th DAF LF chassis. The significant milestone was reached by the world-class facility in the United Kingdom which produces all DAF LF trucks, as well as DAF CF and XF commercial vehicles for principally right-hand-drive markets.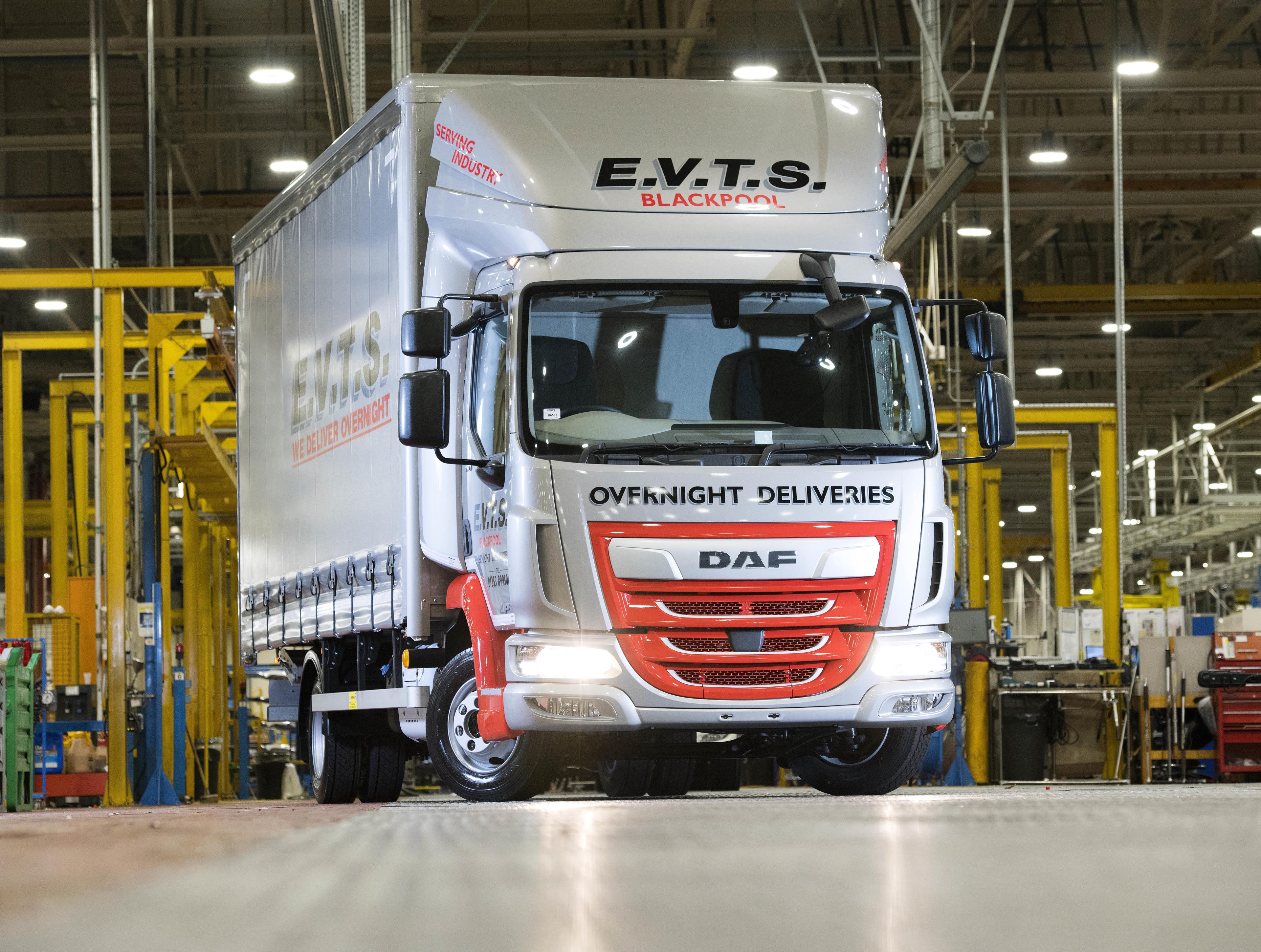 The celebrated truck, an LF City 170 7.5-tonne rigid, is being delivered to the British transport operator EVTS from Blackpool. EVTS is a long-time DAF customer, specialized in next-day and overnight pallet deliveries throughout the UK, using a fleet of more than 30 vehicles and 50 trailers. The milestone vehicle is part of a 9 truck order, including two additional LF City 7.5-tonners, two CF tractor units and four top-of-the-range XF tractors with Super Space Cab.
Urban pallet distribution
The 200,000th LF will be put into operation for urban pallet distribution in north-west England. For the highest efficiency, it is equipped with a 127kW/170 hp PACCAR PX-4 engine. The truck is fitted with a PACCAR curtain-side bodywork, designed by Leyland Trucks and manufactured on its dedicated production line.
Benchmark urban distribution truck
The DAF LF range, from 7.5- to 19-tonne GVW, suits a wide range of applications. Recognised as the benchmark urban distribution truck, the LF series features exceptional manoeuvrability, nimble handling, a spacious cab and a chassis platform offering great flexibility for bodybuilders.
Recognition
At Leyland Trucks, the first-ever LF-chassis came off the production line in 2001. Since then, the DAF's highly acclaimed distribution truck was honored with the International Truck of the Year award in 2002, along with multiple Fleet Truck of the Year titles in the UK, most recently in 2019. Today's LF product offering includes engine ratings from 150 to 320 bhp, manual and automated gearbox options, day, extended day and sleeper cab variants and an extensive range of wheelbases.
'Important landmark'
"We are of course very proud to have reached this important landmark in the history of not only the LF product, but also of Leyland Trucks," said Leyland Trucks Managing Director, Brennan Gourdie. "The milestone represents the excellent characteristics of the truck itself and is also a reflection of the industry-leading quality our 1,000 dedicated employees deliver to our world-wide customers every day."
Press Contacts
Are you a journalist and do you have a question? Please contact:
Rutger Kerstiens
Corporate Communications Department
For general questions about DAF, please use: