DAF respects your privacy. We use cookies for a variety of purposes, such as website functionality, improving your experience of our website, building integration with social media and helping target marketing activities within and beyond our website. By continuing your visit on our website, you are consenting to our use of cookies. However, if you want to customize your cookie preferences, click on 'Change settings' below. You can withdraw your consent at any time. For more information, please visit our Cookie Notice.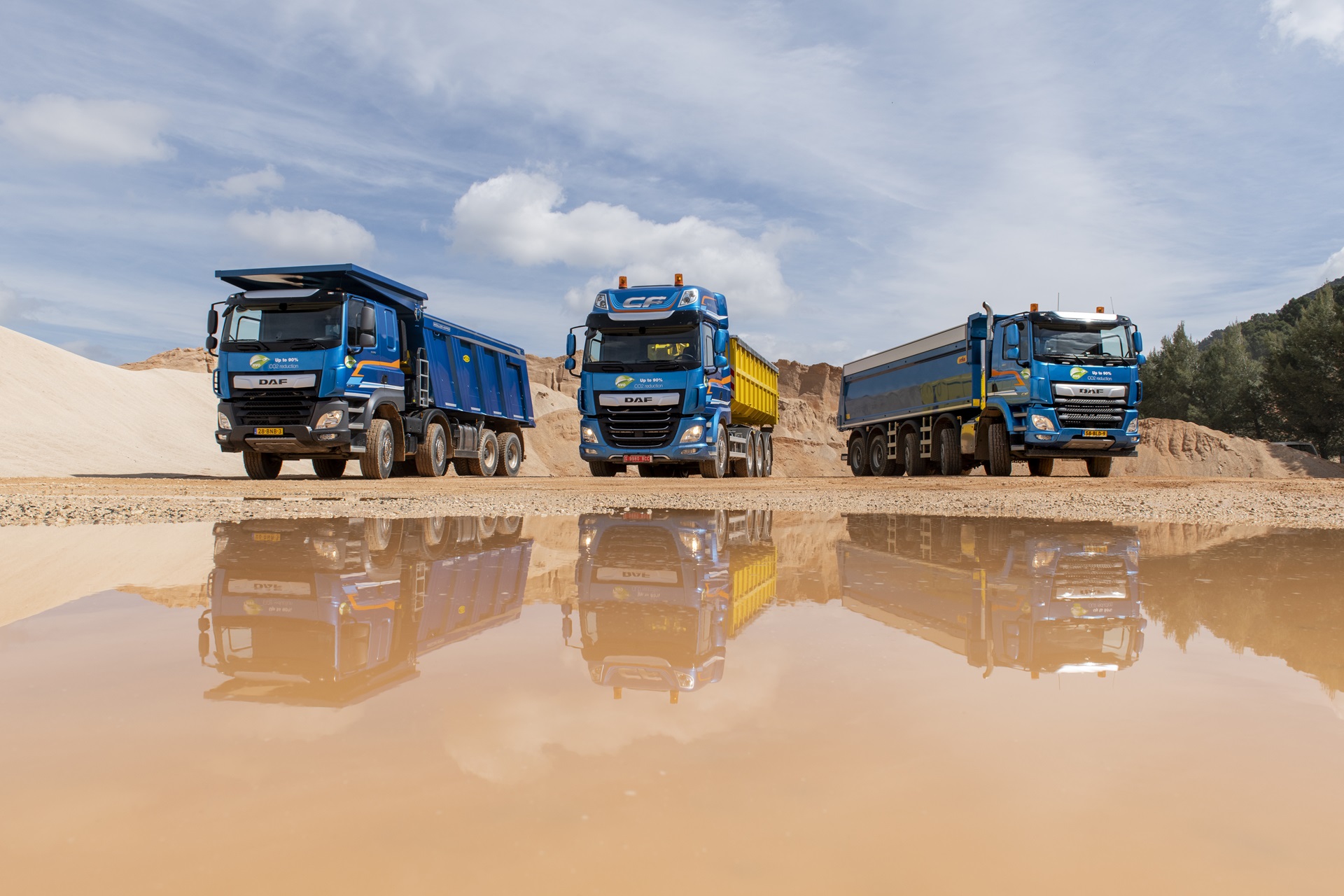 DAF expands its product range for the construction segment
New chassis variants, new axles
In order to further enhance suitability for the specific requirements of operators in the construction sector, DAF Trucks is expanding its range to include a number of new vehicle configurations, including an 8x4 'tridem' rigid with double-drive tandem and steered trailing rear axle. DAF is also introducing a 10-tonne front axle, and a completely new 7.5-tonne non-steered trailing axle. The new developments underline DAF's ambition to expand its presence in vocational segment — particularly in the construction sector.
- Range of axles expanded
New 10-tonne front axle
- Avoids overloading with diminishing loads
- For use with heavy cranes directly behind the cab
New 7.5-tonne non-steered trailing axle
- Die cast, ultra-rigid axle housing
- Lower weight
- Static load capacity of 26 tonnes
- New vehicle configurations
CF and XF 8x4 FAW tridem rigid with double-drive and steered trailing axle
- Maximum traction for on/off road operation
- Gross payload of up to 27 tonnes
- Excellent manoeuvrability
CF 10x4 rigid with double-drive tandem and steered pusher axle
- Tipper chassis for heavy usage
- Conversion by Estepe
- GVW of 49 tonnes
- Net payload of approximately 30 tonnes
8x2 rigid with two steered front axles and steered trailing axle now also available as an XF
- GVW of 37 tonnes
XF 8x4 FTM tractor for exceptional transport
- Combination weights of up to 120 tonnes
-Technical GVW of 41 tonnes
- DAF Services provides maximum transport efficiency to operators in the construction sector
"2018 was an historic year for DAF", says Richard Zink, Director of Marketing and Sales and member of the Board of Management at DAF Trucks. "We ended the year as the second largest truck brand in Europe with a market share of 16.6% in the heavy class. We were the market leader in no fewer than seven countries, produced a record number of 67,000 trucks and were once again the largest import brand in Germany — Europe's largest truck market. Moreover, DAF has been the undisputed leader in the tractor-unit segment in Europe for many years now," he said.
The company has plans for further growth. "This is why we intend to make ourselves an even more prominent contender in the rigids and construction vehicle segment", continues Zink. "This is a segment with considerable growth potential for DAF. We offer a strong range of robust chassis and axles, efficient drivelines and comfortable cabs. DAF provides the best truck for every application."
Press Contacts
Are you a journalist and do you have a question? Please contact:
Rutger Kerstiens
Corporate Communications Department
For general questions about DAF, please use: