DAF respects your privacy. We use cookies for a variety of purposes, such as website functionality, improving your experience of our website, building integration with social media and helping target marketing activities within and beyond our website. By continuing your visit on our website, you are consenting to our use of cookies. However, if you want to customize your cookie preferences, click on 'Change settings' below. You can withdraw your consent at any time. For more information, please visit our Cookie Notice.

DAF finds the oldest DAF truck still in commercial use
A1600 clocks-up an impressive 50 years — and still going strong
"Our truck may be 50 years old, but it is still a long way off retirement". Following an international search, DAF has found the oldest DAF truck still in commercial use — and it is in operation almost every day. The truck in question is an astonishingly sprightly A1600 owned by Frits and Nicky Hoefnagels, who use it to transport a nostalgia-filled fairground attraction all over the Netherlands. "Yes, of course we use it just like any other truck," said Frits, "What else is a DAF truck for?"
DAF announced its search for the oldest truck earlier this year, as the company continues to celebrate its 90th birthday in 2018. The search was launched with a video on social media that features a cattle trader who has been operating his DAF truck across Ireland since the early 1980s. The video has been viewed almost half a million times, prompting an avalanche of contenders for the title. Responses poured in from all over the world, but the oldest truck was found virtually in the back garden of the DAF factory in Eindhoven, in the village of Bakel.
DAF was inundated with reports of vehicles that had been in use since the late 1950s and early 1960s. But not all of these great trucks met the criteria; the winner had to be a truck that is still in regular use for commercial transport on public roads.
The proud owner of the oldest DAF truck is the family-run Dutch fairground business Hoefnagels, which uses the truck to transport its attraction all over the Netherlands. The photo that was submitted to DAF via Facebook by father and son Frits and Nicky Hoefnagels, showcases no fewer than four classic DAF trucks, all in top condition thanks to the constant care and attention they are given.
Frits Hoefnagels explains: "Our attraction is a cake walk. We use our DAF trucks to transport our 'Lunapark' attraction, and the trucks were new when we added them to our fleet. The Lunapark goes into storage over the winter, but other than that we are on the move from early spring until late autumn, taking this huge building set from fairground to fairground."
"In addition to a 2800 from 1975 and a 1600 from 1971, we have two A1600s. One of our DAF 'kikkers'—so called due to their 'frog-like' appearance—is from 1968, and the other from 1969. And we don't take it easy on them", laughs Hoefnagels. "We are delighted to own and drive the oldest DAF still in commercial use: a A1600 from 1968!"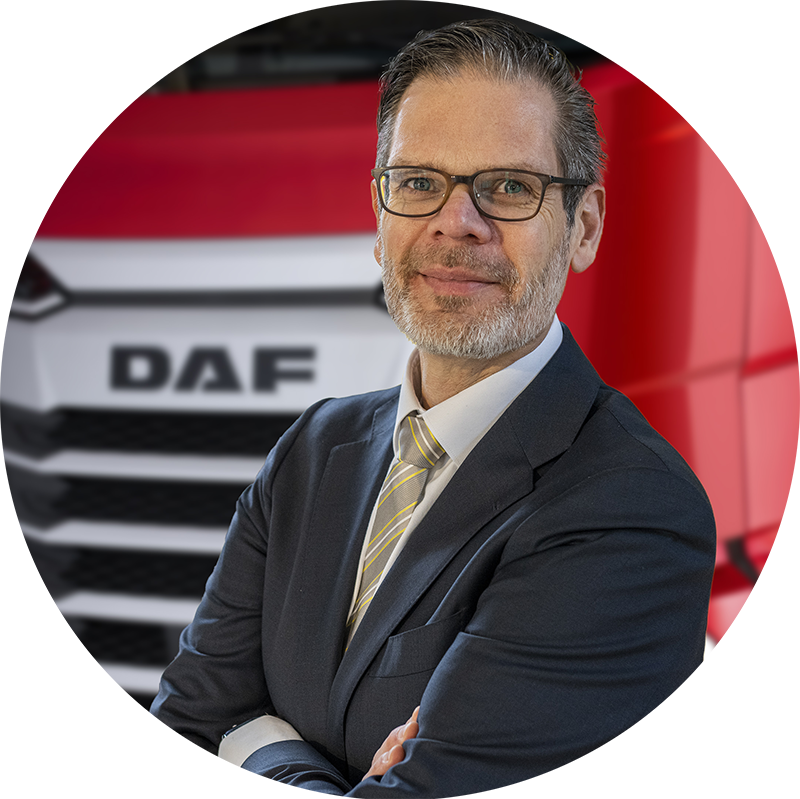 Press Contacts
Are you a journalist and do you have a question? Please contact:
Rutger Kerstiens
Corporate Communications Department
For general questions about DAF, please use: