DAF respects your privacy. We use cookies for a variety of purposes, such as website functionality, improving your experience of our website, building integration with social media and helping target marketing activities within and beyond our website. By continuing your visit on our website, you are consenting to our use of cookies. However, if you want to customize your cookie preferences, click on 'Change settings' below. You can withdraw your consent at any time. For more information, please visit our Cookie Notice.
DAF Trucks wins prestigious Computable Award 2018
DAF Trucks has won the prestigious Computable Award 2018 for the company's 3D DAF Truck Configurator. The 3D DAF Truck Configurator is an innovative new web tool allowing DAF customers to assemble their ideal vehicle online.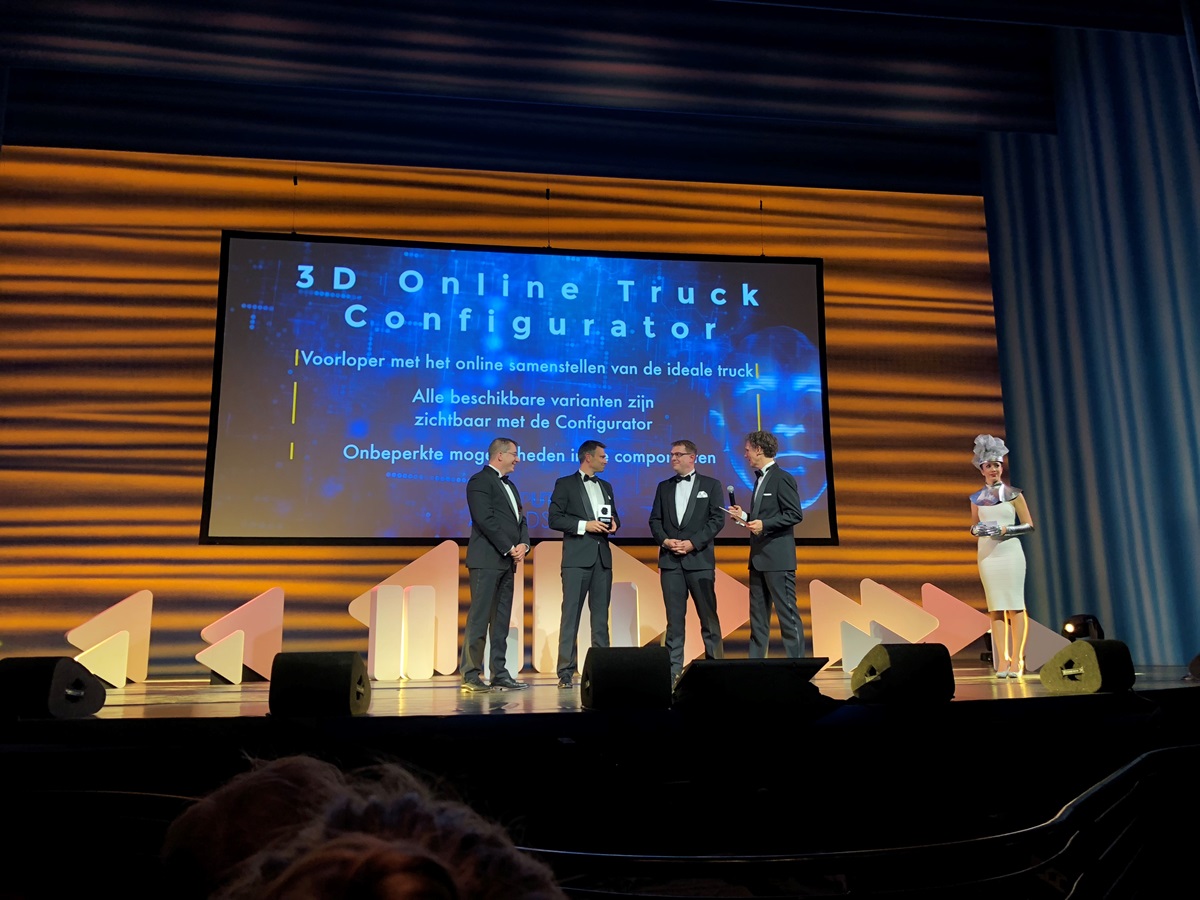 The Computable Awards are the most important IT-related awards event in the Netherlands and are conferred by a jury of IT experts and readers of Computable magazine. DAF's award came in the 'Digital Innovation of the Year' category.
The 3D DAF Truck Configurator makes it possible to assemble online the most optimal truck for any specific transport application. Two, three or four axles, single or double drive, a steered front or trailing rear axle, day, sleeper or extra spacious Space or Super Space Cab – every conceivable truck and chassis variant can be 'built' online.
"Unique in the automotive industry"
"With the 3D Online Truck Configurator DAF is at the forefront of online truck assembly", says chief editor of Computable magazine, Sander Hulsman. "All available options are visible, including the almost unlimited possibilities for the placement of components, such as fuel tanks and batteries. The unique thing," he said, "is that information is retrieved directly from the original CAD source files at DAF, and that standard images and files are not used, as is usually the case with configurators. This means 100% accuracy. In addition, the 3D Truck Configurator offers the possibility to have a very detailed look at the specified truck – unique in the automotive industry. And, therefore, according to the expert jury of the Computable Awards and the readers of Computable, DAF is the rightful winner in the category 'Digital Innovation of the Year'."

DAF Transport Efficiency
Richard Zink, director of Marketing & Sales and member of the Board of DAF Trucks, is particularly pleased with the award. "We are always looking for ways to serve the market even better," he said, "With the DAF 3D Truck Configurator, our customers, possibly in consultation with their bodybuilder and dealer, can put together the most optimal truck. This innovative online process fits seamlessly into our DAF Transport Efficiency philosophy. It excels in user-friendliness and accelerates the delivery of a truck because the bodybuilder can look at it as well and thereby even facilitate the fitment of a body and ancillary equipment."
There were 60 entries for the 'Digital Innovation of the Year' category at the Computable Awards 2018, with ten eventually nominated.

The 3D DAF Truck Configurator can be found on the European DAF websites

Press Contacts
Are you a journalist and do you have a question? Please contact:
Rutger Kerstiens
Corporate Communications Department
For general questions about DAF, please use: