DAF Opens State of the Art New Cab Paint Facility in Westerlo
Belgium Vice Prime Minister Kris Peeters and PACCAR Executive Chairman Mark Pigott today officially opened DAF Trucks' completely new cab paint facility in Westerlo, Belgium. The new facility represents a 100 million euro investment and sets new standards in quality, efficiency and environmental-friendliness.
DAF opened its Westerlo factory in 1966, where - in addition to its high quality cabs - it also produces its highly efficient axles. DAF Vlaanderen is among the largest companies in Belgium. Some 2,600 dedicated employees manufacture cabs and axles for medium and heavy duty DAF trucks.
50% capacity increase
The new cab paint facility is 144 meters long, 58 meters wide and 26 meters tall. It is capable of painting 3,000 customer selected colors. The capacity of the new facility is 300 cabs per day which is 70,000 per year. This represents an increase of 50% over the current paint factory. The capacity increase will accommodate DAF's future growth in Europe and around the globe.
Most modern of its kind in the world
DAF's new cab paint facility is among the most modern in the world. The facility was created in cooperation with suppliers Cordeel Company, Eisenmann and Dürr, who are leaders in the field of creating automotive paint facilities. The ultra-modern paint robot spray nozzles rotate at speeds of up to 50,000 rpms to produce world class quality and minimize paint consumption.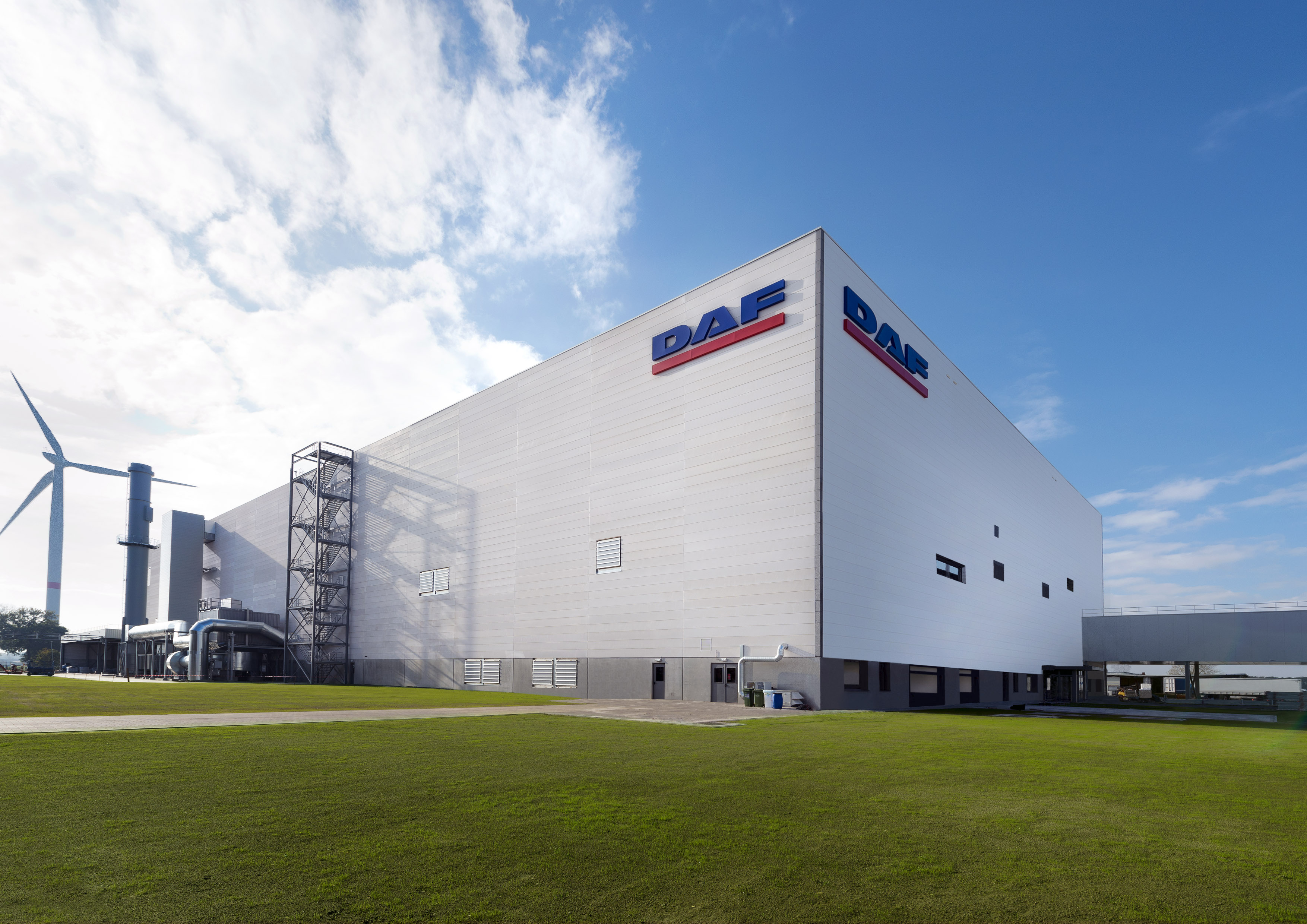 Latest innovations
Along with excellent quality and efficiency, environmental excellence has been a major focal point for DAF's new cab paint facility. As a result of the advanced paint systems a 50% reduction in emissions is being realized.

Many innovative solutions are being applied, including a special method to reduce and capture the 'overspray' while painting the cabs, using the latest technologies to clean the air leaving the spray booths and extracting energy from the exhaust stream to help efficiently operate the plant.
Continuation of strong tradition
"This important investment continues a strong tradition of setting the industry standard in product quality, customer service and environmental leadership", commented Mark Pigott, PACCAR Executive Chairman. "In the last 15 years, PACCAR and DAF have invested over 600 million euros in our Cab and Axle plant. We look forward to a very bright future in Belgium."
Next chapter in rich history
"I would like to congratulate DAF trucks with this investment in an innovative and sustainable cab paint facility. This is the next chapter in a history that has become very rich in the meantime. It is important that we offer companies like this an excellent environment for entrepreneurship, investments and innovation. We already had the tax shift which increases competiveness of our companies. And with the reform of the corporate income tax we add a new pillar to that. The federal government is very focused on translating economic growth into jobs and prosperity and I'm delighted to notice that DAF Trucks Vlaanderen fully applies this principle in practice."

New Cap Paint Shop Westerlo
Press Contacts
Are you a journalist? Contact us for more information about the company, our products and services or any other subject.
Rutger Kerstiens
Corporate Communications Department