We use cookies for a variety of purposes, such as website functionality and helping target our marketing activities. Some cookies are essential, others help us improve your experience by providing insights into how the site is used. For more information, please visit our Cookie Notice.
Leyland Trucks celebrates production of 400000th truck
Leyland Trucks in the United Kingdom has produced its 400,000th commercial vehicle, since the opening of the current assembly facility in 1980. The milestone vehicle, a DAF XF 460 FTP tractor unit, was handed over to customer Carr's Flour of Silloth in Cumbria, located in the North-West of the country.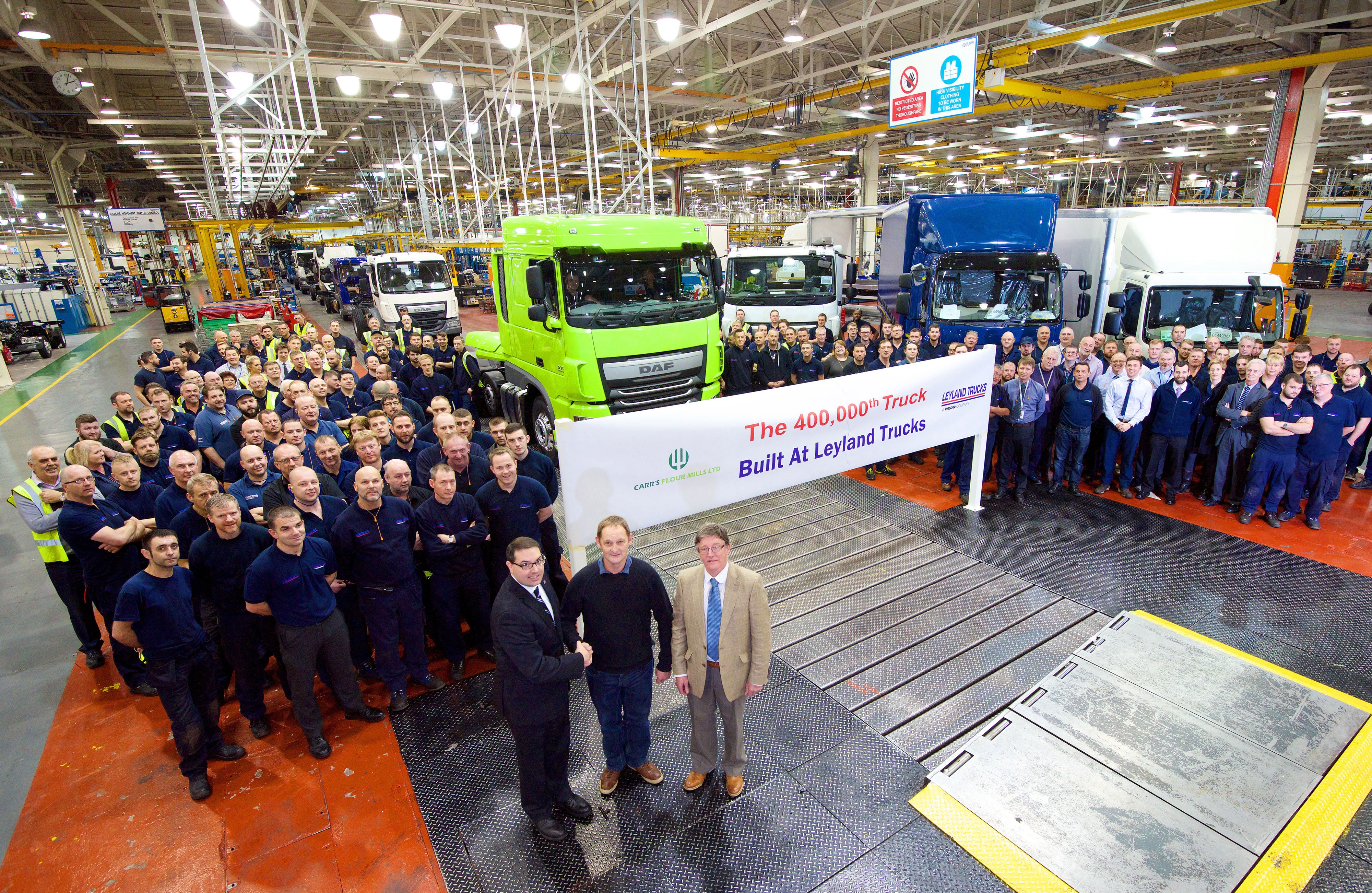 Carr's Flour is a renowned supplier of wheat sourced on national and international markets and delivered to a wide variety of customers from home and independent bakers to major food retailers. The company operates state-of-the-art milling installations, which process some 300,000 tons of wheat per year. For regional and national distribution Carr's Flour relies on a fleet of 30 trucks, mainly DAF CF and XF models.
"I'm very proud indeed to be a DAF operator," said Steven Mattinson, transport manager at Carr's Flour. "My company has a long history of acquiring British-built trucks, and it's fantastic to see Leyland Trucks thriving today. A DAF truck is built to the very highest quality standards. It is built to last, while offering highest efficiency through high fuel efficiency and low operating cost."
The facility of Leyland Trucks was commissioned in 1980 and is one of Britain's leading manufacturing sites. It is the center of production of the popular DAF LF distribution truck and also manufactures right-hand-drive DAF CF and XF models for the UK home market and for export markets around the globe.
"Production of the 400,000th vehicle is a notable milestone for the company", said Leyland Trucks managing director, Bryan Sitko. "It is first and foremost a recognition for the almost 1,000 employees, who supply our customers with trucks of the highest quality."
Press Contacts
Are you a journalist and do you have a question? Please contact:
Rutger Kerstiens
Corporate Communications Department
For general questions about DAF, please use: