We use cookies for a variety of purposes, such as website functionality and helping target our marketing activities. Some cookies are essential, others help us improve your experience by providing insights into how the site is used. For more information, please visit our Cookie Notice.
DAF renews website for bodybuilders industry
New functionalities for maximum efficiency
DAF Trucks has completely renewed its special website for the bodybuilder industry (www.DAFBBI.com). The online platform is now available in no less than thirteen languages and makes it even easier for bodybuilders to access advice and guidance on mounting superstructures on DAF chassis in the most efficient way.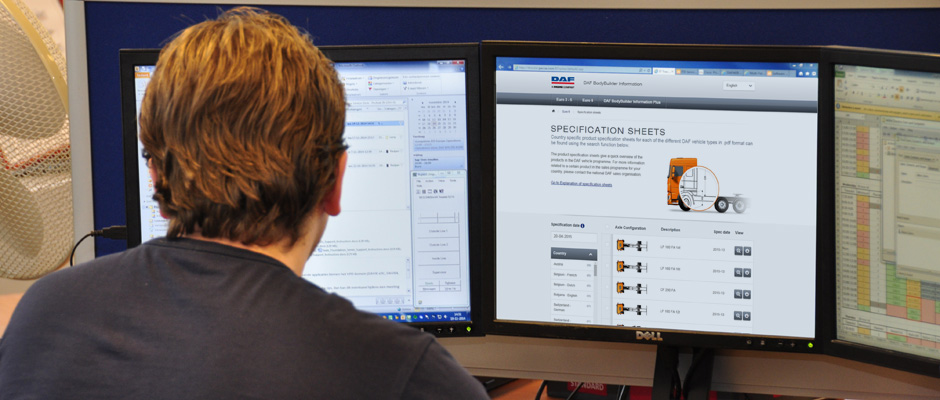 Once a truck has left the factory, it often goes straight to a bodybuilding company to be fitted with a specific superstructure - such as a tipper or box body - or to have for instance a loading crane with support legs installed. To provide optimal support to bodybuilders in configuring and mounting the superstructure, the new DAF BodyBuilder Information website now includes even more detailed chassis drawings, specification sheets and CAD drawings of components.

As well as receiving a completely new look and feel, much attention was paid to further optimising user-friendliness. For instance, the website clearly distinguishes between information on Euro 3/5 and Euro 6 vehicles. Users are able to locate the needed specification sheets even faster, and can even download multiple sheets at once. The optimised search function makes it quicker and easier to find the right chassis drawing.

The new website aims to provide enhanced support to the bodybuilding industry to help it create the best solutions in the most efficient way. This is why users can also download CAD files from the website that can be used for the development of superstructures, and 3Dfiles are available that allow the customer to see exactly how the finished truck will look on the road.

Via www.DAFBBI.com, bodybuilders can also request access to DAF BodyBuilder Information Plus, which includes information on bodybuilder guidelines for Euro 6 vehicles, even more detailed product information, interesting news articles and information on EU directives and Whole Vehicle Type Approval documentation.

The websites www.DAFBBI.com and DAF BodyBuilder Information Plus help bodybuilders to efficiently construct the optimal superstructure for any DAF truck for highest quality maximum vehicle uptime — making these websites a prime example of DAF Transport Efficiency.
Press Contacts
Are you a journalist and do you have a question? Please contact:
Rutger Kerstiens
Corporate Communications Department
For general questions about DAF, please use: