We use cookies for a variety of purposes, such as website functionality and helping target our marketing activities. Some cookies are essential, others help us improve your experience by providing insights into how the site is used. For more information, please visit our Cookie Notice.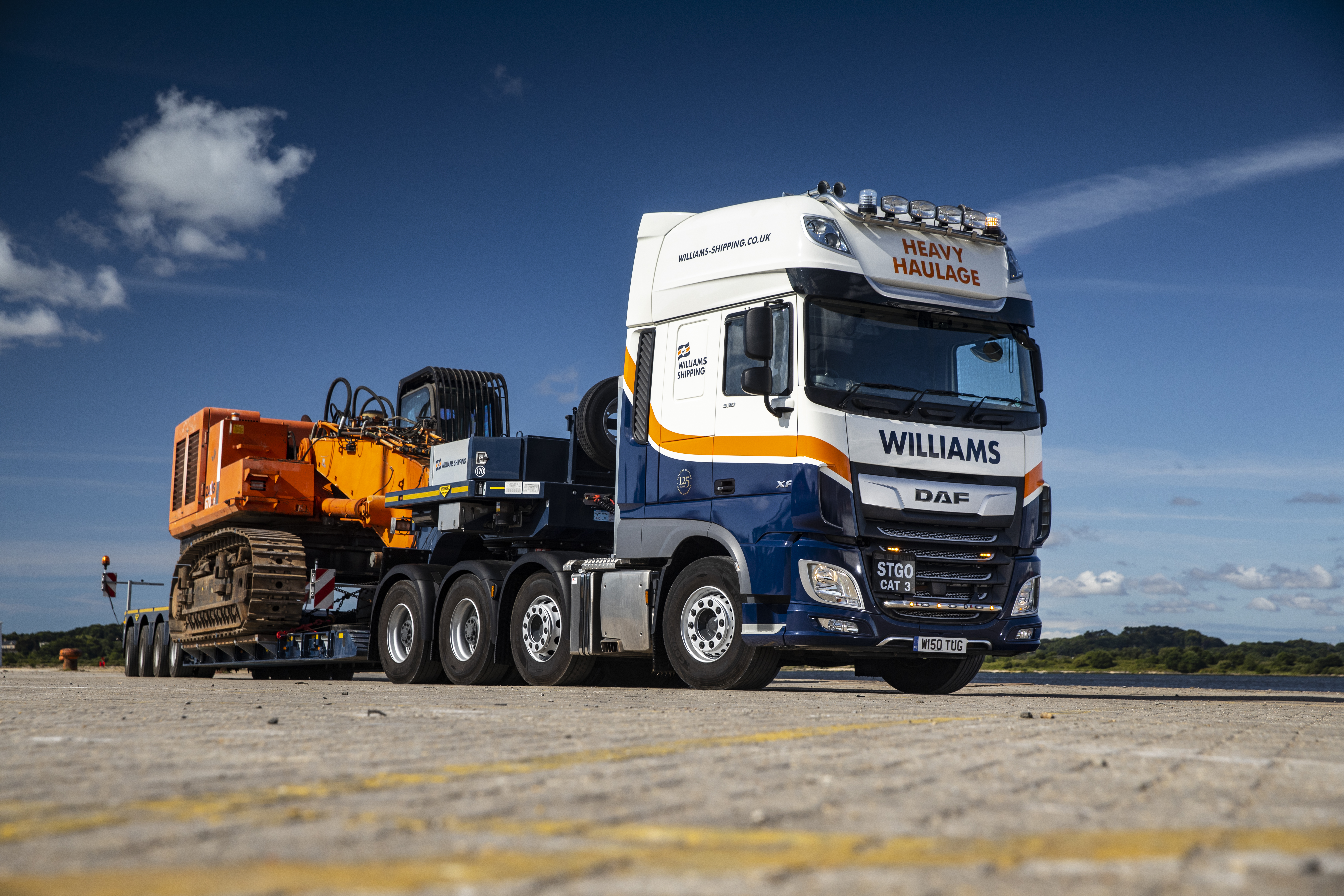 Sailing through it
Williams Shipping
Think 'heavy haulage' and Williams Shipping probably isn't the first name to spring to mind. But despite its origins in the marine sector, this is a company for which road transport in general and oversized loads in particular are very much at the heart of things.
Not many heavy haulage operations can boast a 125-year company history and even fewer still can claim to remaining family-run after such a long time. But Williams Shipping, based in Millbrook, Southampton, is a surprisingly varied and resilient firm that knows just how to succeed in a competitive market. Part of its resilience comes from operating across four key sectors – marine services, logistics, container hire and sales, and marine lubricants distribution.
It all began with the marine side in 1894, when 30-year old George Williams set up his own business, acquiring a pinnace (a small open boat used for rowing crews out to vessels) from the Royal Navy which he converted into a small sailing barge that could carry 20 tons of cargo.

Today, the company's marine services operation is rather more complex, centring around vessel charter (it has a fleet of more than 26 marine vessels and barges), crane hire and port services, and providing support for shipping lines, oil terminals, freight forwarders, ship's agents, civil engineers and the energy sector.

"The marine operation has been there from day one," confirms Jonathan Williams, managing director of logistics at the company, son of current chairman Eric, and one of the fifth generation in the family to be involved in the company.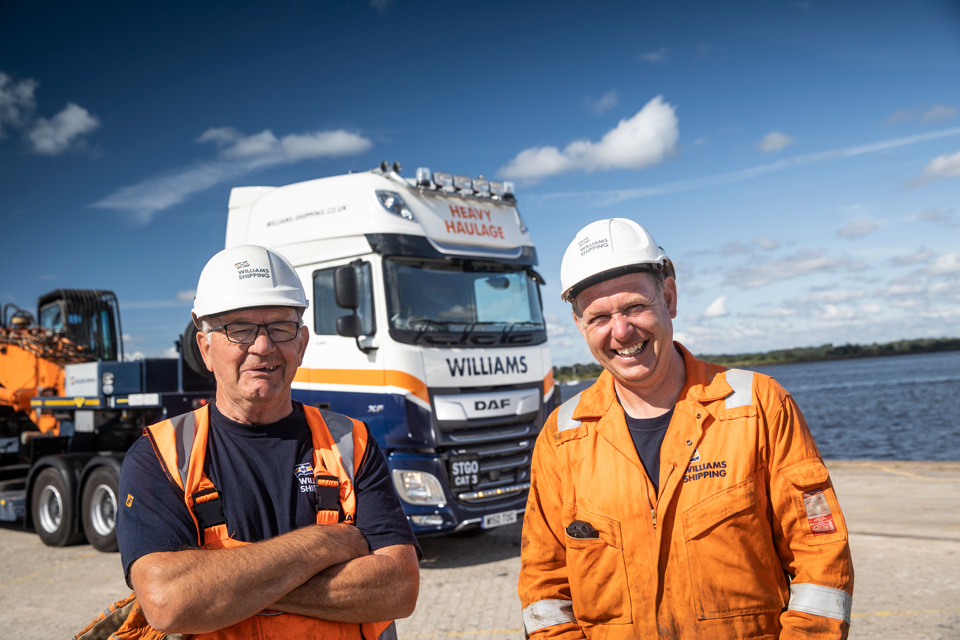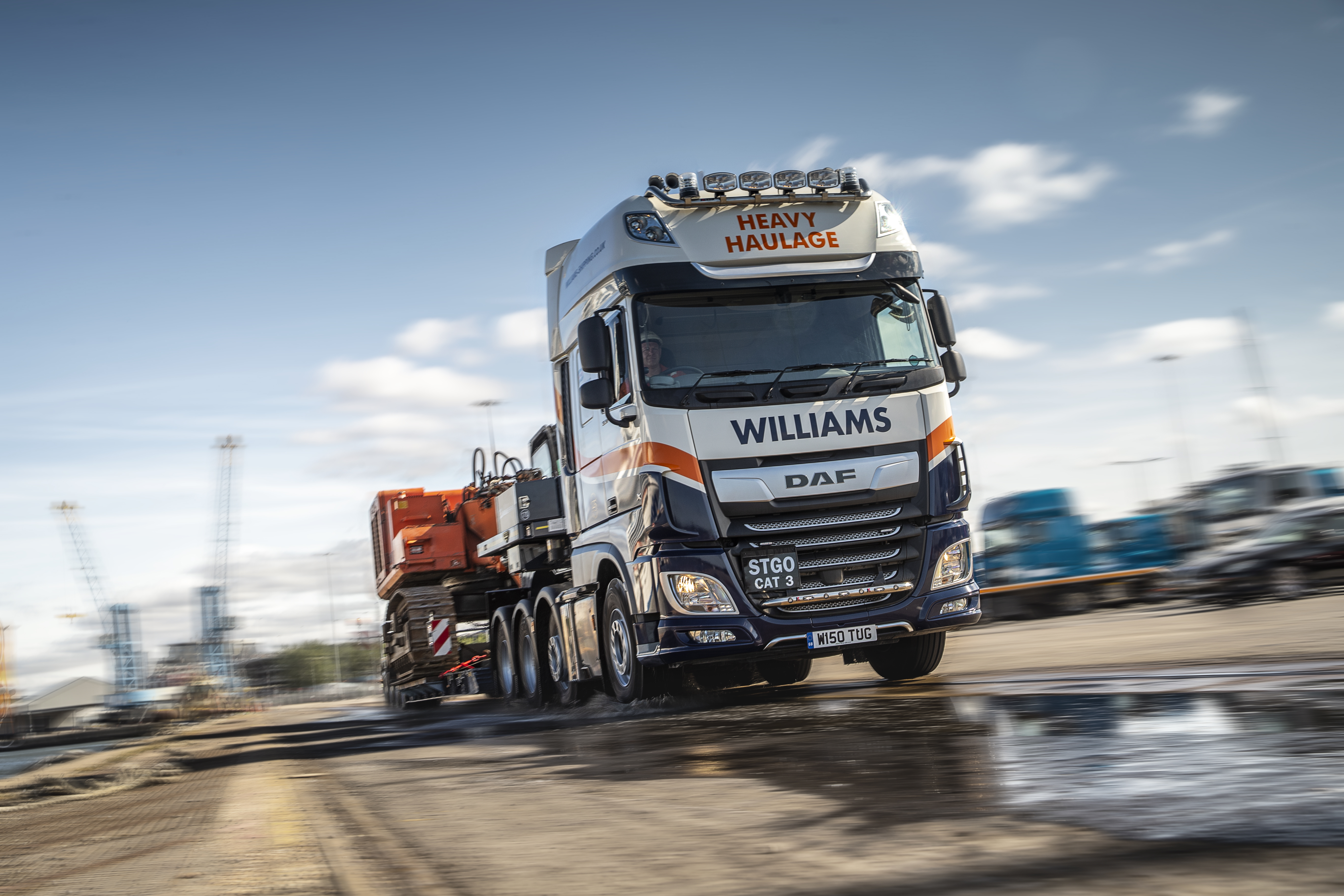 NAVIGATING NEW WATERS
Everything else in the Williams Shipping operation has stemmed from its marine services, starting with the marine lubricants distribution division. Williams Shipping director Colin Williams, who is Jonathan's uncle, says this side of the operation began at the beginning of the 1950s, when the firm won a contract to deliver ship's stores to tankers berthed at Southampton.

"Frequently, those loads included marine lubricating oil, and eventually, Esso began putting its own contingency stocks in our warehouse," he says. "Soon after, it asked us to manage its warehouse for it, so we took it over and developed the business from there.

"At that time, Esso had two refineries – one in Fawley, near Southampton, and the other in Milford Haven, in South Wales. For operational reasons, tankers en route to Fawley were frequently diverted to South Wales," he continues. "When they were, it meant the stores for the ships were in our Southampton warehouse, 200 miles from where they were needed! It was for this reason that Williams Shipping invested in a new lorry and journeys between the two refineries became a regular occurrence.
"Additionally, we were being called upon to distribute marine lubricants by road, initially to local ports such as Portsmouth, Poole and Portland, and then further afield to Falmouth in the west or across to the Thames in the east.

"Inevitably other general haulage opportunities arose," adds Colin. "Then my brother Eric joined the company in the late 1960s, and he had a real interest in developing the transport side. We started working for a company in Fawley called Monsanto Chemicals, moving low-density polyethylene, a by-product of the refining process in those days. We built up a relationship with them and they started offering us work direct. We soon had a fleet of about 12 trucks, in their livery, distributing these low-density polyethylene granules all over the UK. And before long, we started working for other companies, too, and that was the backbone of our haulage business."

The haulage business suffered a setback when Monsanto announced in 1982 that it was closing the Fawley plant and the truck operation was scaled right back. It wasn't to stay this way for long, however.
"During the 1980s, we took a bullish view and started to go out looking for other customers, which we were successful in finding. Then, as the business grew, we started doing out-of-gauge, heavy and difficult loads," says Colin. "We recognised back then that the general road transport business was incredibly tight on margins, but saw that the margins we could achieve by buying trailers that could carry out-of-gauge loads were much higher, so we didn't follow the crowd."

Setting up the logistics division, which these days covers general, heavy, national and international haulage, as well as project moves, specialist trailer hire and storage services, ultimately led to the creation of the containers operation, too, explains Colin. "In 1993, we got a call from a road transport customer asking where they could source some 20ft and 40ft containers. My brother Eric offered to find some for them, and the business grew from there," he says. Today, operating under the name Willbox, this division has over 3,000 containers on hire as well as a healthy container sales operation.
Williams Shipping's heavy haulage operation centres around marine-related loads, naturally, but has also extended to other areas and includes substantial work for the oil, gas, highway and energy sectors, among others. On the morning of our interview with the company, for example, it had been moving a 30m-long wind turbine blade on its way to the Isle of Wight. Other recent contracts include shifting two 38m-long ship-to-shore walkways from one berth to another at the Port of Southampton, and moving a newly constructed, 30m-long road footbridge from Southampton to Chichester.

"A lot of the work we get is by referral from other transport companies who don't have the expertise, the drivers or the equipment for this kind of work. Often, we work for other transport companies who have much larger fleets than ours but not the specialist equipment," says Colin.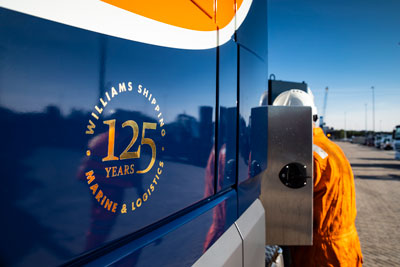 HANDLING THE HAULAGE
Needless to say, the company runs quite a number of vehicles to support these varied activities. Its 20-strong, all-DAF truck fleet includes two 26-tonne CF rigids that carry out marine lubricants distribution; two 32-tonne CF flatbed drawbar units with 47-tonne/metre HIAB cranes that are used mainly for the Willbox container operation; a three-axle XF tractor with another HIAB that is used with a 40ft trailer for larger cargoes; and nine three-axle 44-tonne XF's for general transport. The heavy haulage fleet, meanwhile, consists of six STGO XFs. Three of these are 6x2s rated at 65 tonnes; two are 6x4s plated for 80 tonnes; and the last, the latest addition to its heavy haulage fleet, is an 8x4 that can handle 150 tonnes.

"We've been using DAF for many years," comments David Nightingale, operations manager in the logistics division. "The product is highly reliable, the support is good, and though we keep an eye on other manufacturers, we've never had any reason to change."

The firm's 20 drivers are certainly happy in them, Nightingale reports, especially those in the XFs, which all have Space or Super Space cabs – a real blessing on nights out. By 2021, the whole fleet will be Super Space cabs, says Jonathan.
CARGO YARD BOOST
Around 50 per cent of the company's road transport activities are accounted for by the specialist haulage operation, which was given a particular boost by the opening a couple of years ago of a new cargo yard at Millbrook. "This is something that has really transformed the transport business," says Jonathan. "We take in out-of-gauge items from freight forwarders, lift those items off, collect flat racks [40ft long racks used in the shipping industry for abnormal loads] from the docks, lift the cargo onto the flat rack, use our team of lashers to lash it in place, then lift the loaded flat racks and deliver them back to the dock for loading onto ships. The cargo yard fits perfectly into our business. It combines the storage, the specialist haulage, and the marine expertise we have. It all just fits."

Most things, it seems, fit well at Williams Shipping. With all four of its divisions still experiencing organic growth, a loyal, long-term customer base, its growing range of interrelated services and a demonstrable willingness to invest in specialist transport kit to support its varied activities, this company looks set fair to cruise through at least another 125 years.

Also interesting to read: