DAF respects your privacy. We use cookies for a variety of purposes, such as website functionality, improving your experience of our website, building integration with social media and helping target marketing activities within and beyond our website. By continuing your visit on our website, you are consenting to our use of cookies. However, if you want to customize your cookie preferences, click on 'Change settings' below. You can withdraw your consent at any time. For more information, please visit our Cookie Notice.
Issue 2 - Fall 2019
DAF in Action
Sailing through it
DAF in Action - Fall 2019
Preface
Harry Wolters, President of DAF Trucks N.V.
Not only a source for important information that actually benefits you, but also a source of entertainment, fun facts. In this edition of DAF in Action you will see figures on every page.
For example, did you know how many trucks we build in our factory in Eindhoven? For how many kilometers a DAF is being developed? How many DAFs are driving around with Adaptive Cruise Control which increases comfort and safety? What is the maximum gross combination weight of a truck in Brazil? How many kilometers does the road network there consist of? How many drivers took part in our European Driver Challenge?
And so I can continue for a while: how many passengers can the Nieuw Statendam cruise ship carry? And how many eggs, kilos of meat and fish do they eat every day? How many trucks (DAFs, of course) are needed to supply this majestic flagship of the Holland America Line?
All these and many more figures run like a thread through this edition of DAF in Action. Some nice to know, others especially interesting. Anyway: all equally impressive. And when added together, they testify to the power of DAF: a worldwide high-tech quality truck brand with loyal customers, proud drivers and fantastic employees. That may sound immodest, but sometimes you can't get around the numbers…
Harry Wolters
President, DAF Trucks N.V.
DAF in Action - Fall 2019
DAF in Brazil
"If it stays intact here, it will stay intact anywhere"
In many ways, Brazil is a land full of extremes: with a surface area of 8.5 million square kilometres and a population of 208 million, it is the fifth largest country in the world.
The climate varies from pleasantly warm to very hot and humid. According to Google Maps, it takes 71 hours to drive from Boa Vista in the north of the country to Porto Alegre in the south, a distance of 5,259 kilometres. That is almost as far as the drive from Tromsø in the north of Norway to Gibraltar in the south of Spain.
With one big difference: the European driver needs 'only' 55 hours, not 71, to cover that distance, primarily because of the excellent infrastructure and almost perfectly smooth roads. In Brazil currently, only 5.5% of the country's 1.7 million kilometres of road is paved. In other words, road transport is still quite an adventurous activity in Brazil.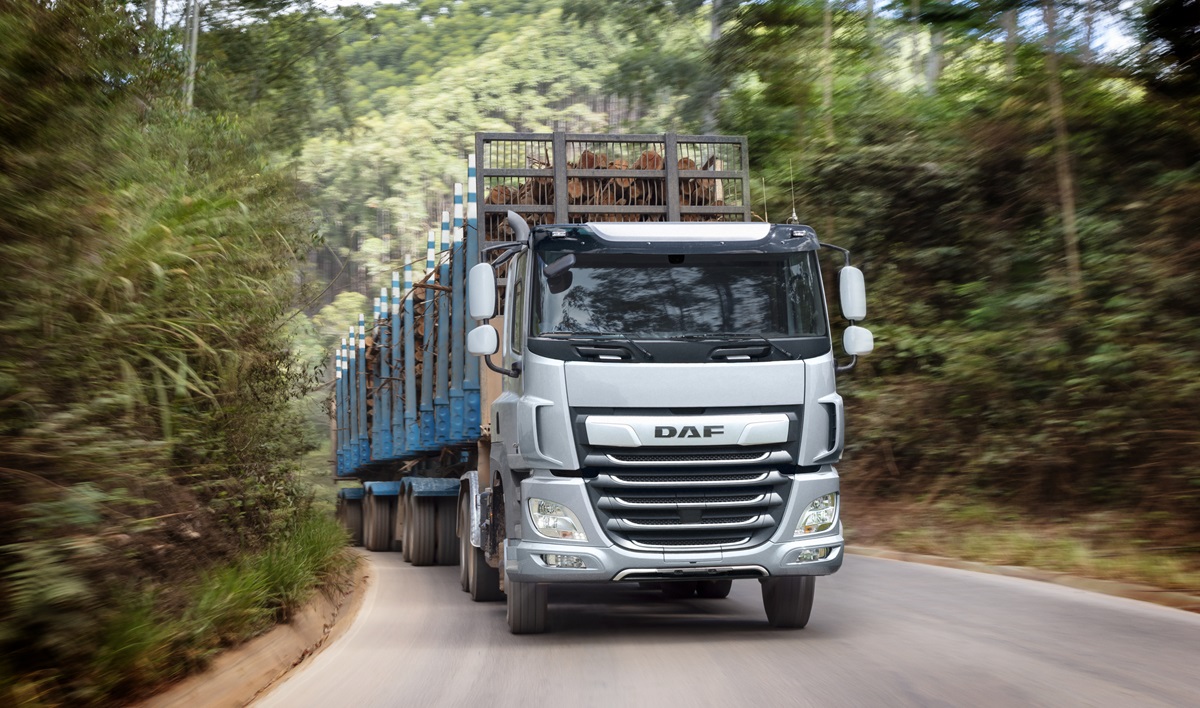 The introduction of the new DAF XF105
In 2012, DAF's parent company, PACCAR, decided it was time to embark on that adventure by building a brand new factory in the southern city of Ponta Grossa where, two years later, the first DAF XF105 rolled off the production line. Today, the factory also produces the CF and LF, as well as PACCAR engines.
Patience
Finding your place in the extremely competitive Brazilian market (where all European truck manufacturers are represented) requires perseverance – a lot of perseverance – but in Brazil, DAF is here to stay. Dealers are investing heavily in the dealer network (it is DAF policy to work with local entrepreneurs) and DAF has already been voted the most popular truck brand in Brazil three years in succession.
Intact
There are a few important differences between a DAF produced in the Brazilian factory and a 'European' DAF. Which is entirely logical, given the road conditions described above and the fact that the maximum GCW for trucks in Brazil is no less than 91 tons. A Brazilian DAF, therefore, has a heavy duty chassis, suspension and axles. For DAF, Brazil sets the bar when it comes to developing indestructible vehicles. Not surprisingly, the quote "If it stays intact in Brazil, it will stay intact anywhere" is widely used in DAF's Product Development department.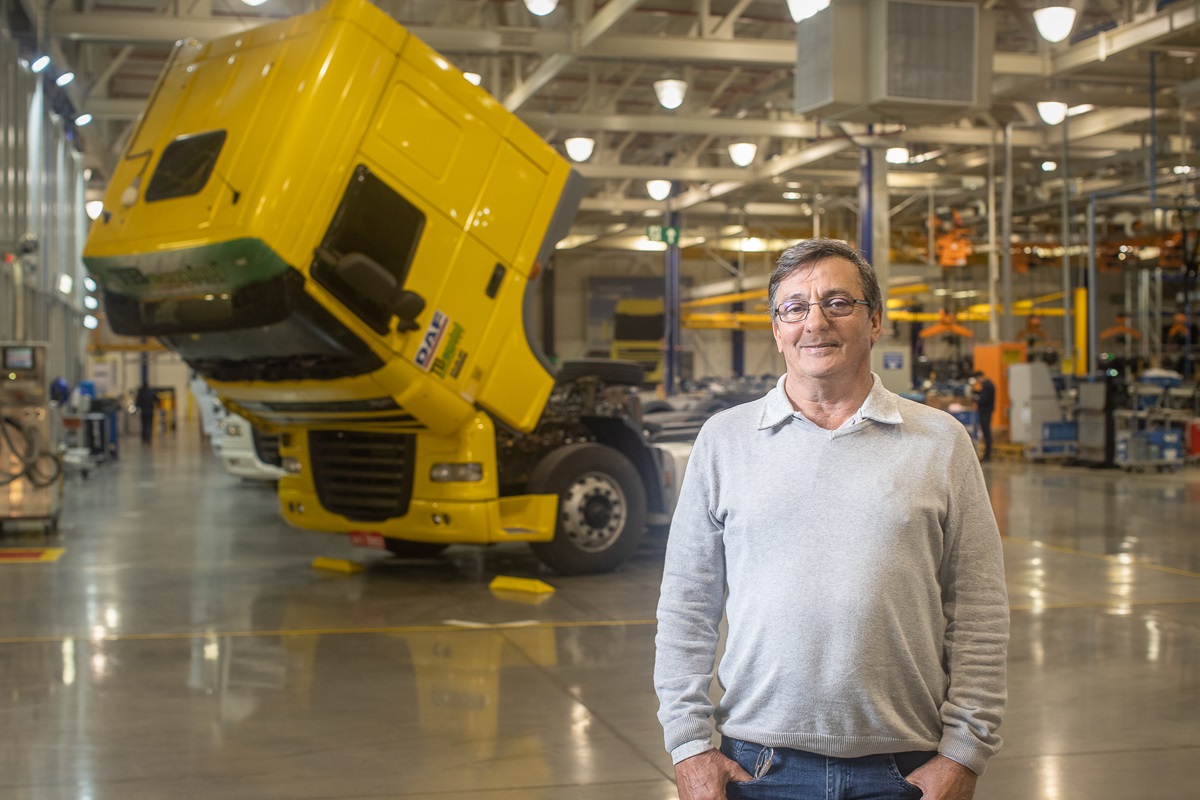 Daniel Begnini
Director of 'Transportes Begnini'
"Our decision in 2014 to go with DAF has proven to be a wise one. The brand has become a permanent fixture in my fleet and will remain so in the future."

Preventative only
Someone who knows all about this is Daniel Begnini, director of 'Transportes Begnini' and proud owner of the first XF105 to be sold in Brazil. Five years later, the truck has clocked up an amazing 1,000,000 kilometres and still looks brand new. "It hasn't had one day of unplanned down time in all those years," according to its very satisfied owner, who now has more than 30 DAFs in his fleet of 90 trucks. "We have only had to carry out the recommended preventative maintenance and replace some spare parts every now and then. And during the warranty period we used only genuine DAF parts. We have since switched to universal parts from PACCAR's TRP programme, which are just as good in terms of quality."
Heavy, heavier, heaviest
Sugarcane is one of the most important agricultural products in Brazil, and the annual sugarcane harvest is around 600 millions tons, a staggering amount. Even with a GCW of 91 tons, which is twice the weight permitted in Europe, trucks have to make eight million roundtrips each year to transport all that sugarcane from A to B.
Another huge sector in Brazil is the timber industry. Brazil has seven million hectares of tree plantations and transport is carried out primarily on poor and unpaved roads. Trucks literally have to fight their way through the forest to pick up their loads of timber, which makes this one of the most challenging truck-applications.
To cater for these extreme market segments, DAF developed a special truck with a three-axle chassis ('FTT' in DAF language), plus a reinforced chassis and suspension, giving it an off-road GCW of 125 tons. For the sake of comparison: in Europe the standard weight is 44 tons. The trucks are available with either a CF or XF cab.
DAF in Action - Fall 2019
Sailing through it
Williams Shipping is navigating new waters
Think 'heavy haulage' and Williams Shipping probably isn't the first name to spring to mind. But despite its origins in the marine sector, this is a company for which road transport in general and oversized loads in particular are very much at the heart of things.
Not many heavy haulage operations can boast a 125-year company history and even fewer still can claim to remaining family-run after such a long time. But Williams Shipping, based in Millbrook, Southampton, is a surprisingly varied and resilient firm that knows just how to succeed in a competitive market. Part of its resilience comes from operating across four key sectors – marine services, logistics, container hire and sales, and marine lubricants distribution.
It all began with the marine side in 1894, when 30-year old George Williams set up his own business, acquiring a pinnace (a small open boat used for rowing crews out to vessels) from the Royal Navy which he converted into a small sailing barge that could carry 20 tons of cargo.
Today, the company's marine services operation is rather more complex, centring around vessel charter (it has a fleet of more than 26 marine vessels and barges), crane hire and port services, and providing support for shipping lines, oil terminals, freight forwarders, ship's agents, civil engineers and the energy sector.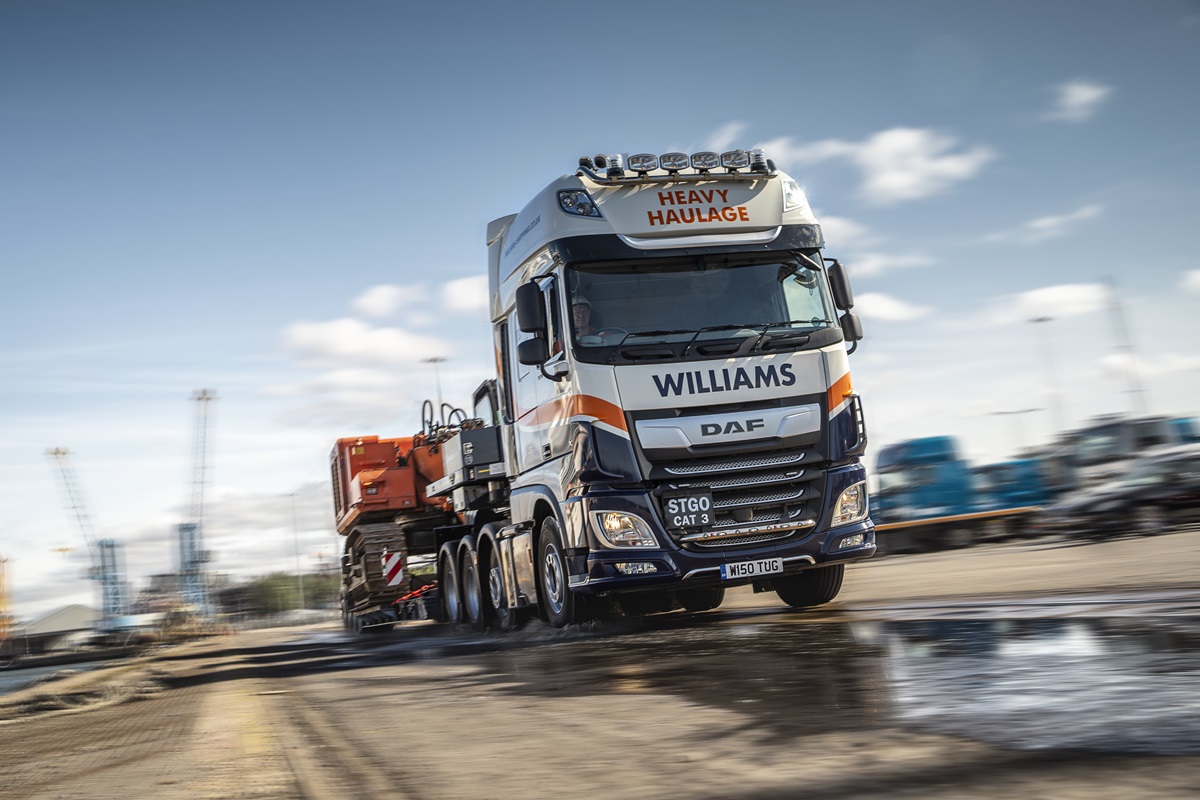 David Nightingale
Operations manager in the logistics division
"We've been using DAF for many years. "The product is highly reliable, the support is good, and though we keep an eye on other manufacturers, we've never had any reason to change."
Navigating new waters
Williams Shipping's heavy haulage operation centres around marine-related loads, naturally, but has also extended to other areas and includes substantial work for the oil, gas, highway and energy sectors, among others. On the morning of our interview with the company, for example, it had been moving a 30m-long wind turbine blade on its way to the Isle of Wight. Other recent contracts include shifting two 38m-long ship-to-shore walkways from one berth to another at the Port of Southampton, and moving a newly constructed, 30m-long road footbridge from Southampton to Chichester.
"A lot of the work we get is by referral from other transport companies who don't have the expertise, the drivers or the equipment for this kind of work. Often, we work for other transport companies who have much larger fleets than ours but not the specialist equipment," says Colin Williams, director of Williams Shipping.
Handling the haulage
Needless to say, the company runs quite a number of vehicles to support these varied activities. Its 20-strong, all-DAF truck fleet includes two 26-tonne CF rigids that carry out marine lubricants distribution; two 32-tonne CF flatbed drawbar units with 47-tonne/metre HIAB cranes that are used mainly for the Willbox container operation; a three-axle XF tractor with another HIAB that is used with a 40ft trailer for larger cargoes; and nine three-axle 44-tonne XF's for general transport. The heavy haulage fleet, meanwhile, consists of six STGO XFs. Three of these are 6x2s rated at 65 tonnes; two are 6x4s plated for 80 tonnes; and the last, the latest addition to its heavy haulage fleet, is an 8x4 that can handle 150 tonnes.
"The firm's 20 drivers are certainly happy in them, especially those in the XFs, which all have Space or Super Space cabs – a real blessing on nights out. By 2021, the whole fleet will be Super Space cabs," comments David Nightingale, operations manager in the logistics division.
DAF in Action - Fall 2019
Supplying cruise ships
Guests should never want for anything. Ever!
Ever wondered how much food a large cruise ship needs every day? Or how it restocks and processes everything? We took a look behind the scenes during the restocking of the Nieuw Statendam, one of the flagships of the Holland America Line (HAL).
7.45 a.m. on a Sunday morning at the Passenger Terminal in the Port of Amsterdam. The view towards the striking skyline of Amsterdam Noord this morning has been replaced by a high wall of shining steel. The Nieuw Statendam, one of the most modern cruise ships in the HAL's 'Pinnacle' class is docked at the port.
The majestic ship – 297 metres in length and 12 stories high – dominates the waters of the IJ. Passengers are having their breakfast in one of the huge restaurants on deck 9. The international potpourri of guests strolls among the many and varied buffets where they can choose from readymade culinary delights or order directly from the staff. For some, this is the last day of their cruise and they will shortly be disembarking. For others, a day of sightseeing in Amsterdam and a few more days on board are still to be enjoyed. A wave of new passengers is also expected in the afternoon.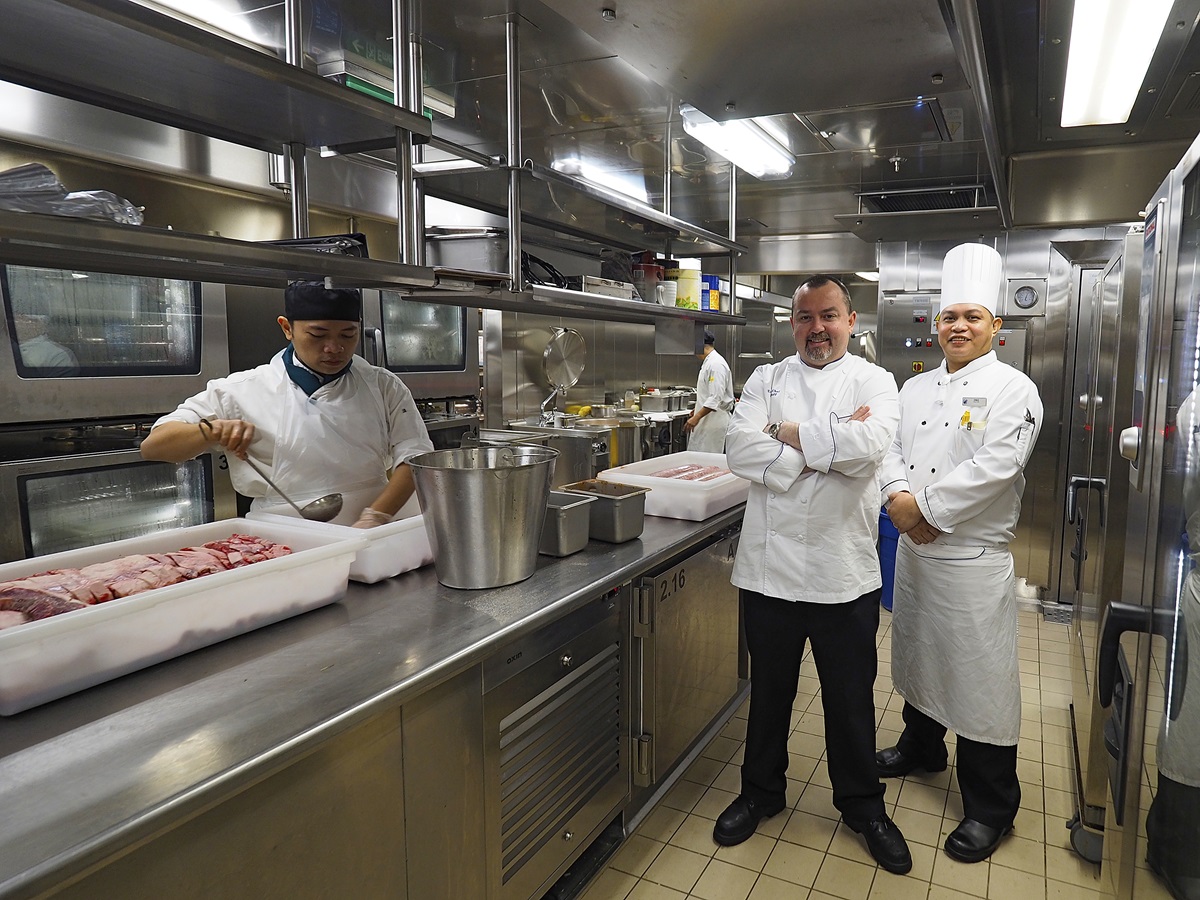 Head chef Ashley Duff (left) and his number two, Ding
"All of the food is delivered fresh. We keep very little stock in the deep-freeze and that is kept for emergencies. This ship is a floating hotel where food is transformed into cultural cuisine. The meals are one of the most important features of the entire cruise. The guests should never want for anything. Ever!"
Five-star restaurant
All of the passengers have one thing in common: they expect to be served food that is even better than what you would find in a five-star restaurant. And they won't be disappointed. In the central galley, deep in the bowels of the ships, head chef Ashley Duff and his number two, Ding, are busy giving orders to their crew. They know not only how many guests they will have to feed before the next scheduled restocking but also exactly what their guests' individual dietary requirements are, including those based on religious restrictions.
In theory, they have to be able to cater for 2,650 different diets. And that doesn't include the crew, another 1,036 mouths that have to be fed, too. They work closely together with Food and Beverage director, Iulian Grumeza, when determining exactly what they need to stock to make all of the exquisite food they will be expected to serve. Grumeza also keeps tabs on the stock of beverages they will need to have on board until the next stop.
8,000 eggs
A total of 12 trucks and 5 containers full of provisions are required to stock the ship for 14 days. Each day the guests consume up to 8,000 eggs, 900 kg meat and 400 kg fish and shellfish. Thousands of kilos of oranges, pears, exotic fruit and bananas are still waiting on the quayside to be loaded. Pineapples, melons, the list is endless: all fresh and waiting to go on board. Not to mention the thousands of kilos of vegetables that Duff and his crew use. And the 800 kilos of flour needed not only for bread but also for cakes, pastries and whatever else you can think of. The list goes on: pasta, rice, potatoes; gallons of wine, beer, Coca-Cola and fruit juices; the very best champagne and whisky."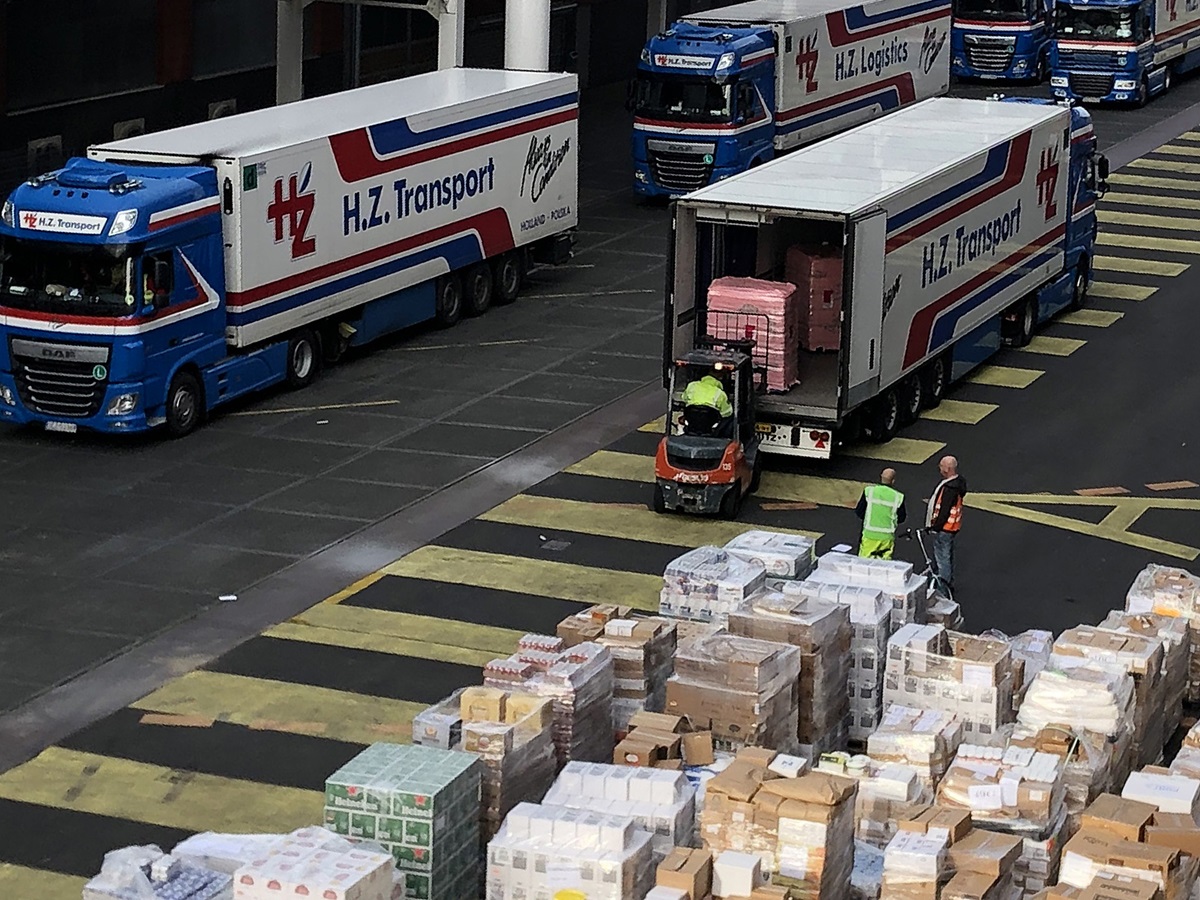 Supplying cruise ships
"What you are looking at here, in fact, is the end of a gigantic logistical chain," explains Audrey de Vette, who, together with her brother, is owner and director of the Dutch transport company H.Z. Logistics in De Lier. The company takes care of all European cruise transport requirements for HAL.
H.Z. Logistics ensures that everything a HAL cruise ship needs in terms of foodstuffs and hotel commodities is ready and waiting on the quayside the moment the ship docks. "It's a lot more complicated than supplying a supermarket, for example. It is exacting and diverse and there is absolutely no room for error," says Audrey. "It's all about knowing precisely what HAL requires in terms of supplies. We have to make sure that the goods are delivered to the right port at exactly the right moment. The process involves lots of customs documentation, so there's an awful lot of paperwork."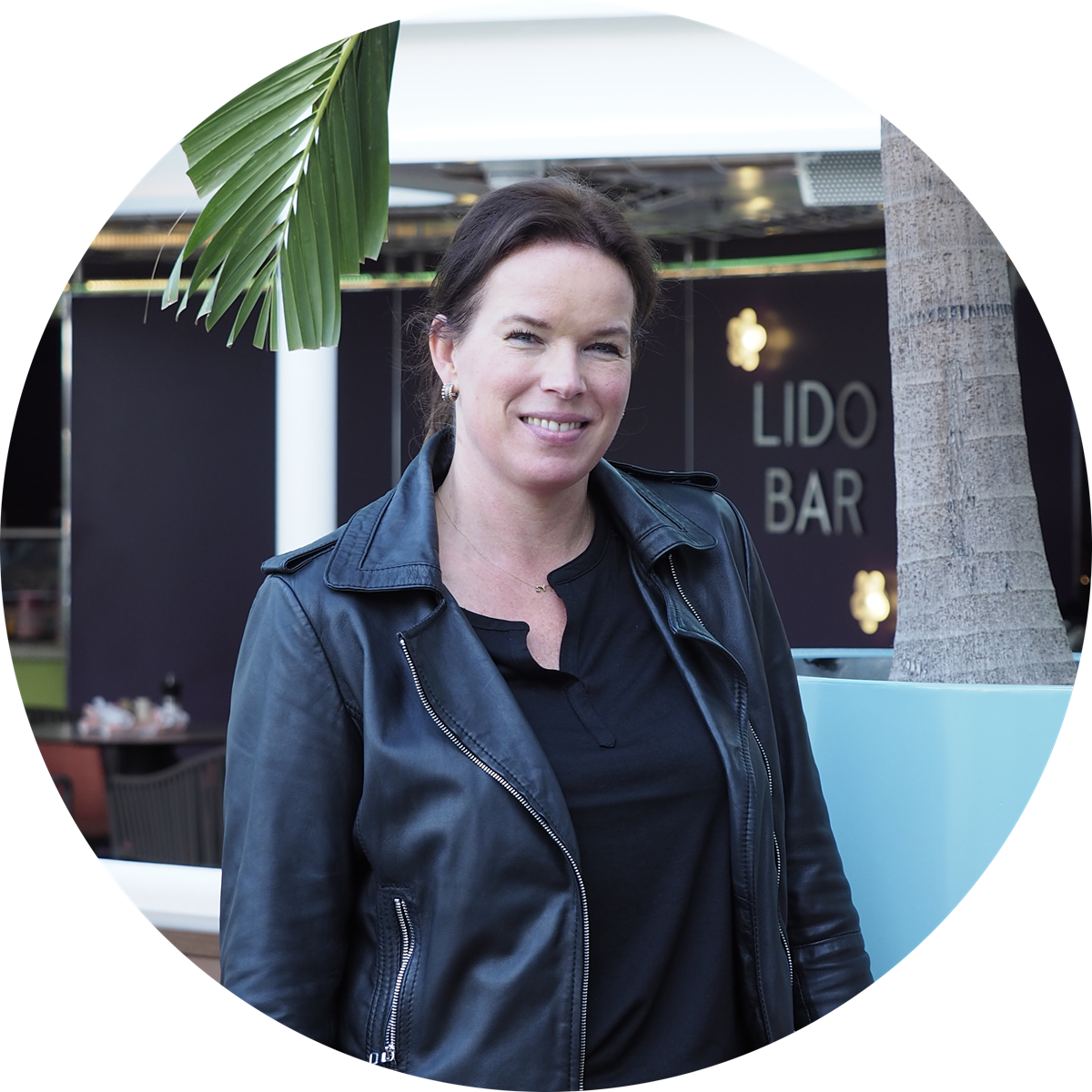 Audrey de Vette
Director HZ Logistics
"This is Dutch logistics at its best and that's something to be very proud of: a Dutch transporter with Dutch trucks, looking after all the needs of a global shipping company."
Most of the goods are from Europe. "But we also handle supplies from the USA", explains Audrey. "Those goods arrive in containers that we then have to pick up and deliver." H.Z. works together with the logistics firm Frigo in Breda for this specific purpose. "The suppliers send the majority of their goods to Frigo, where they are combined into loads that we can collect for transport. That said, responsibility for the goods lies on our shoulders because we have to ensure that each supplier delivers exactly what was ordered. Some goods come from Hamburg and Italy and we pick those up ourselves."
For H.Z., this is seasonal work that runs from March until October, after which the cruise ships head off for sunnier climes. That doesn't make the work any less hectic, however. "For example, we never know exactly how much capacity we need to reserve. All we really know is which ports we will need to deliver to and when. Those ports include Amsterdam, Rotterdam, Southampton and Civitavecchia, near Rome. HAL does give us an estimate of the kind of capacity they will need for the season, but the actual volumes depend ultimately on the ship's occupancy rate and the kinds of guests on board. This changes from week to week, which really keeps us on our toes. And as head chef Duff says: guests should never want for anything. Ever."
About H.Z. Logistics
H.Z. Logistics is a logistics company that provides comprehensive international and intermodal road transport services in several different countries. H.Z. also has a separate unit for special transport services and is a leading player in the supply of ships. The head office is in the Netherlands and other locations are UK, Romania, Poland and Austria.

350
trucks (mostly DAF)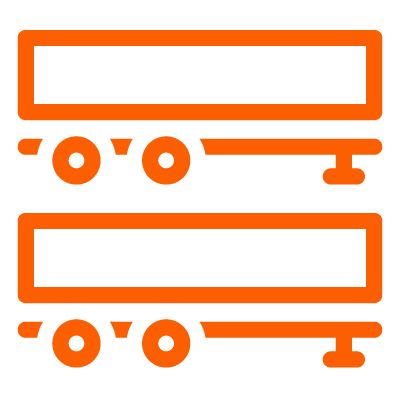 455
(semi)trailers

900
employees
DAF in Action
More stories...
Previous editions of DAF in Action magazine: