We use cookies for a variety of purposes, such as website functionality and helping target our marketing activities. Some cookies are essential, others help us improve your experience by providing insights into how the site is used. For more information, please visit our Cookie Notice.

DAF in Brazil
"If it stays intact here, it will stay intact anywhere"
Daniel Begnini, director of 'Transportes Begnini'
In many ways, Brazil is a land full of extremes: with a surface area of 8.5 million square kilometres and a population of 208 million, it is the fifth largest country in the world. The climate varies from pleasantly warm to very hot and humid. According to Google Maps, it takes 71 hours to drive from Boa Vista in the north of the country to Porto Alegre in the south, a distance of 5,259 kilometres. That is almost as far as the drive from Tromsø in the north of Norway to Gibraltar in the south of Spain, with one big difference: the European driver needs 'only' 55 hours, not 71, to cover that distance, primarily because of the excellent infrastructure and almost perfectly smooth roads. In Brazil currently, only 5.5% of the country's 1.7 million kilometres of road is paved. In other words, road transport is still quite an adventurous activity in Brazil.
In 2012, DAF's parent company, PACCAR, decided it was time to embark on that adventure by building a brand new factory in the southern city of Ponta Grossa where, two years later, the first DAF XF105 rolled off the production line. Today, the factory also produces the CF and LF, as well as PACCAR engines.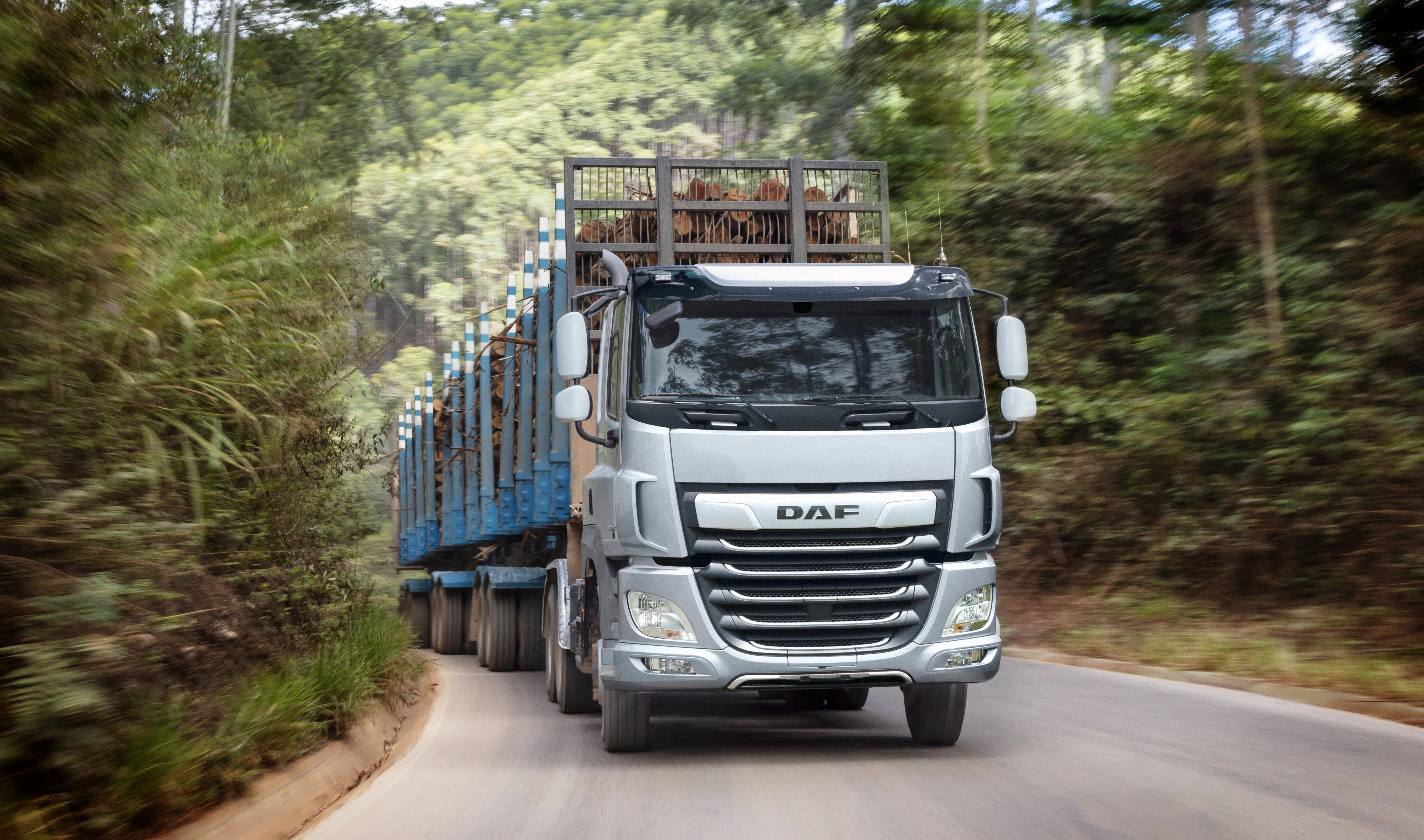 Patience
Finding your place in the extremely competitive Brazilian market (where all European truck manufacturers are represented) requires perseverance – a lot of perseverance – but in Brazil, DAF is here to stay. Dealers are investing heavily in the dealer network (it is DAF policy to work with local entrepreneurs) and DAF has already been voted the most popular truck brand in Brazil three years in succession.
Intact
There are a few important differences between a DAF produced in the Brazilian factory and a 'European' DAF. Which is entirely logical, given the road conditions described above and the fact that the maximum GCW for trucks in Brazil is no less than 91 tons. A Brazilian DAF, therefore, has a heavy duty chassis, suspension and axles. For DAF, Brazil sets the bar when it comes to developing indestructible vehicles. Not surprisingly, the quote "If it stays intact in Brazil, it will stay intact anywhere" is widely used in DAF's Product Development department.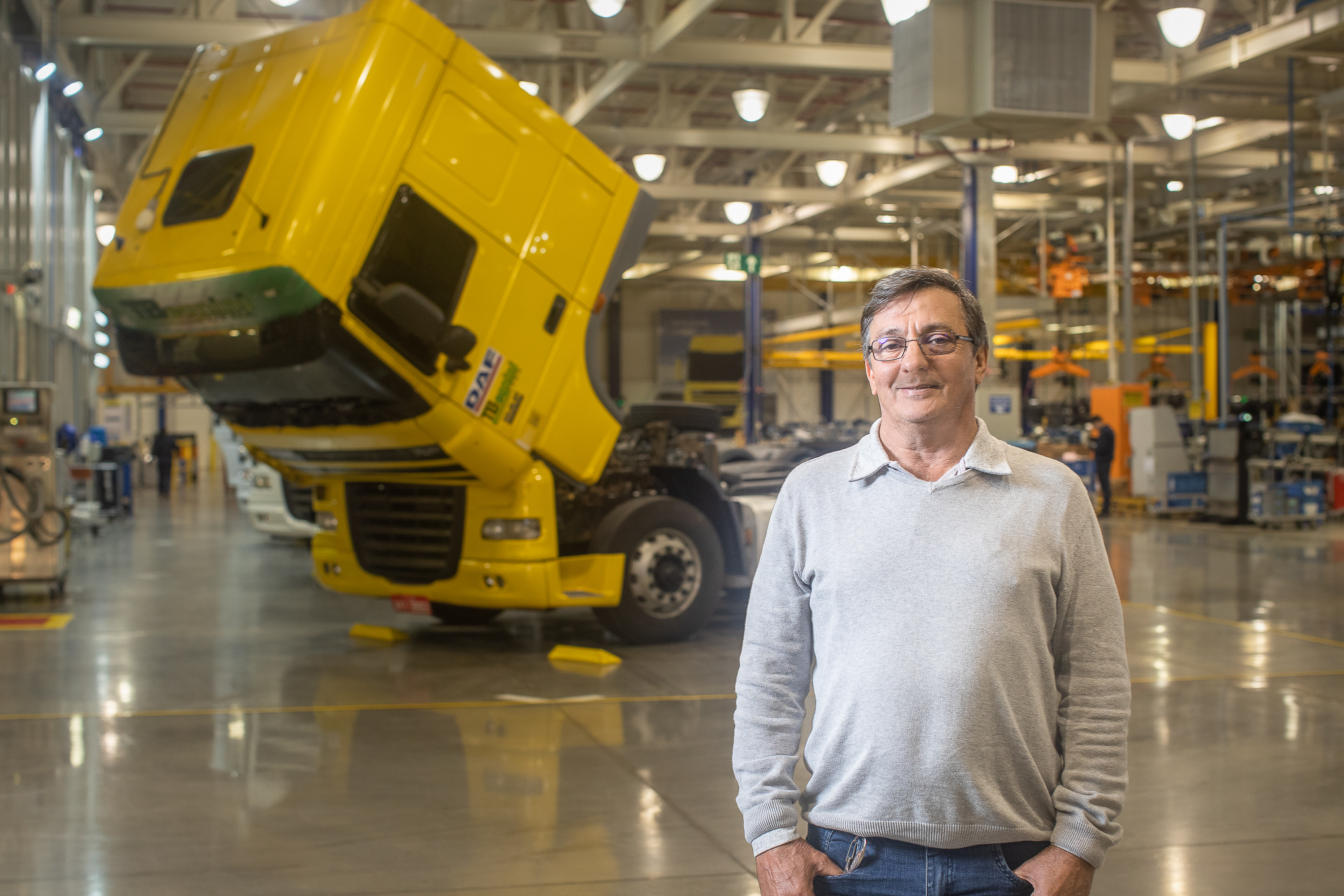 Daniel Begnini, director of 'Transportes Begnini'
Preventative only
Someone who knows all about this is Daniel Begnini, director of 'Transportes Begnini' and proud owner of the first XF105 to be sold in Brazil. Five years later, the truck has clocked up an amazing 1,000,000 kilometres and still looks brand new. "It hasn't had one day of unplanned down time in all those years," according to its very satisfied owner, who now has more than 30 DAFs in his fleet of 90 trucks. "We have only had to carry out the recommended preventative maintenance and replace some spare parts every now and then. And during the warranty period we used only genuine DAF parts. We have since switched to universal parts from PACCAR's TRP programme, which are just as good in terms of quality." Begnini's trucks transport a wide range of goods throughout Brazil: from bulk goods, such as cattle feed, to cows and steel. "Like my colleagues in the road transport business, the country's poor roads, steep inclines and extreme conditions form the biggest challenges that we face every day," says Begnini. "Our decision in 2014 to go with DAF has proven to be a wise one. The brand has become a permanent fixture in my fleet and will remain so in the future."
HEAVY, HEAVIER, HEAVIEST
Sugarcane is one of the most important agricultural products in Brazil, and the annual sugarcane harvest is around 600 millions tons, a staggering amount. Even with a GCW of 91 tons, which is twice the weight permitted in Europe, trucks have to make eight million roundtrips each year to transport all that sugarcane from A to B. Another huge sector in Brazil is the timber industry. Brazil has seven million hectares of tree plantations and transport is carried out primarily on poor and unpaved roads. Trucks literally have to fight their way through the forest to pick up their loads of timber, which makes this one of the most challenging truck-applications. To cater for these extreme market segments, DAF developed a special truck with a three-axle chassis ('FTT' in DAF language), plus a reinforced chassis and suspension, giving it an off-road GCW of 125 tons. For the sake of comparison: in Europe the standard weight is 44 tons. The trucks are available with either a CF or XF cab.

Also interesting to read: