DAF respects your privacy. We use cookies for a variety of purposes, such as website functionality, improving your experience of our website, building integration with social media and helping target marketing activities within and beyond our website. By continuing your visit on our website, you are consenting to our use of cookies. However, if you want to customize your cookie preferences, click on 'Change settings' below. You can withdraw your consent at any time. For more information, please visit our Cookie Notice.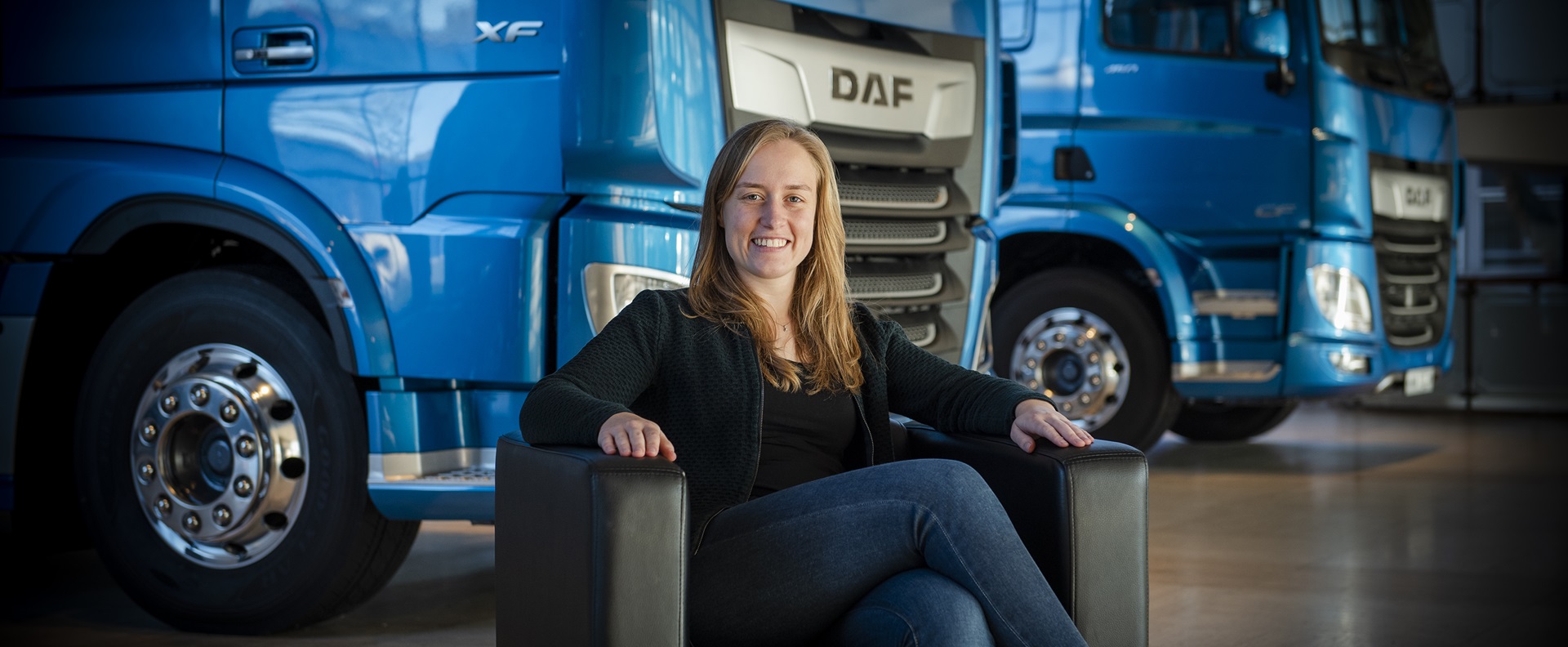 "Everybody is able to learn from each other here."
Gabrielle van Nes - Logistics Engineer Innovations
DAF was not the first employer on Gabrielle's list. While studying Operations & Logistics Management, she gained experience in an entirely different sector. Nevertheless, she decided to go along on the company visit organised by her study association. The visit and tour of the production facilities turned out to be a pleasant surprise and she now works as a Logistics Engineer in the Innovation & Improvement Operations department.
"At first, I didn't even consider DAF because I had done a placement in a hospital. But during the tour of the various factories I started to feel really excited," says Gabrielle. "I got to see the whole production process and the logistics involved, as well as the finished product. You watch the truck literally rolling off the production line, which was amazing to see."
"I work in an umbrella department now," explains Gabrielle. "There are lots of projects that concern multiple locations and as a Logistics Engineer, I work on projects that involve all the factories — the three factories in Eindhoven as well as the two in Westerlo (Belgium)."
"The projects are really varied. One project might be more operational, while another one is more strategic. As a project leader, I have to consider the actual problem. How often does something actually occur? Sometimes assumptions are made, but in practice we see that things work out. I also look at who is a good fit for the project team and monitor the progress of the project. Of course, I also still work on the operational side of things and I test whether or not arguments are going to be accurate when it comes to implementing things."
"You have to be pragmatic and independent. It is a very down-to-earth environment and there's no hand-holding. The department is very welcoming, the atmosphere is friendly and everyone is willing to help you. There is a nice mix of young and old and there is a wealth of knowledge available, so everyone is able to learn from each other here."