DAF respects your privacy. We use cookies for a variety of purposes, such as website functionality, improving your experience of our website, building integration with social media and helping target marketing activities within and beyond our website. By continuing your visit on our website, you are consenting to our use of cookies. However, if you want to customize your cookie preferences, click on 'Change settings' below. You can withdraw your consent at any time. For more information, please visit our Cookie Notice.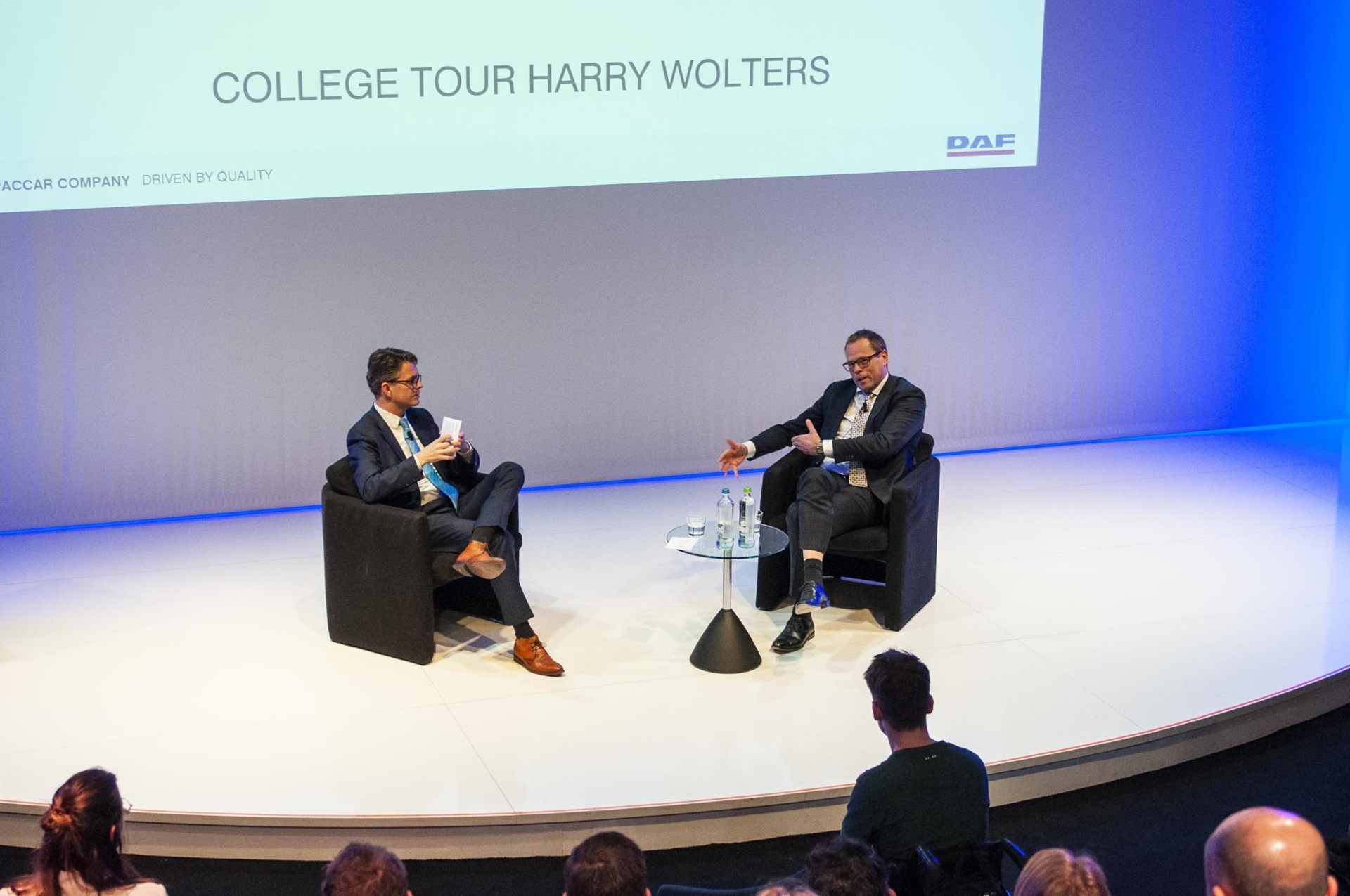 DAF Network Connecting People
On a Wednesday afternoon, a large group of DAF Network members gathered for a new activity. This time it was a spin-off of the Dutch TV-show College Tour, where members of DAF Network got the chance to ask anything to the President Director of DAF Trucks: Harry Wolters.
Tom (Operations): 'What would you like to change about the culture of DAF? What makes you proud?'
'Everybody thinks that their own department is the best. But if everyone is trying to achieve their own goals, then most of the departments are not aligned. We have to cooperate more. We have to build those trucks together, because it's all about trucks in our company.
And to answer your second question, I am proud that we have a family culture, but also that we have the mindset, the we can do mentality. '
Erik (Product Development): 'What is the long term vision of DAF?'
'Of course we want to grow more and expand our business to other continents. South America for example.'
'And is our future with electric trucks or hydrogen?'
'We are developing both technologies and are experimenting with several concepts, so that we are ready when the customer demand increases. Currently, we learn from the electrics trucks that are on the road for Jumbo and Albert Heijn. As part of PACCAR, we are also testing with hydrogen trucks, but this is done in the Los Angeles area. And we are ready for platooning.'
Linda (HR) : 'Would you make other choices if you had the possibility?'
'There is no such thing as a bad decision. You learn from every decision. And of course you have to take difficult decisions, especially if it is about our employees. I will always show compassion to them. But if I have to make a tough decision for our company, I will do it.'
Thom (Operations): 'How does a normal workday look like?'
'I start with making breakfast for my two children, I read three newspapers and when it is possible, I take my bike and cycle to DAF. When I arrive at DAF, my secretary has prepared all the documents I need for the meetings of that day. I am grateful to her.
Every day, around 5 o'clock, I have a call with the US. After that, I can go home to my family. It are long and intensive days, with a lot of meetings and decisions to make. But please, do not feel sorry for me," Harry says smiling.
Bart (HR): 'What is the best career advice you have for the audience?'
'If DAF offers you a new opportunity, don't hesitate, just take the chance with both hands and say fully yes.'
DAF Network is the internal network organization of DAF, led by DAF employees. Their aim is to organize activities where people can learn more about the organization, but a large part of their activities are also focused on personal development and to get in touch with colleagues from different departments.