DAF respects your privacy. We use cookies for a variety of purposes, such as website functionality, improving your experience of our website, building integration with social media and helping target marketing activities within and beyond our website. By continuing your visit on our website, you are consenting to our use of cookies. However, if you want to customize your cookie preferences, click on 'Change settings' below. You can withdraw your consent at any time. For more information, please visit our Cookie Notice.
Only one per cent of the total worldwide volume of cargo is transported by air. However, that one per cent represents 33 per cent of the total value. And the total volume is expected to double by 2035. This is also good news for the road transport sector because each delivery requires a minimum of one road transport to and from the airplane.
With air cargo, the transport costs are always less important than other concerns. Vegetables have to be flown from Africa to Germany, flowers from The Netherlands to the USA, important machine parts from Italy to South America. Not to mention the enormous amount of mail and packages, or the newest electronic gadget whose marketing strategies demand that they appear in the shops simultaneously all over the world.
Intercontinental
Most air cargo is intercontinental and most major airports are equipped with enormous cargo terminals. In Europe, the biggest handlers are Frankfurt Airport and Charles de Gaulle Airport near Paris with 2.1 million tons of cargo each, closely followed by Schiphol Airport in the Netherlands, which handled 1.67 million tons of cargo last year. These are impressive figures, and yet on the global scale Europe barely makes it into the top ten. Top of the pile is Hong Kong's 'freight hub' with 4.46 million tons, followed by Memphis in the USA with 4.29 million tons. Third place on the global list goes to Shanghai Pudong with 3.27 million tons.
Big business
Europe does play an important role in terms of size and value however, as 35 per cent of all air cargo departs from or lands at European airports. And the latter is carried out not only by dedicated cargo aircraft. An increasing amount of air cargo is now made up of 'belly freight': cargo that is transported in the hold of commercial airliners. Sometimes this can even mean closing off part of the passenger section of an aircraft for the transport of valuable racehorses to a big race overseas, for example. And that is big business. >
Doubled
Worldwide, the share of cargo between cargo aircraft and belly freight is about 50/50. According to Boeing's influential World Air Cargo Forecast for 2017 the global volume of air cargo is expected to double by 2035. That is an increase of over 4.5 per cent each year, despite the fact that the currently very low interest rates mean that it is actually cheaper to transport cyclically sensitive products by sea because the interest that has to be paid over a 40- or 50-day voyage pales in comparison with the high costs of air transport.
Good news
This is good news for the road transport sector. After all, there are not many people who can park an airplane outside their front door. No matter where in the world an air cargo container or pallet starts its journey, it will always cover the first and last kilometres in the back of a truck. And sometimes those distances can be quite considerable. Because the greater portion of intercontinental air cargo lands at a large air terminal and then needs to be transported land inwards. Conversely, a cargo trip might begin in Prague but have to travel to Frankfurt first before jetting off into the sky. "We drive from Schiphol on a daily basis with cargo destined for Milan, for example," according to Sebastiaan Scholte, director at Jan de Rijk Logistics, the largest air cargo operator in Europe. "We also transport a lot of cargo from locations in Europe to airfreight terminals. Though this cargo also has to be transported by road, it is still referred to as air cargo. And while the distances might be the same as for traditional road transport, the difference is that we have to drive under conditions that apply to air cargo. With sealed container doors, for example, meaning that we cannot stop to take on any extra load during the journey." >
Specialised carriers "Express deliveries are often flown directly to their final destination, like the cargo transported by specialised carriers such as Fedex, DHL, UPS and TNT", explains Scholte. "They retain control of the delivery from beginning to end. But in the case of most air cargo the shipper will recruit the services of a 'forwarder' who can transport the load to an air cargo carrier like Air France or Lufthansa.
At the landing location, usually a large hub, the 'forwarders' then hire an air cargo transporter to take the load to another airport by road where the goods are cleared through customs before being taken by road to the final destination. With a market share of 20 per cent, we are the main player in this business in Europe. We have 1,000 vehicles on the road every day, 700 of which are our own."
Capacity
One of the main reasons why air cargo is not loaded more often onto another aircraft at a freight hub and then flown on to say Vienna or Stockholm is the lack of capacity. Another reason is that most airplanes carry cargo that has to be delivered to a wide range of destinations. "A Boeing 747-8F has a 124-ton payload, enough space for 90 air cargo containers", says Scholte. "Cargo that would fill 10 to 15 trucks and that has to travel in different directions. This can be done much quicker and cheaper by road, instead of trying to combine cargo for further transport by air." ■

Sebastiaan Scholte:
"Air cargo often covers the same routes as international road transport, but then under different transport conditions."
Air cargo containers
Air cargo containers differ in terms of size compared to normal pallet transport. This is why most air cargo operators use low deck trucks, which can accommodate trailers with an internal height of 3 metres, with a maximum vehicle height of 4 metres. This makes it possible to transport both belly freight and cargo for dedicated cargo aircraft. DAF offers factorybased solutions: fitting low profile tyres and adapting the air suspension have enabled the fifth wheel to be reduced to just 91 centimetres. This means that with the maximum vehicle height of 4 metres, trailers with an internal height of 3.00 metres can be used.

Also interesting to read: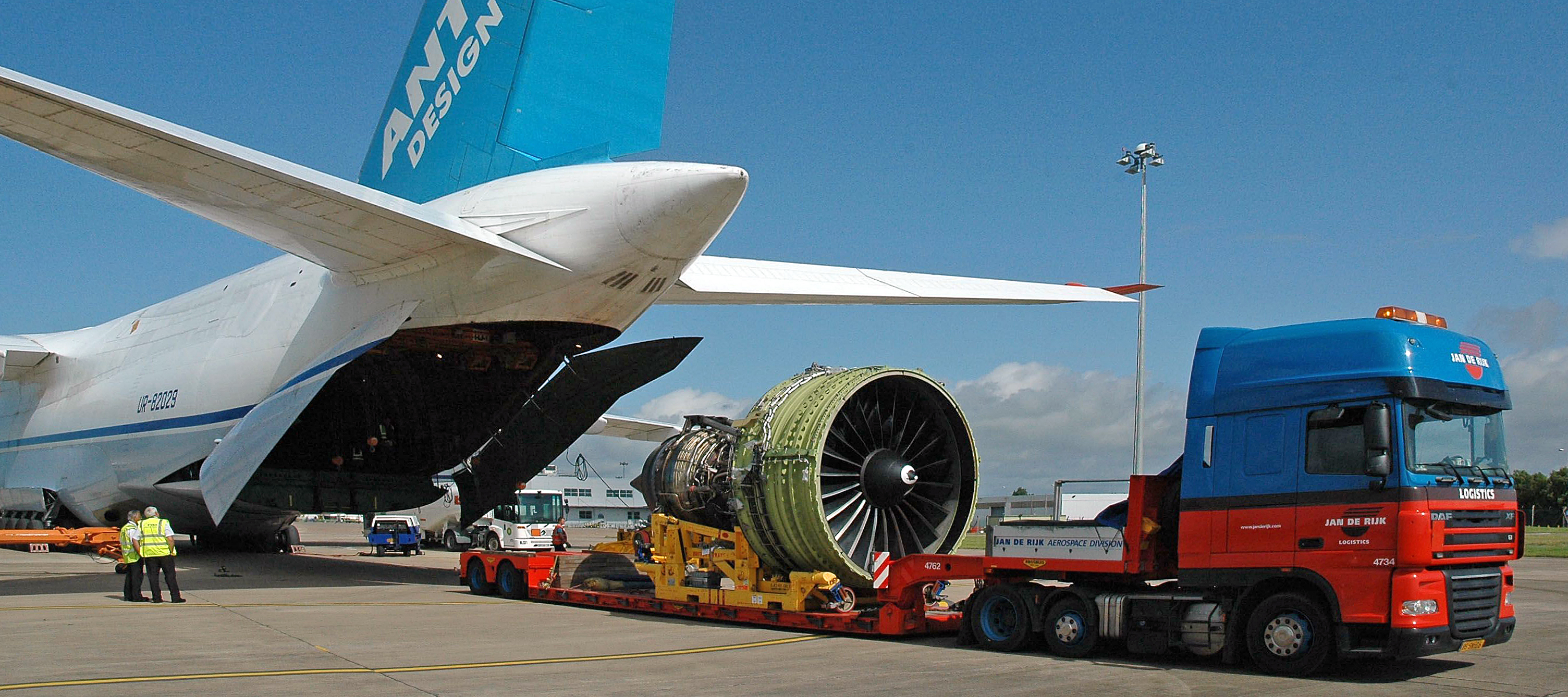 Air cargo on the ground
Special machine parts are often transported by airplane. And if that plane is an Antonov, you can be pretty sure that the delivery is an urgent one