DAF respects your privacy. We use cookies for a variety of purposes, such as website functionality, improving your experience of our website, building integration with social media and helping target marketing activities within and beyond our website. By continuing your visit on our website, you are consenting to our use of cookies. However, if you want to customize your cookie preferences, click on 'Change settings' below. You can withdraw your consent at any time. For more information, please visit our Cookie Notice.
Disposal
Product life cycle
Recycling policy
DAF takes account of the environmental impact of trucks during their disposal. Since 2002, DAF has had a recycling policy based on our overall Environmental Policy and the European Directive on End of Life Vehicles. These policies ensure that opportunities for re-use and recycling are part of our product development process. In addition, when assessing the environmental effects of materials, we take the entire life cycle into account. As a result, more than 90% of all materials in a DAF truck can be re-used once it reaches the end of its operational life.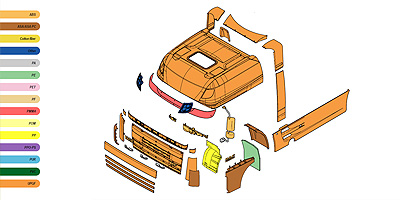 Sorting guides for plastics
DAF promotes the re-use of materials through innovative designs and by providing correct information. Plastics are increasingly used in commercial designs, but there is growing concern about the impact of plastics on the environment. Because plastic parts can be easily recycled as long as they are clearly identified, all plastic parts used in our trucks have a separate code that indicates the type of plastic they are made of. Our sorting guides inform dealers and customers of the types of plastic used in each vehicle type.
Overhaul of parts
DAF has been recycling components since 1970. At our Eindhoven factory, over 40,000 parts per year are overhauled and supplied for re-use. These parts include starter motors, fuel pumps, gearboxes and even complete engines. These re-used parts are similar in quality to new parts. They are literally as good as new.