DAF respects your privacy. We use cookies for a variety of purposes, such as website functionality, improving your experience of our website, building integration with social media and helping target marketing activities within and beyond our website. By continuing your visit on our website, you are consenting to our use of cookies. However, if you want to customize your cookie preferences, click on 'Change settings' below. You can withdraw your consent at any time. For more information, please visit our Cookie Notice.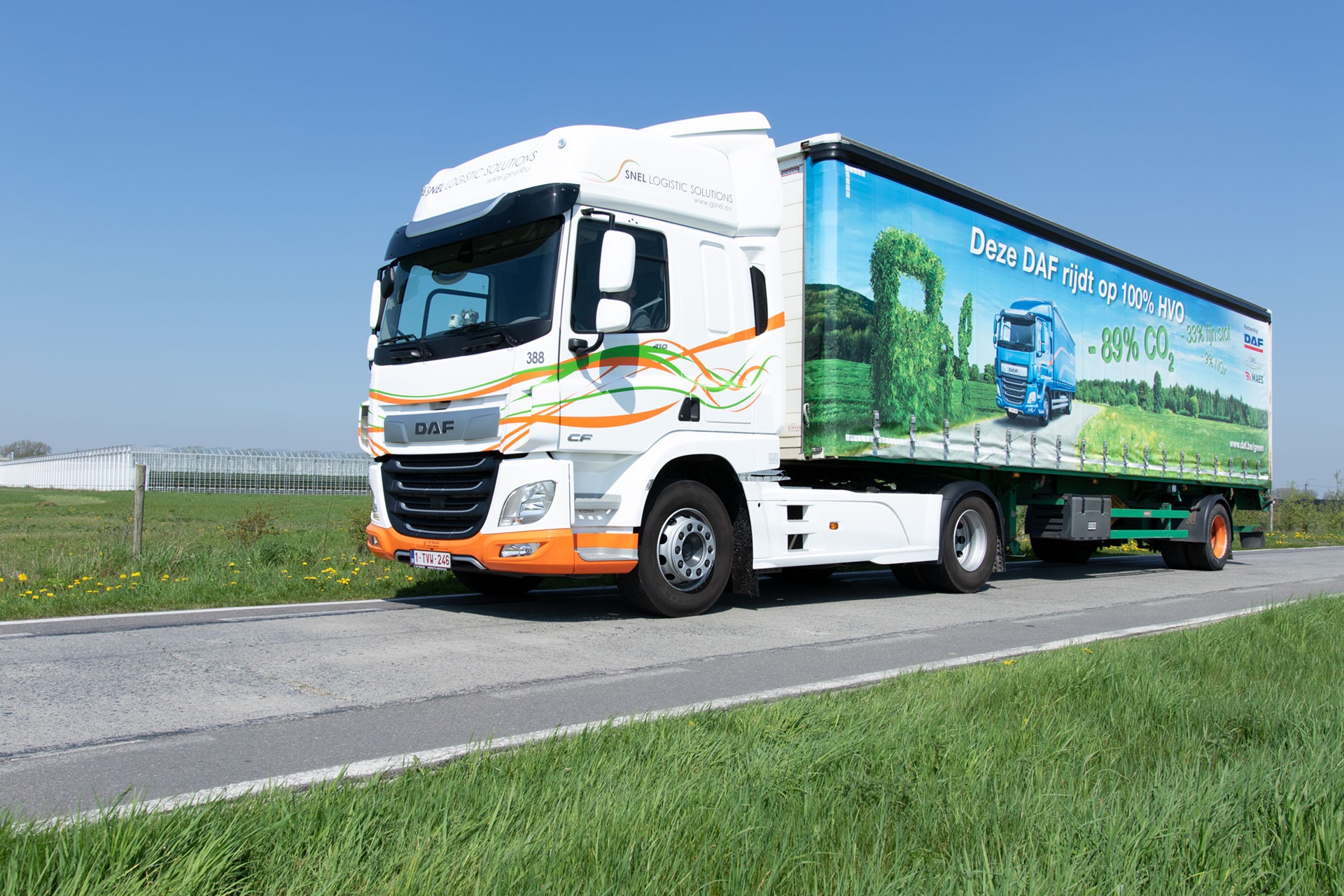 SNEL Logistic Solutions
in Belgium uses HVO: "Almost 90% less CO2"
The newest generation of DAF LF, CF and XF trucks are perfectly suited to driving on so-called 'renewable fuels'. Snel Logistics in the Belgian town of Deinze has been running extensive tests with HVO. The reason? Almost 90% less CO2 emissions. "A better alternative than LNG", according to Gert Snel, general manager of the Belgian logistics firm that regards sustainability as one of its core values.
Founded in 1985, SNEL Logistic Solutions in Deinze has grown to become ne of the most reputable logistics companies in Belgium. "From the very start we focused on providing added value with regard to the transport of goods from A to B", explains Gert Snel. "And that is where we differentiate ourselves from the rest, which is important at a time when competition in the transport industry is very high." SNEL Logistic Solutions operates modern distribution centres that cover an area of 60.000 m2, are operational 24/7 if required and can provide tailor-made service to the firm's customers.
Diversity leads to continuity
The wide range of tractor-trailer combinations clearly shows just how extensive the client portfolio at SNEL Logistic Solutions is. "On the one hand our focus is on providing intensive distribution for the food industry, while on the other we have seen a tremendous increase on the chemical transport side", says Gert Snel. "I wouldn't be surprised if this market segment eventually accounts for 30% of our turnover in the middle- to long-term. It is terrific that we have been able to expand our activities right across the board. That's good for the continuity of the business.
And it is also an acknowledgement for the entire team of the fact that clients are willing to allow us to explore new territories. That says a lot about their level of trust in us."
Shining example of safety
'Sustainable business practices' is firmly established as one of the most important core values at this logistics firm, which ncidentally maintains a fleet of 180 vehicles, 65% of which are DAFs. "To us, sustainable business means first and foremost maximum attention for safety", explains Snel. "We invest heavily in the training of our drivers and in modern safety systems, including for our trucks. The result: in 2013 we were one of the first ever logistics companies in Belgium to be awarded the Truck Safety label and we were singled out as a shining example of safety by the Flemish authority for traffic safety." Anyone who visits the website of SNEL Logistic Solutions will quickly conclude that its 'Sustainable Business Practices' are primarily focused on environmental matters. It was one of the first companies to embrace the EcoCombi, to use tyres with a low rolling resistance on all its vehicles as standard and to introduce a maximum speed of 85 km/h, which inturn led to a 3% reduction in fuel consumption and a 3% drop in CO2 emissions.
"To me it is a perfect example of how economy and ecology can go hand in hand."
Economy and ecology
Snel: "Of course we are also looking at alternative fuels and that is why we are now experimenting with HVO, a vegetable oil that is made entirely from waste that doesn't include foodstuffs. This was an important consideration for us. Every single new DAF can use it without having to be modified; even the maintenance requirements stay the same. And the impact is enormous: 89% less CO2, 33% fewer particulate matter, 9% less nitrogen. It is by far a better alternative than LNG. Trucks don't need to take detours in search of a suitable filling station – the biodiesel comes from a 10,000 litre tank that our partner Maes Energy & Mobility has installed on our premises. And the real beauty of it is that all of the benefits of having a truck with a diesel engine are retained, such as reliability, durability, operating cost and resale value. To me it is a perfect example of how economy and ecology can go hand in hand." ■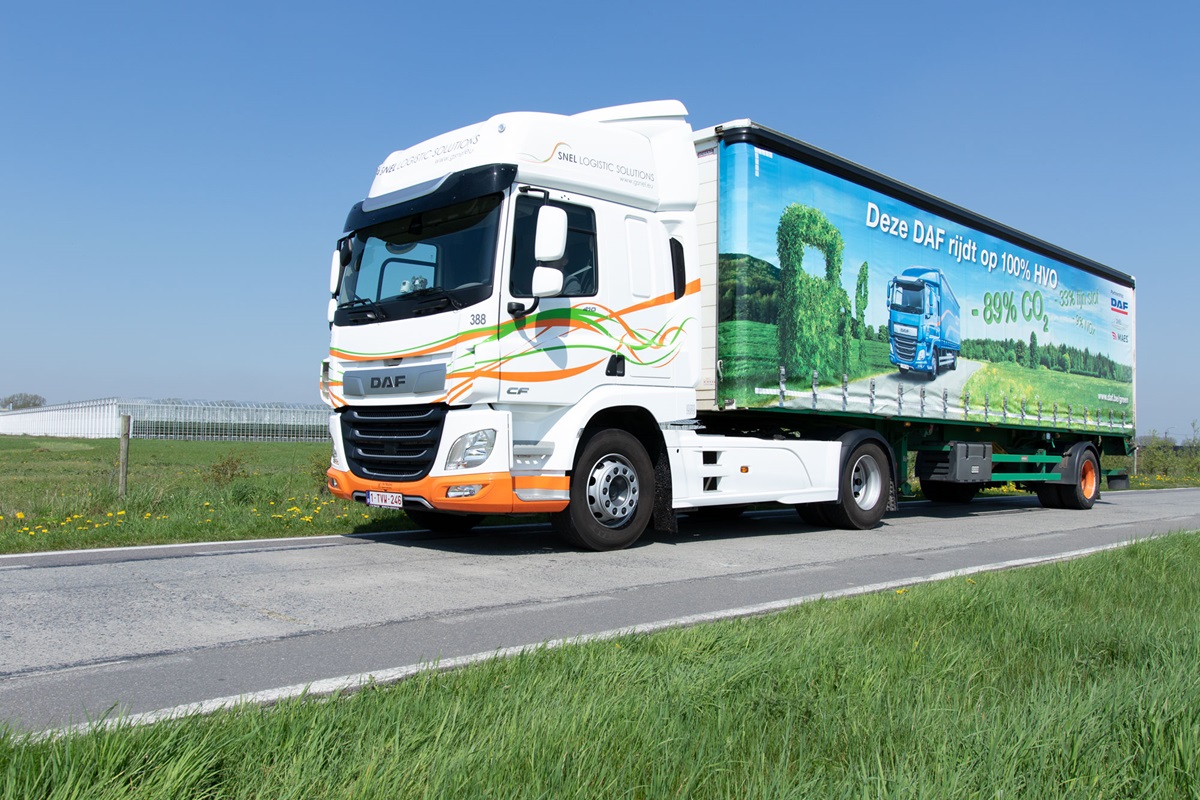 What is HVO?
HVO (Hydro-treated Vegetable Oil) is a synthetic diesel made from waste products, such as frying fat, animal fats or wood pulp. HVO can be mixed in all proportions with normal diesel oil. All DAF trucks from the newest generation are suitable for HVO.

Also interesting to read: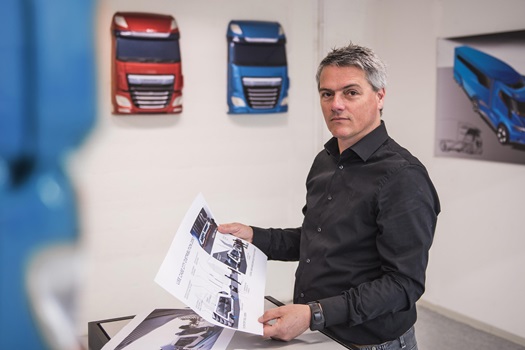 Bart van Lotringen paints a quick picture of the various developments currently at play.