DAF respects your privacy. We use cookies for a variety of purposes, such as website functionality, improving your experience of our website, building integration with social media and helping target marketing activities within and beyond our website. By continuing your visit on our website, you are consenting to our use of cookies. However, if you want to customize your cookie preferences, click on 'Change settings' below. You can withdraw your consent at any time. For more information, please visit our Cookie Notice.
DAF in 2020
Annual Report for Employees
A year like no other
Annual Report for Employees - DAF in 2020
Foreword
Harry Wolters, President DAF Trucks N.V.
One thing is certain: 2020 was a year like no other. A year that turned our lives upside down, both in the professional and private spheres.
The coronavirus pandemic hit us at a time when the economy was running fairly smoothly and we were working on further growth, bringing us swiftly back down to earth. DAF was also badly hit, especially in the first half of the year. Production was halted for five weeks in March and April and only slowly increased subsequently. In the second half of the year, demand for trucks returned, but in the end, with 46,000 LF, CF and XF trucks produced, there were about one quarter fewer DAFs made than in 2019.
In the end, the total market for heavy goods vehicles in Europe was still 230,000, a figure we could only dream of a few months earlier. To keep up with that growth, we increased production in steps to a level that came close to what it was before the coronavirus crisis. The fact that we managed to do this says a lot about our organisation and the people who work here.
For me, the past year symbolises everything that DAF stands for: creativity, flexibility, a 'get-the-job-done' mentality, but above all, the realisation that we can move mountains when all of us work together. I'm really very proud of that. Thank you for your efforts.
Harry Wolters

Annual Report for Employees - DAF in 2020
Employee Data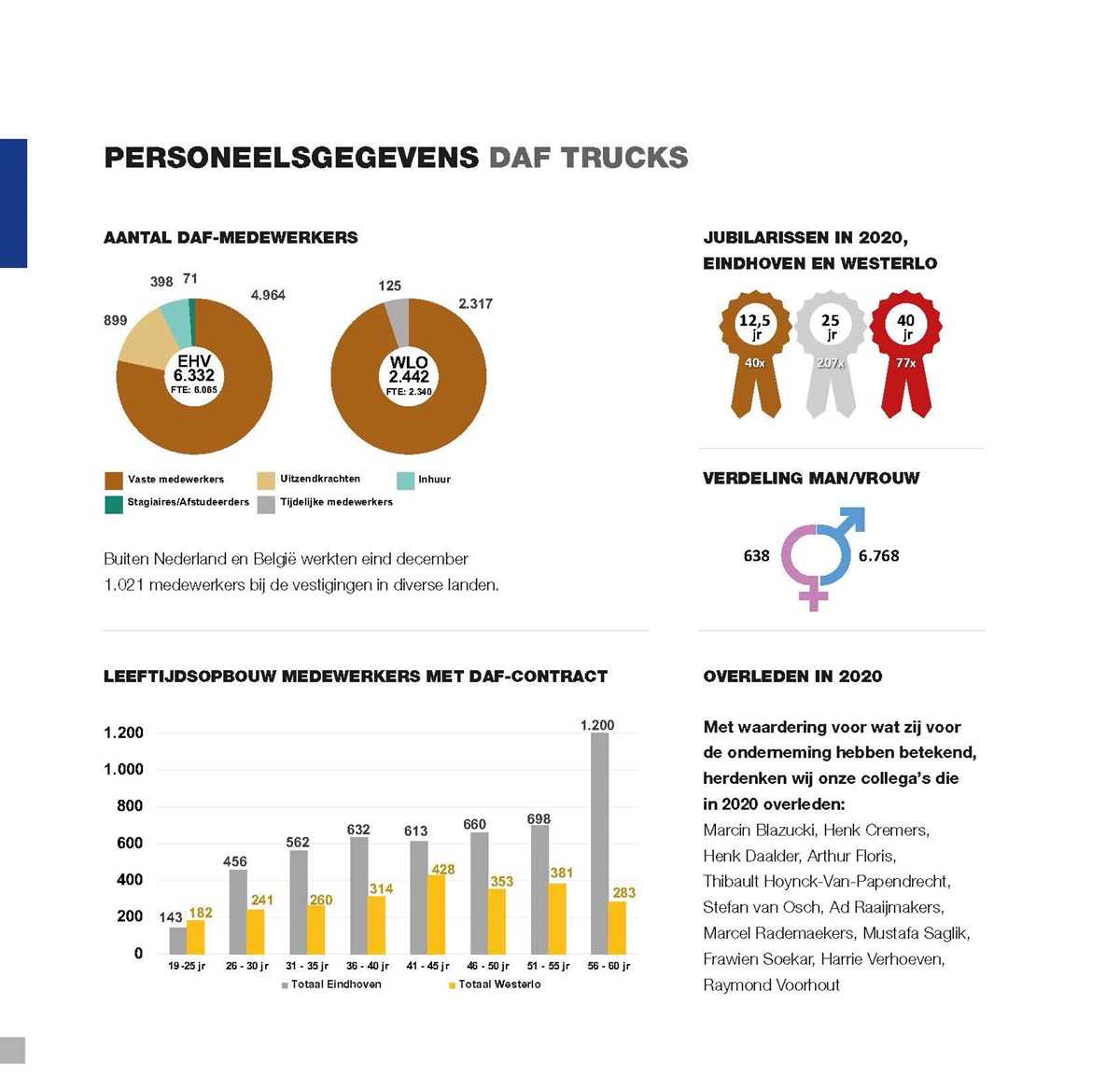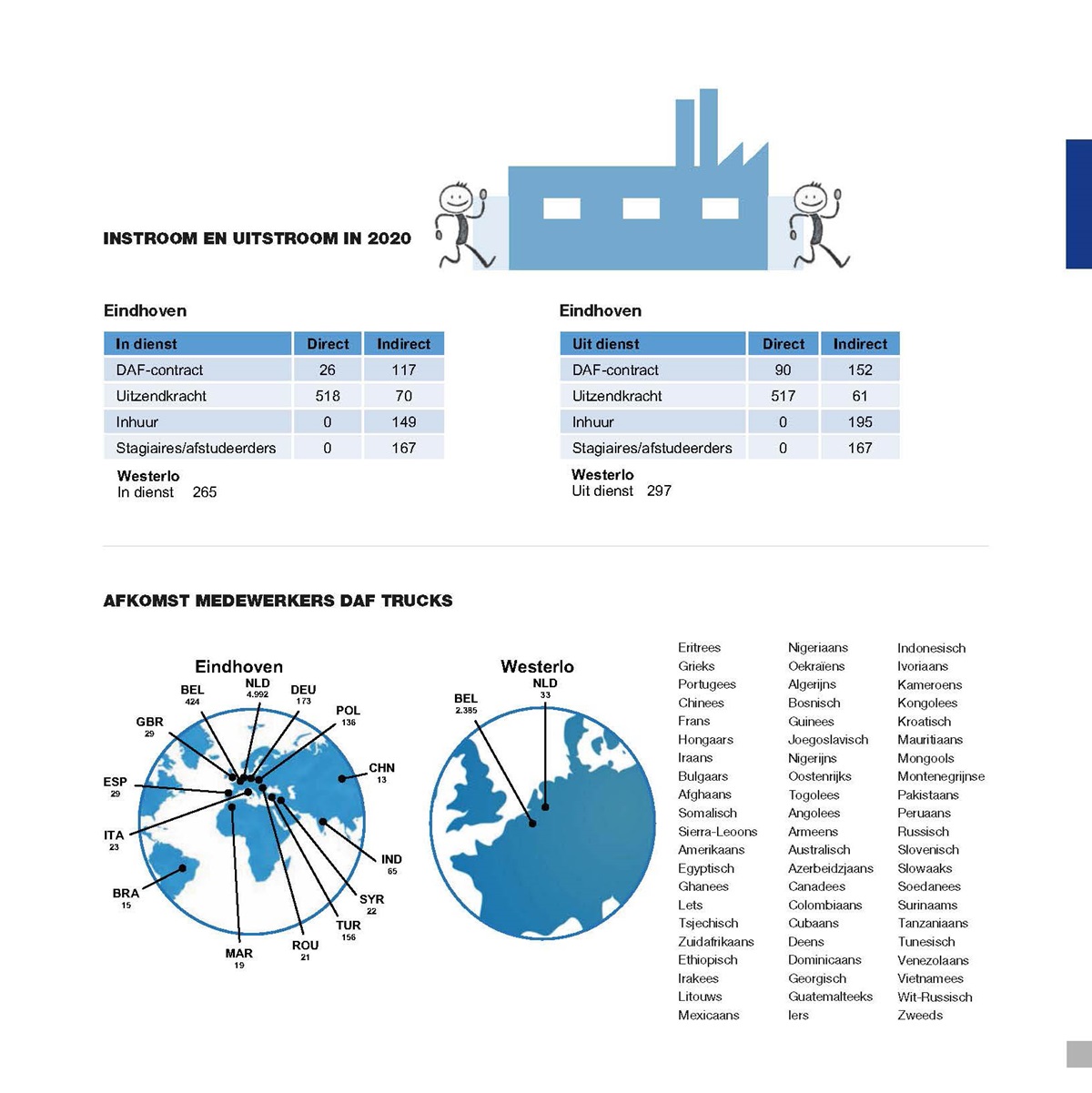 Annual Report for Employees - DAF in 2020
Environment
Less waste, lower emissions
Many projects also ensured that less waste was produced at Eindhoven and Westerlo in 2020 and that fewer emissions were produced.
By doing so, DAF made a major contribution to PACCAR's efforts to further reduce greenhouse gas emissions.
Eindhoven
Investments were made in a new filling installation at the assembly line of the Truck factory where vehicles receive a/c gas, fuel and other vehicle fluids. The latest techniques are used in order to minimise emissions to the outside air.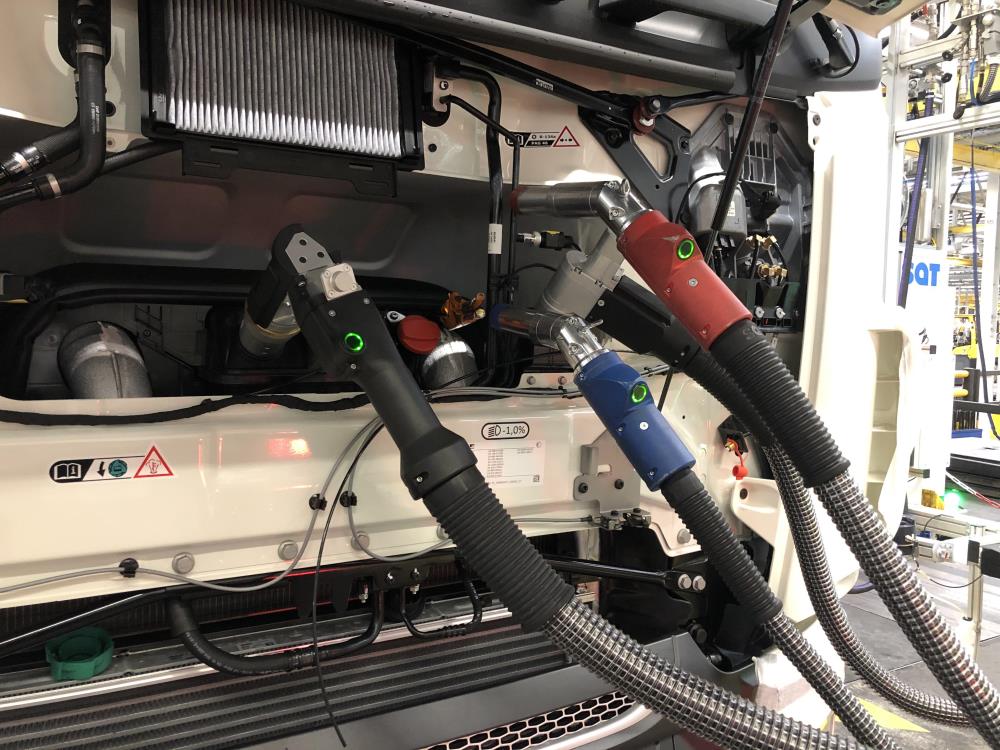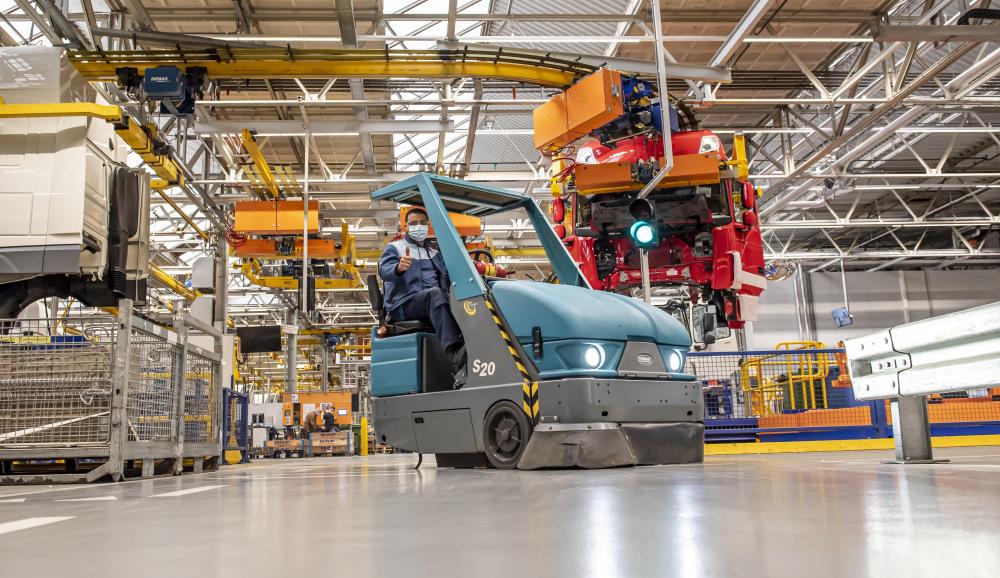 In order to further reduce pollution in DAF's waste water, the frequency of scrubbing of floors was reduced at the Truck factory and the Engine assembly area. A few times a week, sweepers are now used to remove and dispose of the dirt from the floors. This results in less waste water.
The commissioning of the new Schüler press in 2018 and the revision of the existing Schüler press in 2019 made it possible to remove and dispose of the existing Müller presses in 2020. This has resulted in several environmental benefits, such as lower hydraulic oil consumption and lower energy consumption.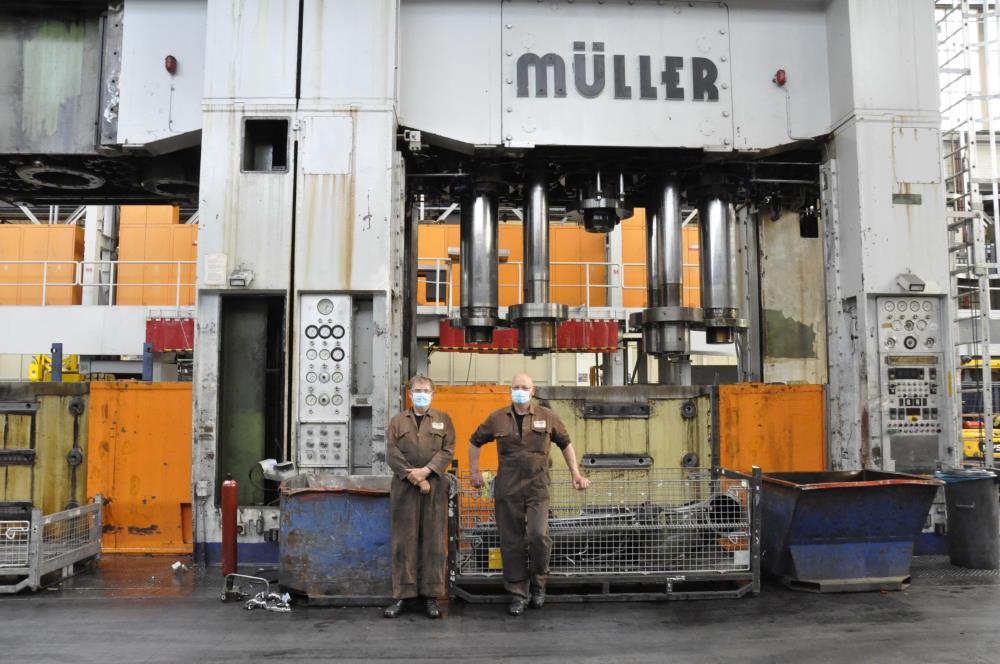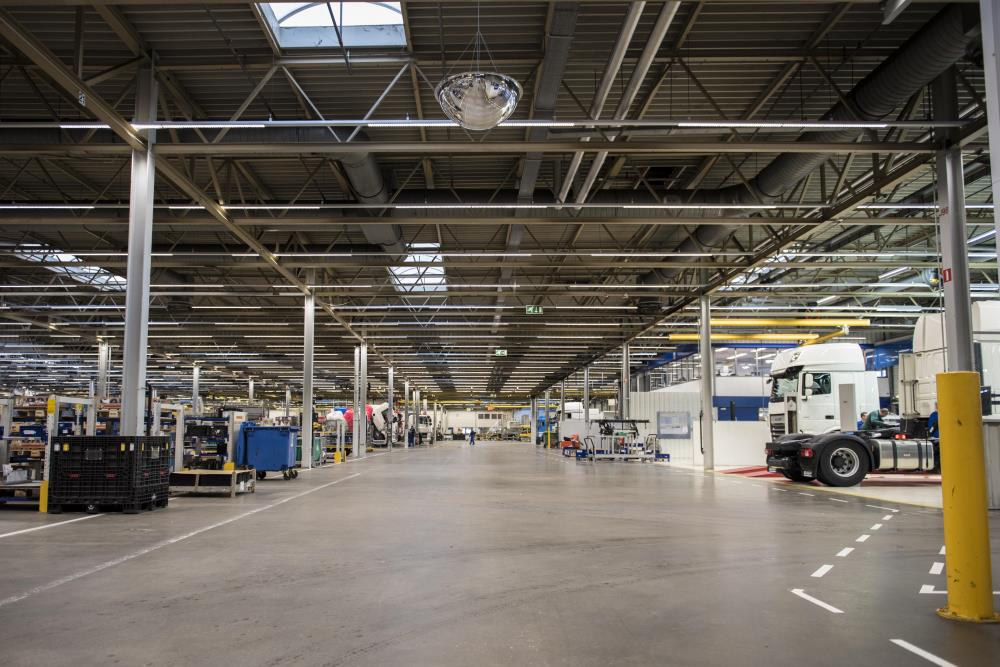 The fluorescent lighting in the E46, D10 and D12 buildings of the Truck factory was replaced with energy-efficient LED lighting.
DAF CF Silent vehicles have been used for transporting cabs from Westerlo to Eindhoven since 2020. These vehicles are fitted with a noise-reducing system. To reduce the noise nuisance for the surrounding area of the DAF site, the driver switches to silent mode as soon as the DAF plant site is approached.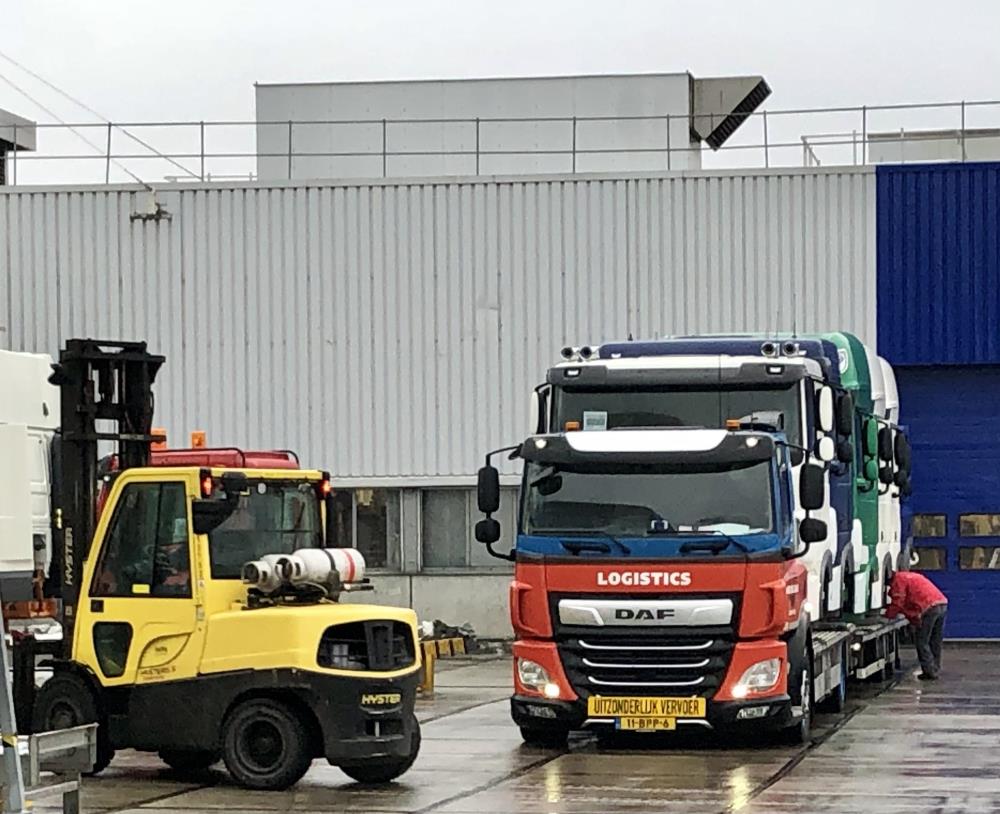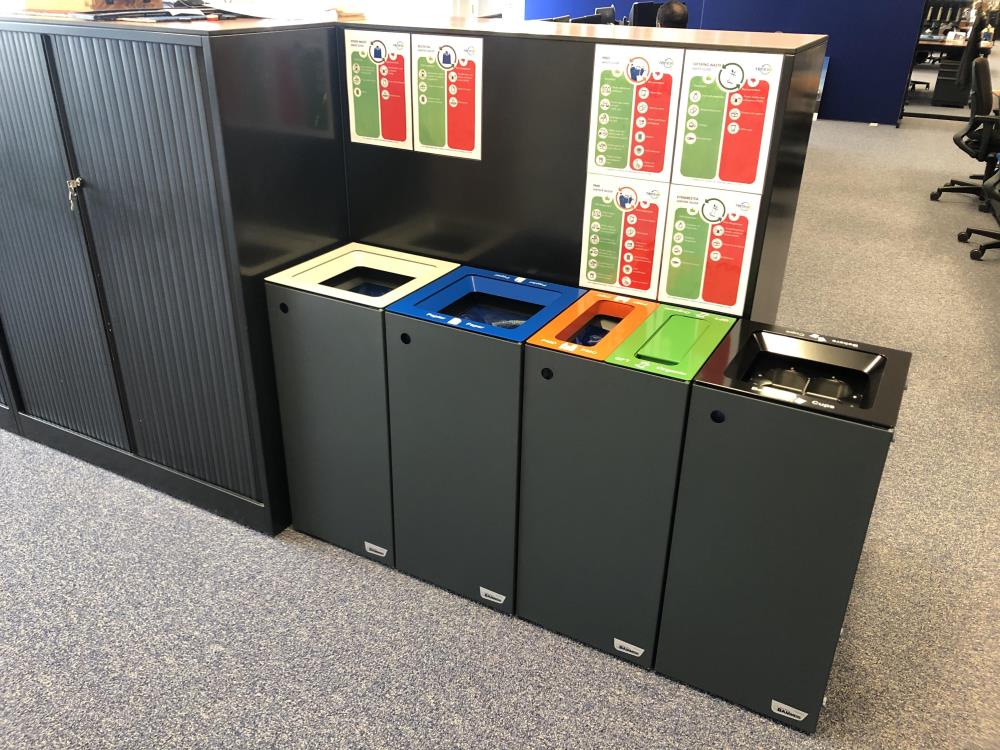 In more and more DAF offices, waste collection bins with better separation systems were introduced. In the B5, A70 and H75 offices, the new system was already in place and in 2020, it was the turn of building C08.
Westerlo
In order to further reduce the noise emission of DAF's activities at Westerlo, an earth noise barrier was built on the edge of the company's premises. In 2020, as part of 'Zero Waste to Landfill', DAF Westerlo found a waste treatment solution for waste released from steel blasting. Previously, this waste was stored.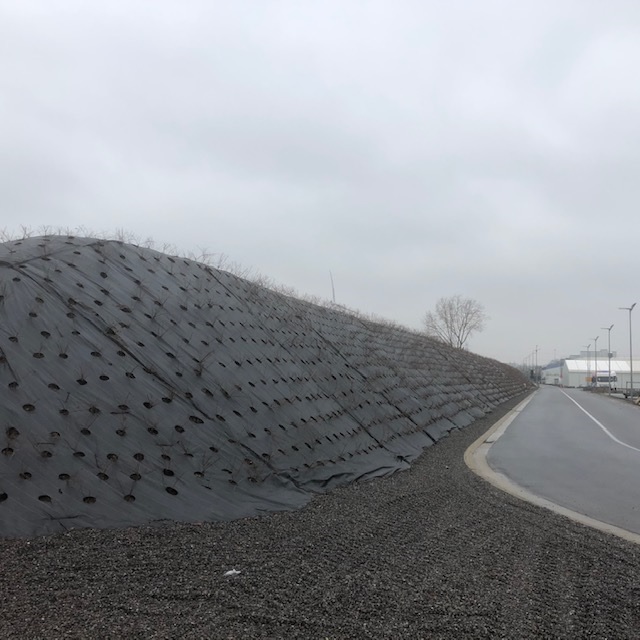 Also in 2020, a large part of the axle factory (about 1/3) was fitted with energy-efficient LED lighting. In 2021, the third and final phase of this multi-year project will be implemented.
Annual Report for Employees - DAF in 2020
Annual Overview and Awards
In 2020, DAF Trucks also won several important awards:
Annual Report for Employees - DAF in 2020
Leyland Trucks
Success in difficult times
Leyland Trucks had a great 2020 that was full of successes in the face of adversity. Like the rest of the world, our teams faced up to the challenge of the global pandemic, but unlike the rest of the world, we also had to prepare ourselves for Britain's exit from the European Union.
Those challenges aside, Leyland Trucks continued to support strong global markets and DAF's excellent 26 years of consecutive UK market leadership - the Leyland team produced a total of 12,958 trucks and a further 1,291 kits were shipped to CKD markets in North America and Taiwan.
Operations ceased
On March 23, our operations ceased due to supplier constraints and on advice from the UK Government. We immediately formed a Pandemic Response Team and set about the process of making our facilities Covid-Secure, following guidelines set out by the UK Government and PACCAR. Late in April, our factory began a restart that saw a gradual return of employees using a re-induction programme covering our new working practices and procedures. By June 1, all employees were back to work and operations returned to full production.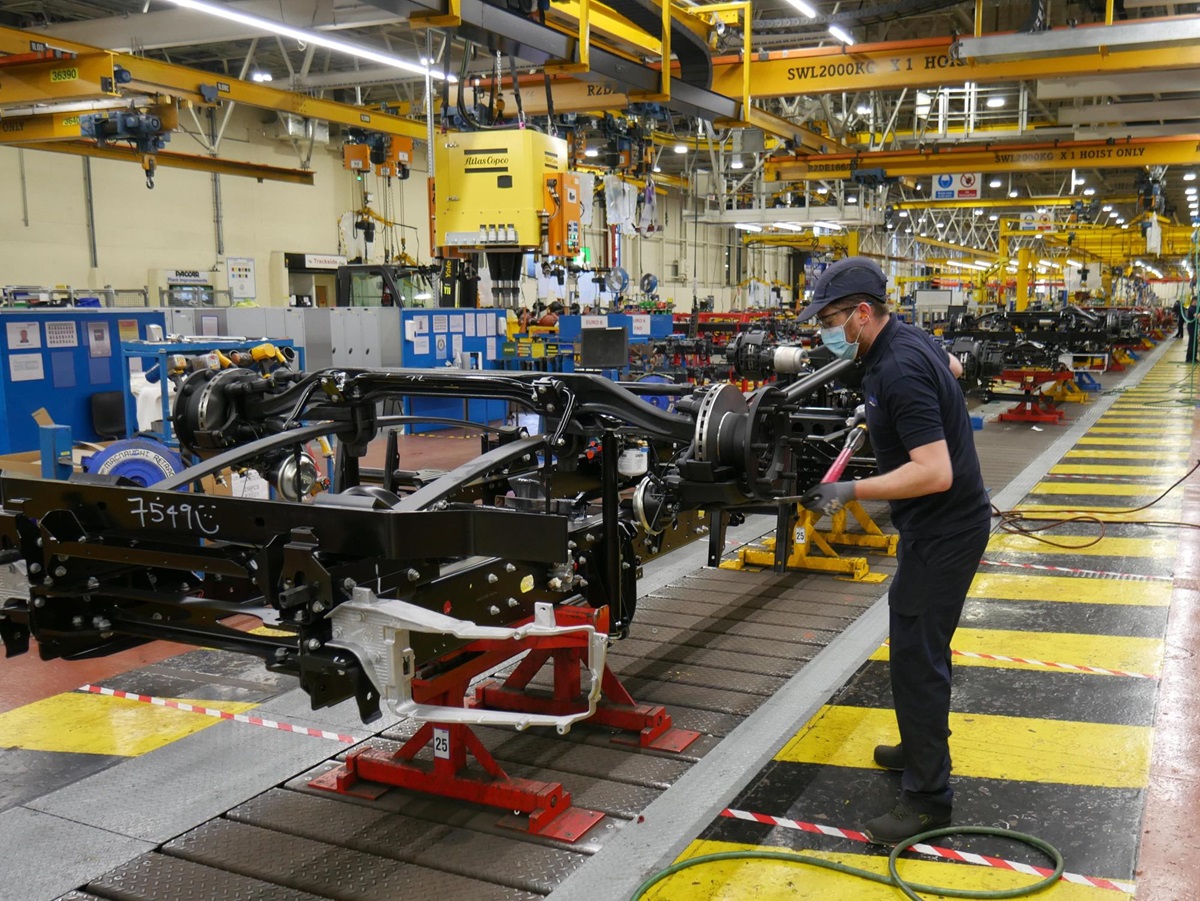 Safety
Safety remains paramount at Leyland and in 2020 we reduced our site OSHA recordable case rate to 0.88, a record low. A full programme of Leadership Safety Tours and IOSH Managing Safety Training were significant contributors. Combined with a continuous improvement approach to Occupational Health, they enabled Leyland to achieve the RoSPA Patron's Award recognizing 25 years of outstanding safety. Leyland also achieved ISO 45001:2018, the international standard for occupational health and safety management systems.
Brexit
On December 31, Britain left the European Union - an act with the potential for serious disruptions to our business. Throughout 2020 our teams, supported by the resources of PACCAR, worked to mitigate risks to ensure we could still deliver trucks to DAF's customers in the UK and around the world.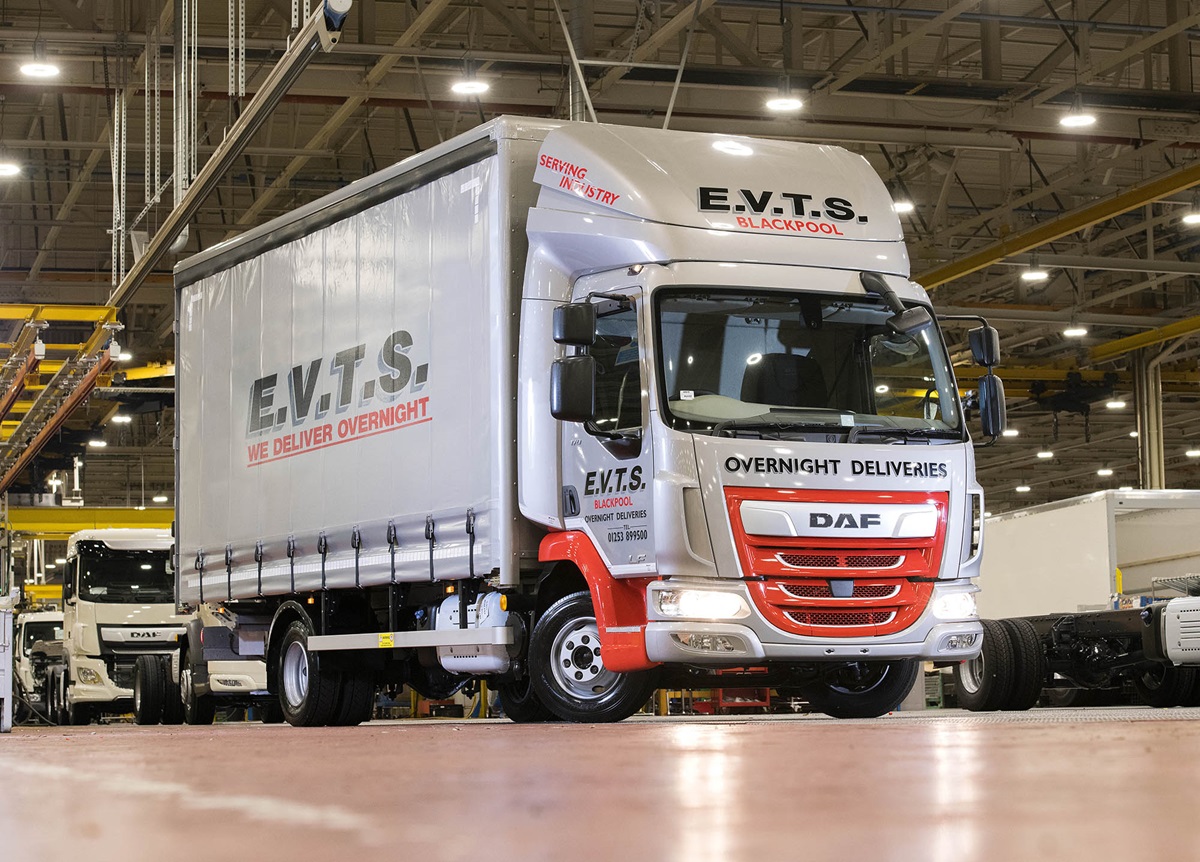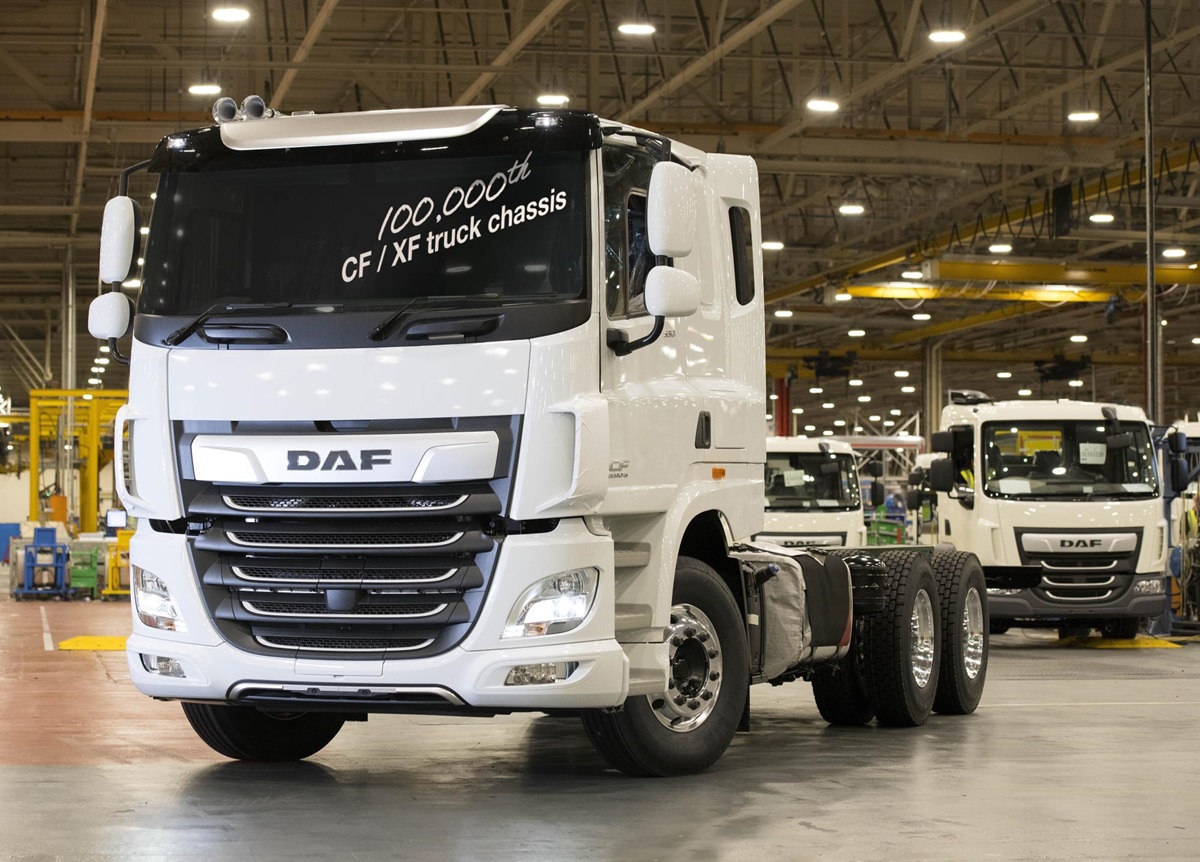 Production Milestone
During 2020, Leyland Trucks celebrated the production milestone for the 10,000th PACCAR bodied vehicle, the 100,000th CF/XF and the 200,000th LF. Early in the year, Leyland Trucks was granted a Queen's Award for Enterprise in International Trade, recognising year-on-year growth in export sales.
Quality
Leyland Trucks is proud to boast 'Quality Trucks built by Quality People'. The quality of the product we produce is as important to us as it is to our customers. In 2020 Leyland reduced PQI by 8% and PPQA by 16%.
Thank you!
People remain at the core of our business and we take every opportunity to say 'Thanks' to our employees for the work they do to bring about the many improvements and for the many successes we enjoy. In 2020, we recognised 249 employees for their five year service increments, together they account for 4,365 years of experience.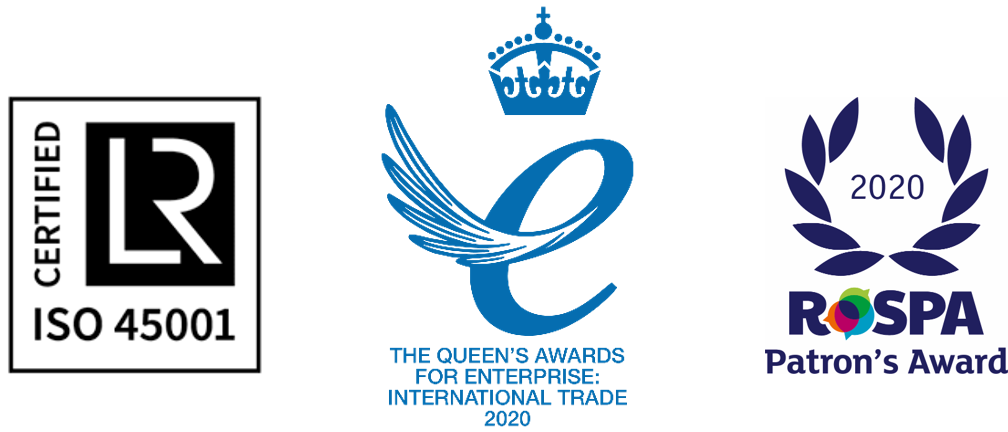 Annual Report for Employees - DAF in 2020
A year full of challenges in Westerlo
DAF is building a completely new Cab factory at Westerlo, a project involving an investment of around EUR 200 million.
The large-scale Body expansion and the new Trimming hall therefore made for a challenging 2020 in Westerlo. There was also the pandemic on top of that. The fact that everything worked out provides extra satisfaction for Lotte Wauts and Andy Swinnen.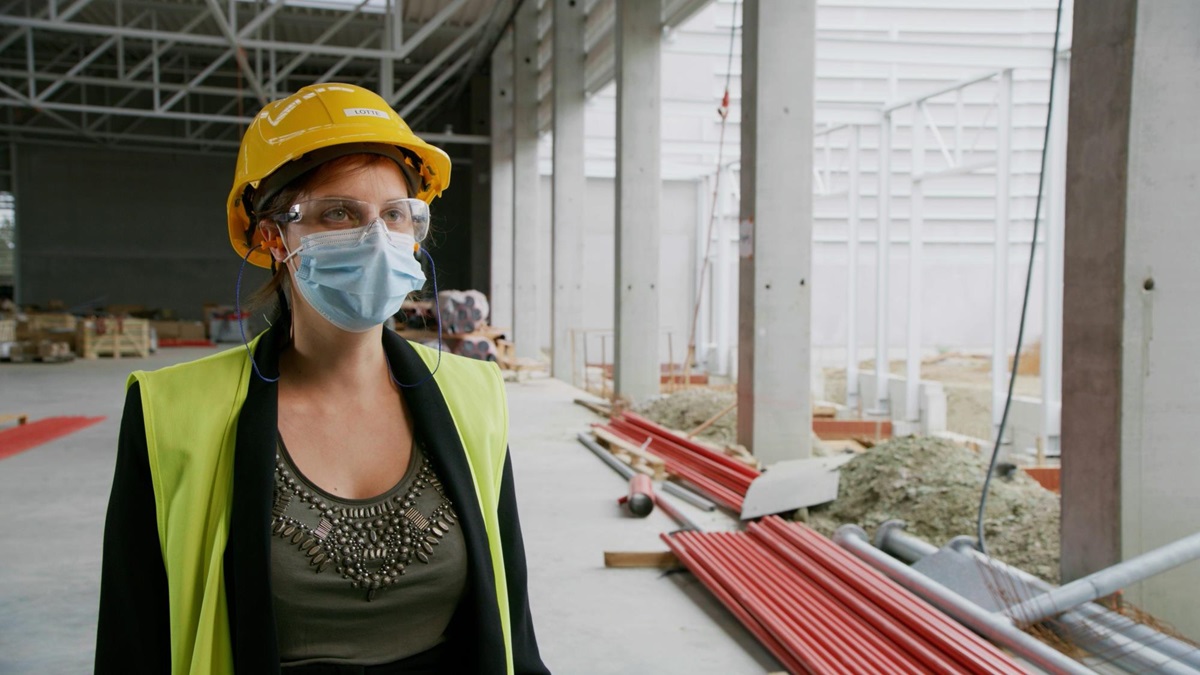 Lotte Wauts
Site Coordinator, Westerlo
"When I'm in the new buildings now and I see all the installations, I think to myself, "We did a really good job!""
"2020 was the year of truth, the year in which the new installations were started up," says Site Coordinator Lotte Wauts. "That was pretty exciting. In March the first lockdown happened. We managed to keep the yard running and in the Body hall, the lockdown even accelerated dismantling of the plant where Euro 5 cabs are made."
Lotte looks back on an eventful year with great satisfaction. "The construction of the installations in the new buildings and their start-up are moments to remember. As a site manager, I saw to it that some 200 people were given the necessary guidelines and started working as safely as possible. I think our group put some great things together. When I'm in the new buildings now and I see all the installations, I think to myself, "We did a really good job!""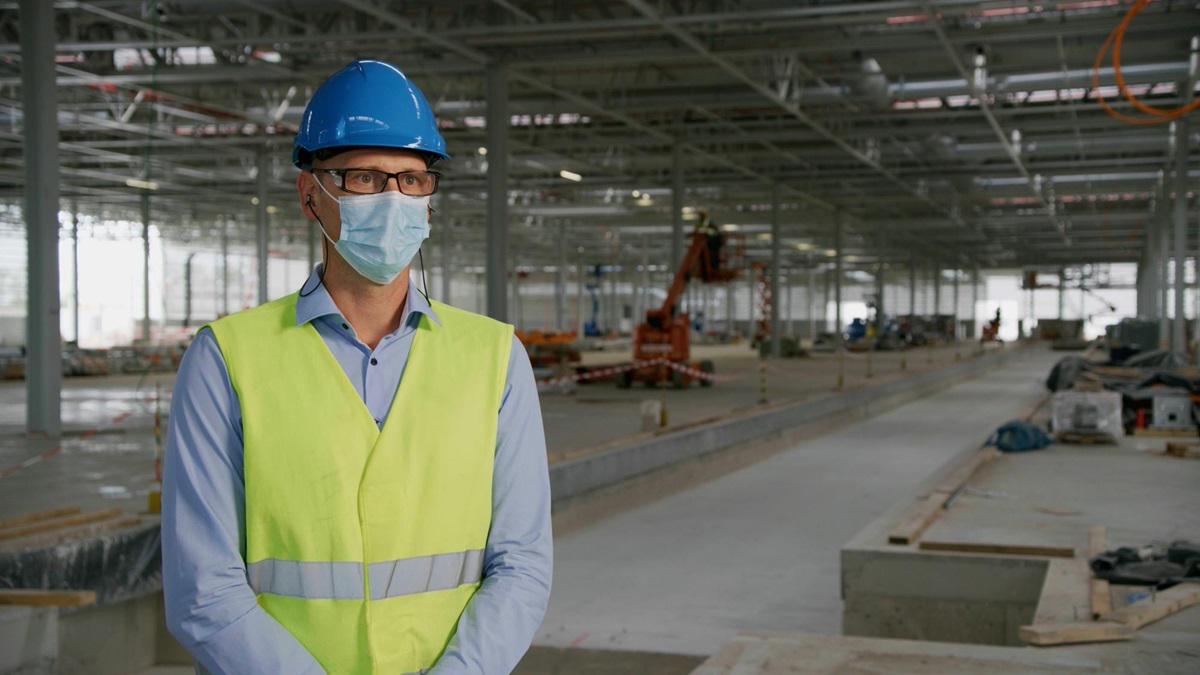 Andy Swinnen
Group Head Project Engineering Cab Factory
"The fact that we did it in the end is almost a miracle."
Rescheduling
In the new Trimming hall, the adaptability flexibility of all concerned was also tested. "All the preparations were ready and we got off to a smooth start in January," says Andy Swinnen, Group Head Project Engineering Cab Factory, looking back. The plan was to have the construction completely ready by the summer, so the installation suppliers had the building available to install their equipment. "But then coronavirus came along and the construction industry was hit hard. We were forced to review our plans completely. However, shifting the deadline was not an option.
The new plan consisted of dividing the building into zones that were ready on time and those that were not. These zones were then released to the installation suppliers one at a time, resulting in machines being built installed in one zone while concrete was still being poured in the adjacent zone and facades were being closed. We needed weeks of replanning and daily coordination to get the project back on track. The fact that we did it in the end is almost a miracle!"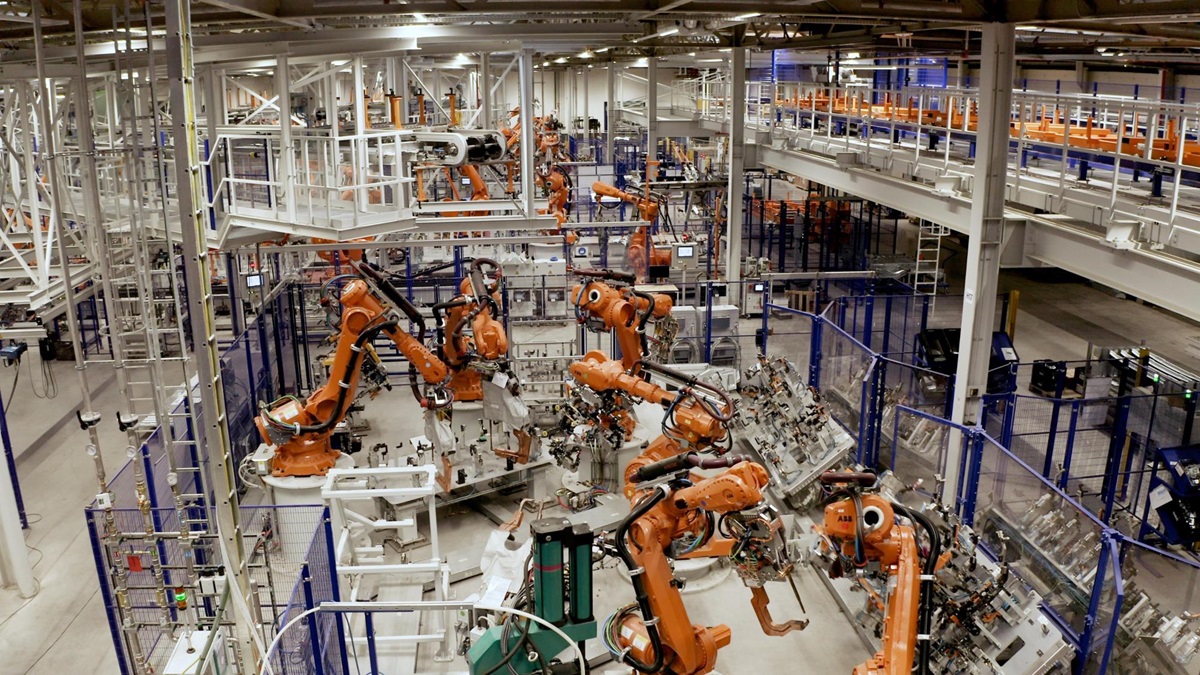 Annual Report for Employees - DAF in 2020
DAF employees contribute to the fight against corona
DAF employees made their own contributions to the fight against coronavirus in 2020. We spoke to a few of them.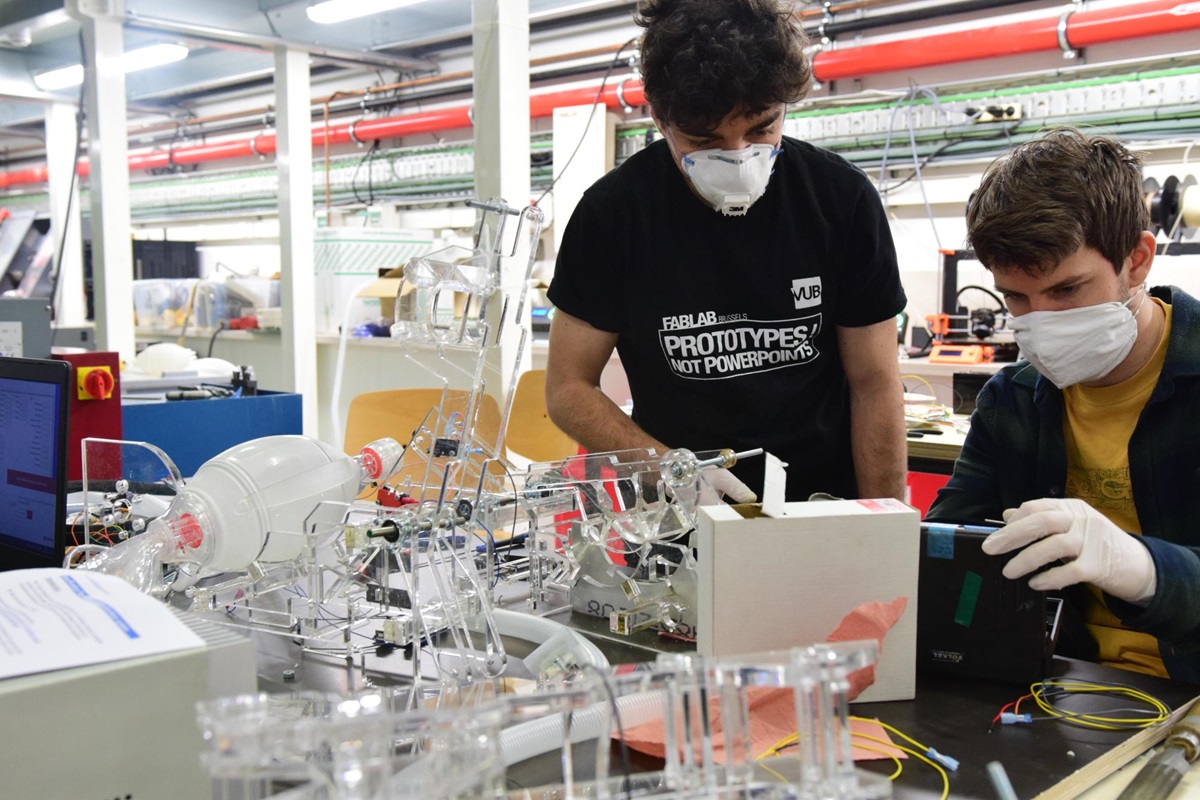 Wiper motors
When Tjeerd van Ditshuizen was asked whether DAF could help in the development of a simple breathing apparatus, he didn't hesitate for a moment. Together with Jeroen Gielen, he approached DAF management with the question of making available 1000 wiper motors as a basis for the breathing apparatus.
"The fact that we got this done so quickly is really a team effort," says a proud Tjeerd. The design for the pump was put on the internet as an 'open source', so that it can be built worldwide without patent issues. Therefore DAF Brazil was able to contribute locally by cooperating with the technical university of Paraná.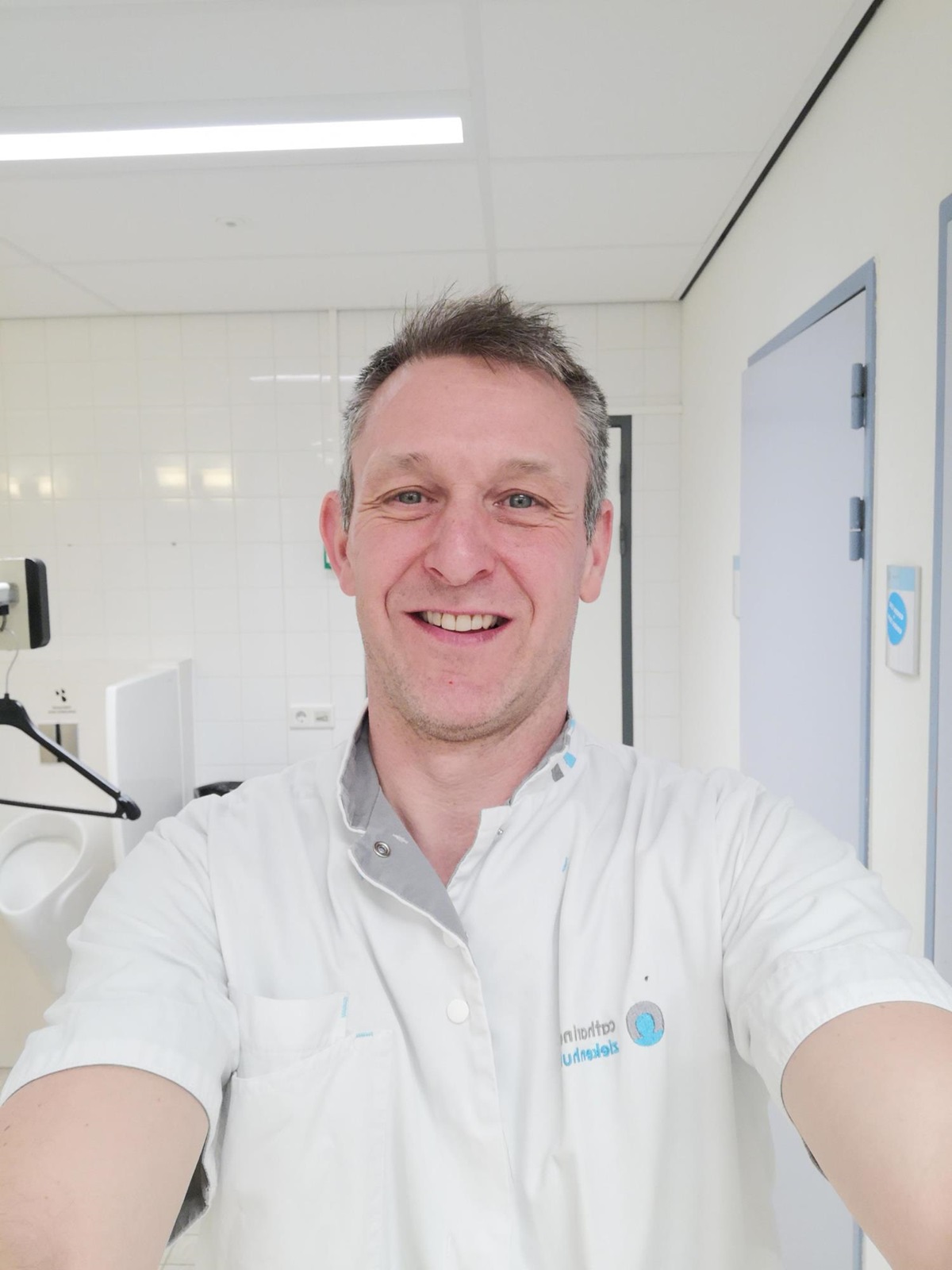 Lucien Smulders
DAF logistics employee Lucien Smulders helped the Catharina Hospital in Eindhoven with the logistics process. He collected COVID waste, wheeled out COVID beds and disposed of COVID crockery and COVID cutlery. "Sitting at home was not an option," he explains. "I'd much rather make myself useful. This is a crisis and you just have to be there."
Chris Huysmans
After a 40-year career at DAF Westerlo, Chris Huysmans became a volunteer at the test and triage centre at Geel Hospital in Belgium. "The feeling that you're really helping is very satisfying ," she says. "As far as the work itself is concerned, I can rely on my administrative and logistical experience at DAF, where I always felt myself at home."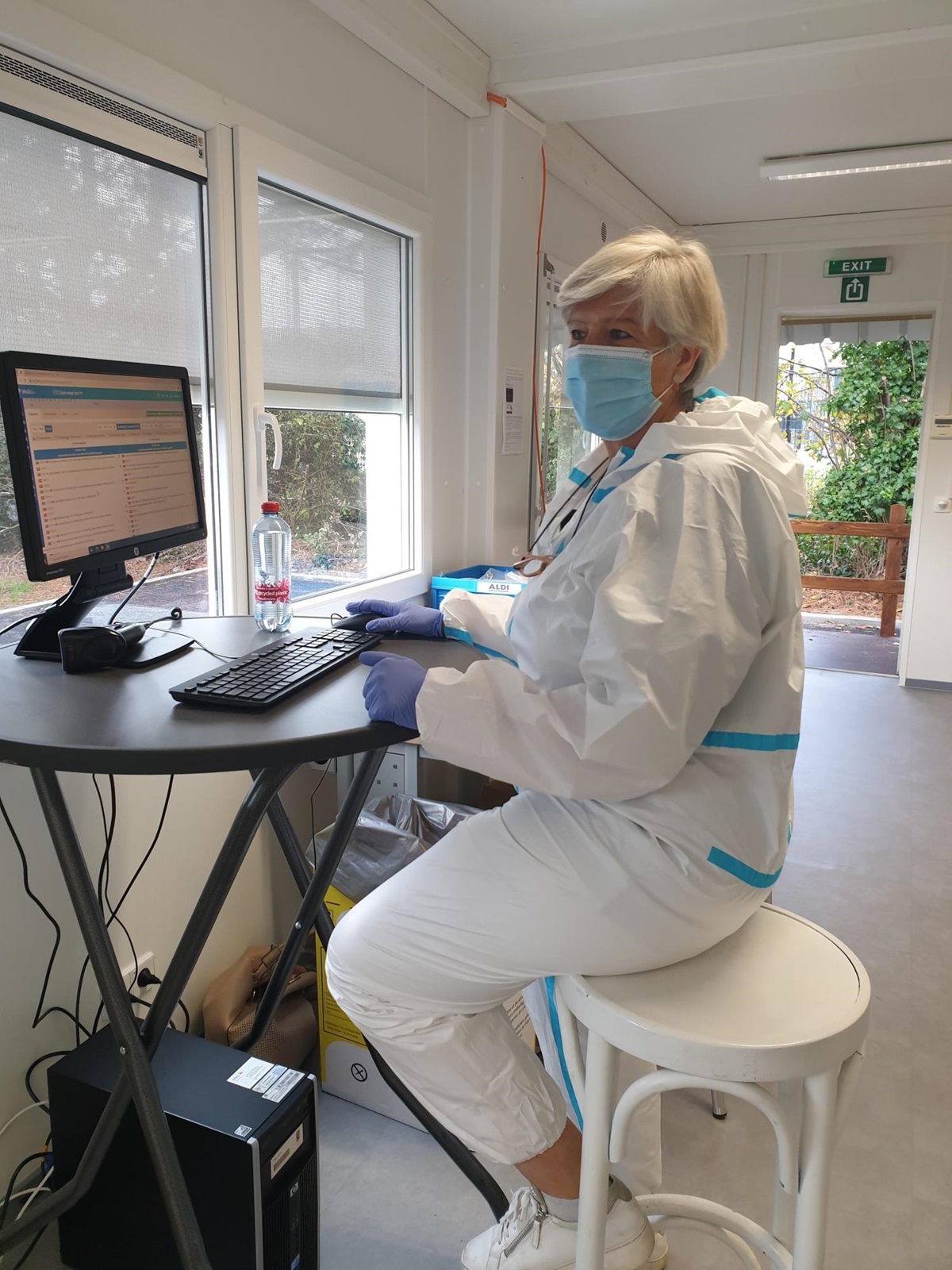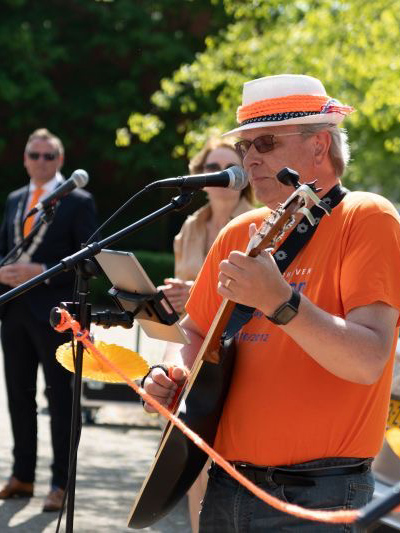 Hans van der Zande
Hans van der Zande has been playing the guitar since his teenage years. His musical skills came in handy when elderly people in nursing homes could no longer receive visits. He gave outdoor concerts for the residents which they could enjoy from behind their windows and from balconies. "I saw people dancing, waving… there were even those who did a mini-polonaise. At one of the performances I saw a couple in their nineties on their balcony, with beaming smiles on their faces. That's why you do it."
Jos Lodewijks
When Jos Lodewijks received the request to volunteer for source and contact research for the municipal health service (GGD), he did not hesitate for a moment. From home, he makes phone calls to people who are infected (known as 'index'), or who have been in contact with someone who has tested positive for the coronavirus. All conversations are stored in a GGD database. This creates a picture of where the virus is active.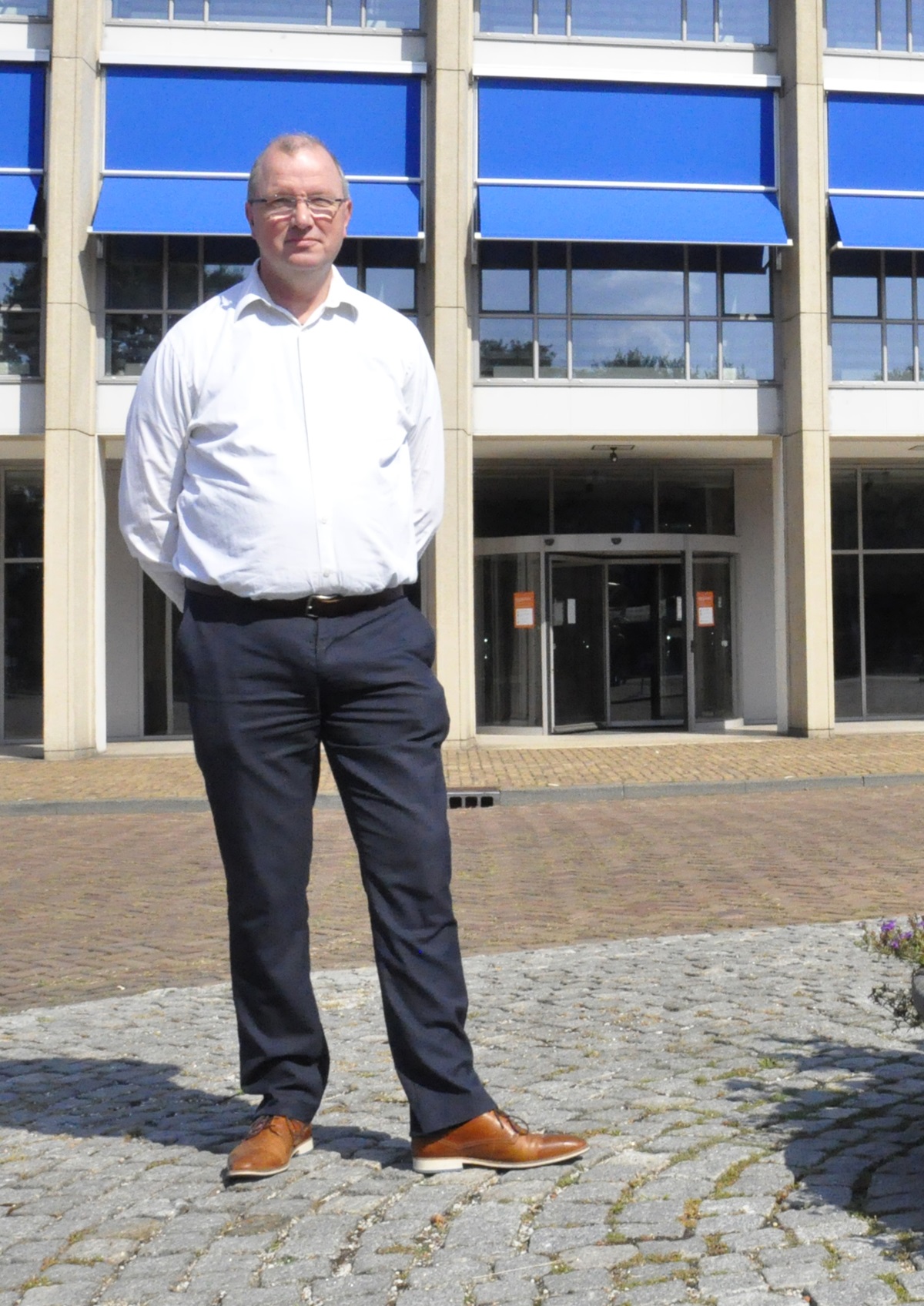 Annual Report for Employees - DAF in 2020
PACCAR IT Europe
Adapting and expanding
The qualities of flexibility and adaptability have already come up many times in this report on the extraordinary past year.
And of course that was also true of PACCAR IT Europe, where 2020 was all about adapting and above all expanding. Regular projects continued, while at the same time it was all hands on deck to make working from home possible.
Philip Bosman, IT Consultant within IT Europe Network Operations and Jerry Rodriguez, IT Security Architect within Security Operations, look back and forward. Philip: "In March we had to facilitate working from home for over 2600 employees from one day to the next. That meant more laptops, more VPN accounts and more bandwidth to manage the increased digital traffic. In addition, many more questions were received through our IT Service Desk.
Of course, we also responded to the great need for Microsoft Teams, for example by organising online user training and publishing tips and tricks through IT Services. We can be proud that we accomplished this massive job together with all departments involved. But we aren't done yet; we will continue to work to make working from home even more enjoyable!"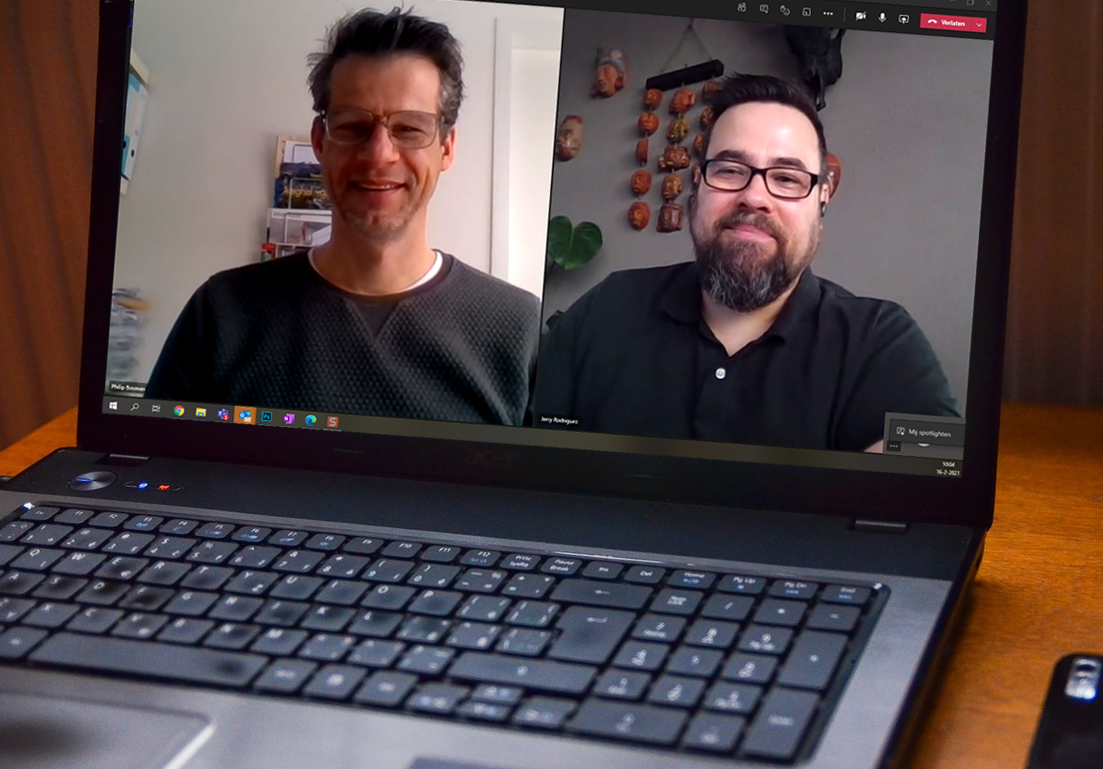 Left Philip Bosman. Right Jerry Rodriguez.
A cautious look to the future
Jerry looks ahead: "We're also looking cautiously to the future when working in the office is allowed again. Coronavirus has taught us how important it is to anticipate new situations. That's why we're already improving the connections for internet traffic, so that when we're all back in the office more, internet speed remains optimal. "So we are simultaneously working on further optimizing working from home and on improvements for when employees return to DAF."
Annual Report for Employees - DAF in 2020
Recruitment of temporary workers during coronavirus
Loes Plasmans, Randstad: "Proud of my team"
Just imagine: you and your loyal team have been responsible for recruiting and supervising temporary workers for DAF in Eindhoven, your most important customer, for years.
And then suddenly, from almost one moment to the next, coronavirus brings everything to a standstill in one huge blow.
It happened to Loes Plasmans, Principal Operational Manager of Randstad. "I remember it very well: In the afternoon of Tuesday 17 March I was informed that Westerlo would temporarily stop production on Thursday 19th," says Loes. "That could only mean one thing: the same would happen in Eindhoven. And sure enough, on Monday 23rd it was halted here too."

Uncertain
What followed was a period of uncertainty. For the 1000 temporary workers of course, but also for the Randstad team itself. "We had no idea what the prospects were," says Loes. "How long would this go on for, what would this mean for the temporary workers? Fortunately, the good news of the NOW scheme came quickly, enabling us to keep the vast majority of temporary workers on board."
Scale up
Not soon after these uncertain months, a period of scaling up followed and thus recruiting of additional temporary workers. But in a different way than usual. Loes: "We can no longer do physical tours to introduce new employees. And that's a pity, because DAF's factories are very impressive. We use videos now and show them at the on-site Randstad office, in groups of four."
Team
But Loes' team also handled these adjustments professionally and flexibly. "I'm very proud of them," she concludes. "Whatever happened, our service continued as usual. A few people worked from home, especially for back office activities. But it remained necessary to keep a number of team members on site to continue serving the permanent flexi-workers and to ensure service to DAF. Of course, with due observance of the rules. 2020 was a year I will never forget."
Annual Report for Employees - DAF in 2020
What employees have to say about 2020
"It was a very tough year"
In mid-2020, several DAF employees spoke to DAFtruckwerk about how they were experiencing the coronavirus pandemic and, above all, what their expectations were for the rest of the year. How do they look back on 2020 as a whole?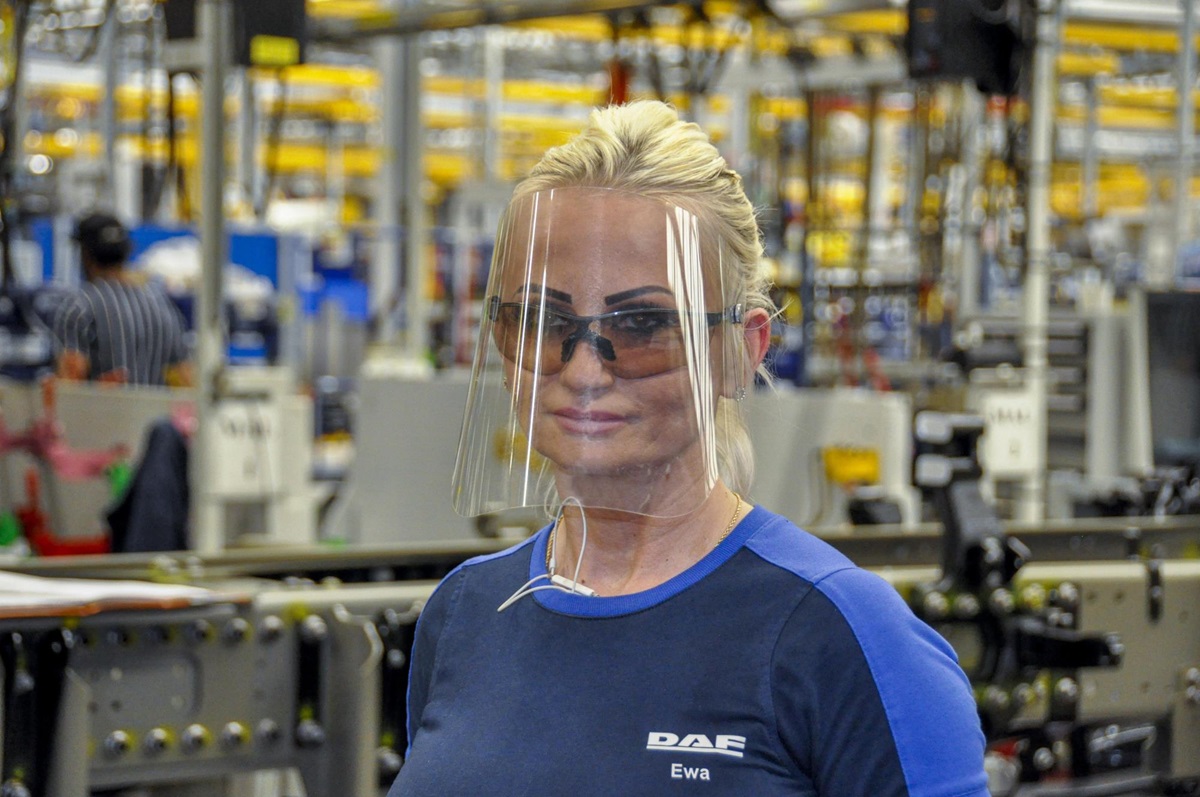 Ewa Zmuda, Team 22 Truck Factory:
"it's funny, but for me it was a really nice year. I moved from Helmond to Eindhoven in June, a dream come true! I'm really loving being in my new home." At DAF, it was a case of adjusting: "Of course, it's different from before. We work in bubbles, that is, we work with the same co-workers in the team every week. And we have to wear face masks. This makes working harder for all of us. But yes, we have to keep going."
Sammy Dillen, Body Worker Cab Factory:
"I'm lucky to be someone who can keep myself busy at home, but I have still missed the social side over the last few months. I also had to quarantine. At my grandfather's funeral in the Netherlands, I had a high-risk contact with a family member who proved to be infected. I isolated myself completely and had a coronavirus test, which was fortunately negative. The lockdown also delayed the signing of my fixed contract with DAF. My last temporary contract ended and I was out of work for a while. Fortunately, I was able to come back in September on a fixed contract."
Mario Vanlimbergen, Nurse at Westerlo:
"It was a very tough year for me. I started at DAF Westerlo on 13 January last year, after working for 23 years in the A&E department of a hospital. In addition to the completely new environment, the pandemic hit soon after I started. I had to find my way, especially in the periods during which I manned the service alone. Fortunately, since the second wave of the virus, we've had an extra person working full time on tracing. That was a relief. If a coronavirus bomb explodes somewhere, we'll now be able to spring into action quickly."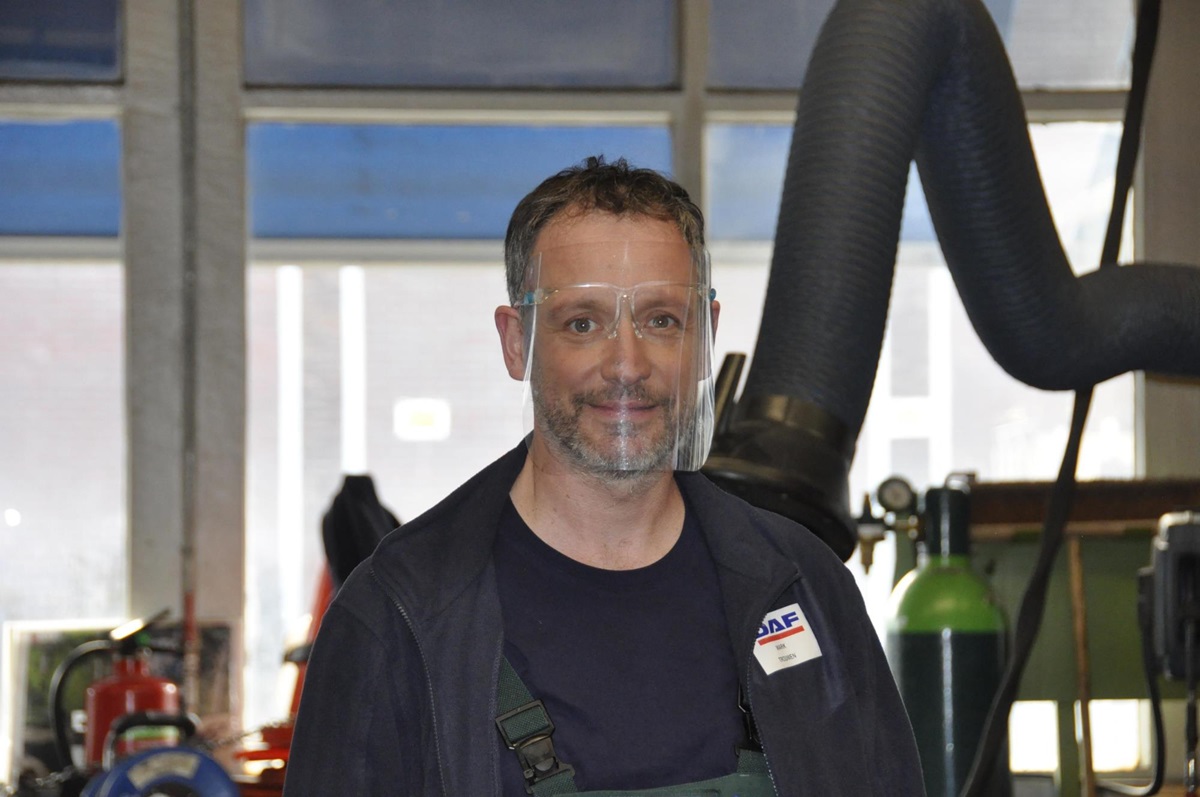 Mark Trouwen, Construction Workshop Team Leader, Sheet Component Factory:
"Last year, as always, I was involved in all kinds of projects throughout DAF. I still enjoy my work, despite the fact that in these COVID times, it's not always as comfortable with face masks, social distancing and safety glasses that mist up."
And privately? "I'm doing a Technical Business Administration course at Fontys University of Applied Sciences. Due to the coronavirus measures, I've only attended five on-site classes. For the most part, I follow it online now and like it better than I had ever thought. I've also learnt to appreciate walking regularly with my children through the forest, beautiful!"
Annual Report for Employees - DAF in 2020
Health & Safety and Well-being
Three members of the Health & Safety department look back on the year
"We'll do it together", said Rudolf de Bruijn, Director Health & Safety at PACCAR when he was asked in DAFtruckwerk in April 2020 how the coronavirus could be prevented from spreading as much as possible.
"Together we did it," he says, looking back. "But we're not there yet, we have to keep it up."
Despite the fact that 2020 was a bizarre year, Rudolf looks back on it with satisfaction. "I noticed once again that DAF is an organisation that solves problems well and quickly. When I see how quickly we were able to start producing again, putting employee health and safety first, that is something to be proud of."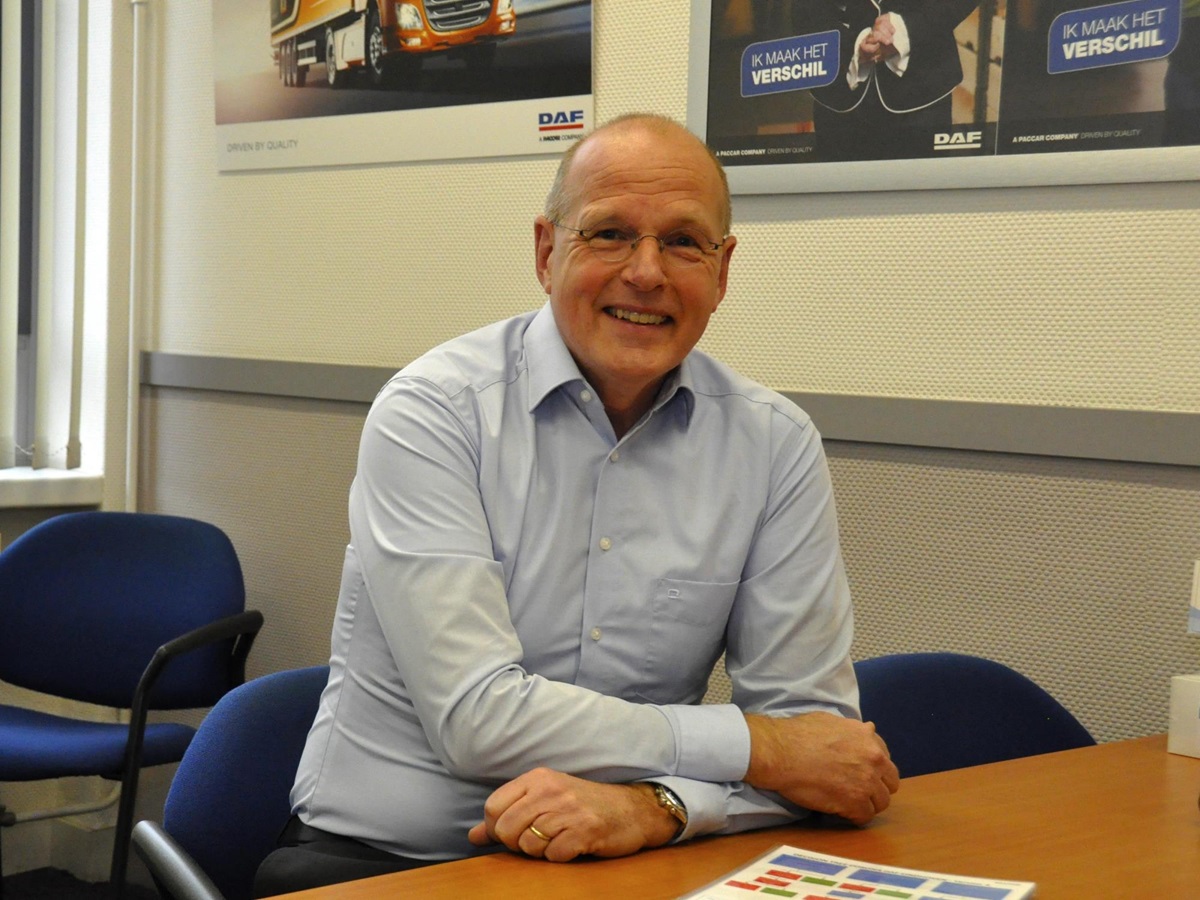 DAFtruckwerk
The biggest challenge was to keep all employees informed and take everyone into account in the measures taken by DAF. Rudolf: "DAFweb and the special internal coronavirus website played a major role in this. In addition, information sessions were held with the management to discuss the start-up in April. Presentations in the factories to answer employee questions were also important for informing employees and clearing up any uncertainties. Another good example is the special edition of our employee magazine DAFtruckwerk in April. Because this magazine is sent to home addresses, employees' family members also remained up to date."
Together
Rudolf continues: "When I say we did it together, I really mean it. Not only Health & Safety and HR, but also managers, works councils, care takers, housing and facility services. The magnitude and intensity of this cooperation is something that I haven't seen before. But everything stands or falls with how we as a team deal with all the measures. Our commitment, our ideas, but above all our discipline in complying with the rules, show that we can all successfully put our shoulders to the wheel."
Infections
Despite all the measures we took, DAF employees were nevertheless infected with the coronavirus. "Most of these infections cannot be traced back to DAF," says Rudolf. "Getting infected, and especially falling very ill, is of course very unpleasant. But when I look at the big picture, I can say that the number of people who were infected by co-workers within DAF remained extremely limited."
The future
What will 2021 bring? "On the basis of what we know now, I expect that we will certainly carry on like this at DAF until the end of spring, with all current coronavirus measures in place. So stay alert, because we're still a long way from normal. And we haven't had a break with activities like winter sports or a fun trip. As a result of the seasonal change, the number of infections is likely to decrease from May, just as it did last year. Vaccination will only produce results later, which means that a new wave of hospital admissions can be prevented in the autumn. So, keep up the good work. Hang in there and look out for each other!"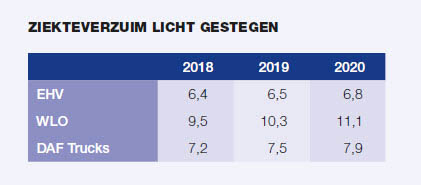 Of course, the coronavirus, or rather the COVID-19 pandemic, was the overriding theme in 2020. This also had consequences in terms of sick leave and absence from work at DAF: People who had symptoms had to stay at home, some of our colleagues had to quarantine. However, the exact impact of coronavirus is difficult to determine because other factors may also have played a role.
On the one hand, we see an increase in the number of physical – sometimes chronic – age-related ailments. On the other hand, there is also an increase in the number of employees who not only have medical problems, but also social and financial problems, for example, in the private sphere.
Health & safety and well-being: 'I make the difference' continues to make the difference
Continuous improvement is in our genes at DAF, even when it comes to safety. This involves three levels: technology, organisation and, last but not least, culture and behaviour. But even when everything is perfectly arranged, safety will ultimately depend on how everyone handles it. For example, if we pay more attention to our phones than the world around us, things can still go wrong.
In order to improve this human aspect, DAF is still running the 'I make the difference' programme. One of the most important parts of this programme is a full day's training for all production employees, both at Eindhoven and Westerlo. After getting off to a flying start with enthusiastic reactions from participants, the training sessions had to be suspended temporarily due to coronavirus. But everything is ready to start them up again as soon as the measures allow.
Better knowledge through accurate measuring
Until a few years ago, DAF took the 'accidents with absenteeism' as the most important measurement of safety: The number of accidents with absenteeism per 200,000 hours worked, or 100 man years (OSHA). However, this method also has a disadvantage: It only records figures on accidents with absenteeism, so there is no information about accidents with injuries that do not lead to absenteeism. That's why DAF started reporting the 'OSHA Recordable Cases Rate' in 2019, following the example of PACCAR.

The new method records much more information. In addition to accidents involving absenteeism, accidents that result in an employee having to work in another workplace or requiring medical treatment. This is a much better way of recording where accidents happen and how they can be prevented.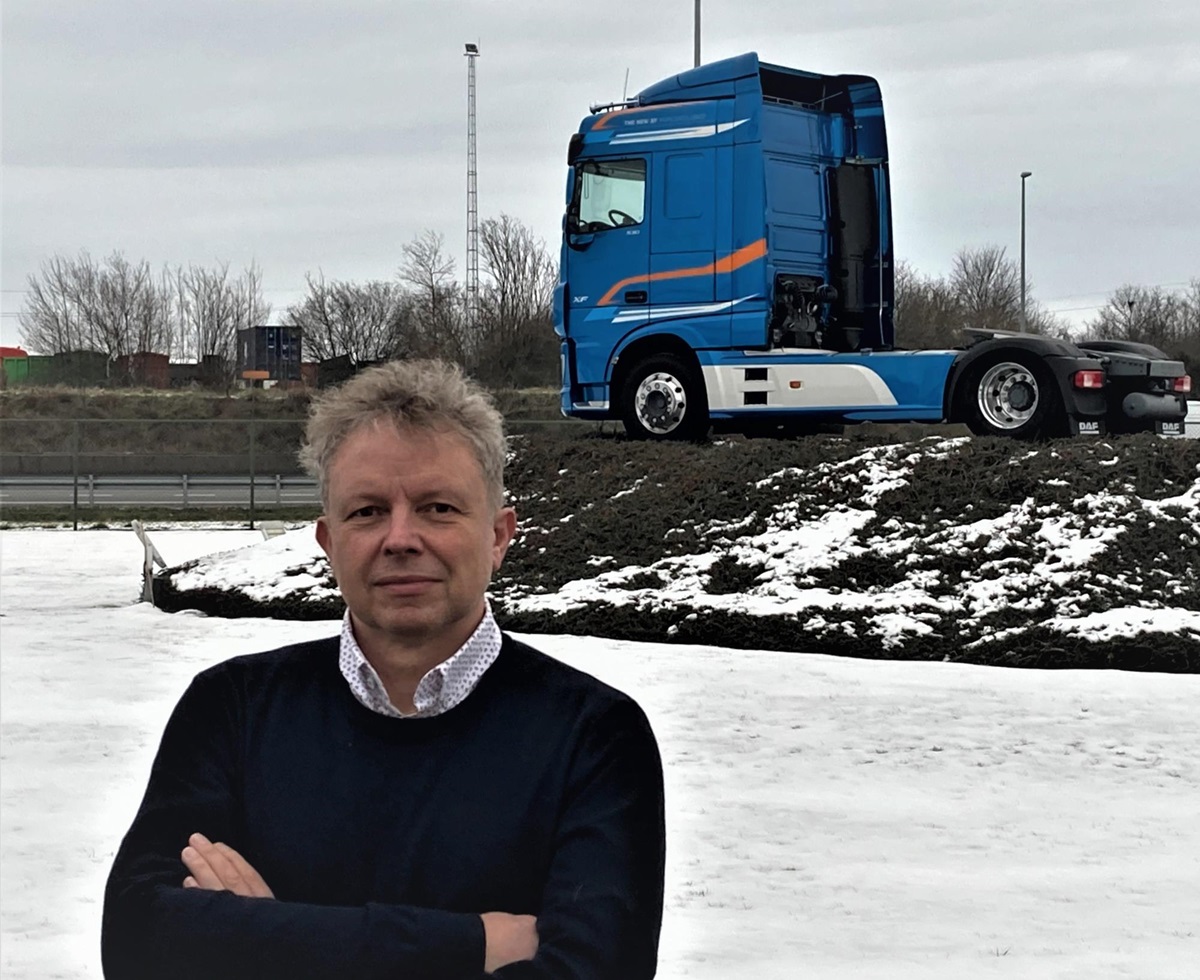 Rik Op De Beeck
Health & Safety Manager at DAF Westerlo
"We are determined to continue focusing strongly on safety in 2021, so that everyone can return home safely and healthily after work."
It's about being proactive.
In the area of safety, we often need to act proactively, to prevent situations that could cause an accident or health problems, says Rik Op De Beeck, Health & Safety Manager at DAF Westerlo.
"In Westerlo we have some good examples of integrated safety in the new body and trimming factories," he begins. "Risks are avoided by a well-thought-out installation and workplace design. A lot of attention is also paid to employee training and a large team of engineers, workers and Health & Safety staff worked on this. Great results!"
On the other hand, DAF Westerlo, despite the improved DAF accident rate in 2020, still recorded accidents in the past year that might have been avoided. "This is why we want to look further ahead and work with the entire DAF team to identify, tackle and prevent risks even more actively," says Rik. "In Westerlo, we are determined to continue focusing strongly on safety in 2021, so that everyone can return home safely and healthily after work."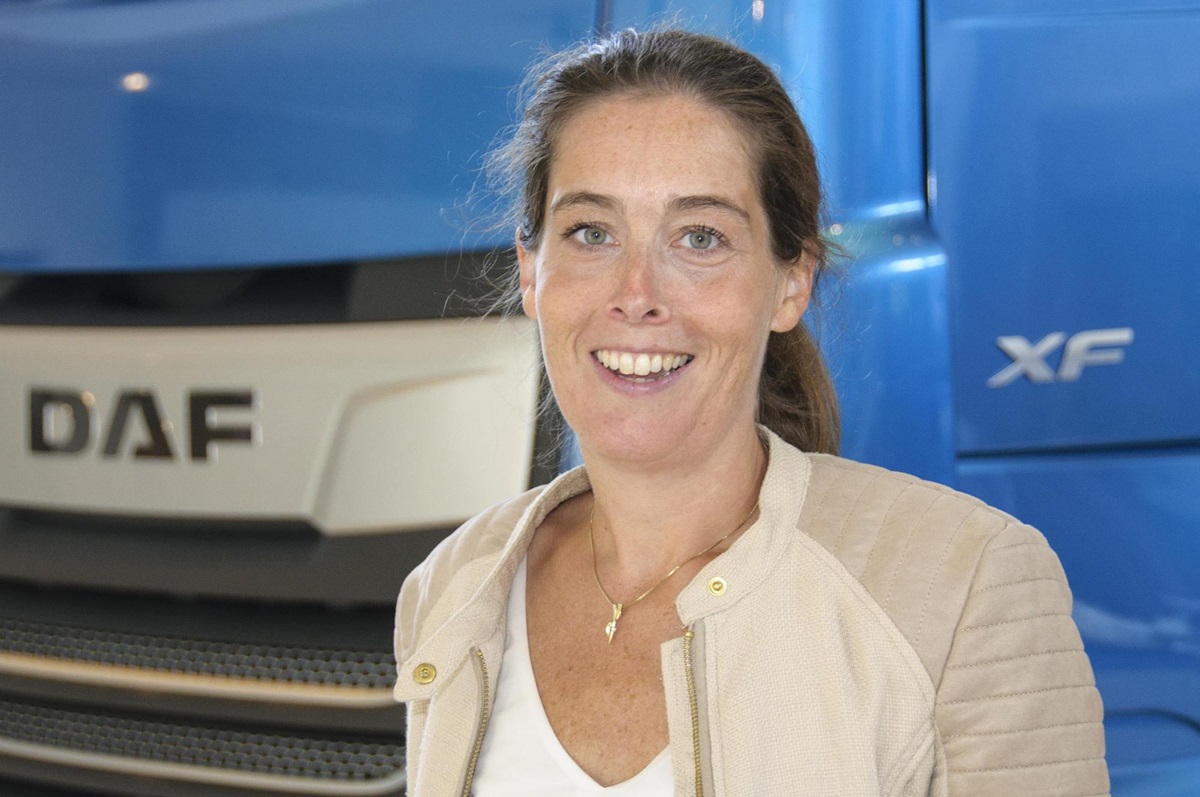 "In any case, it has become even clearer that sustainable employability is incredibly important. Being fit and healthy are the best weapons against coronavirus. The strange thing is, according to research, most people actually started living more unhealthy lives last year," says Katja.
During the course of the year, it became clear that mental stress has also increased. "People are concerned about their health or that of their neighbours. They worry about whether they can work safely at 1.5 metres. They lack social activities. For home workers, work and private life can regularly overlap and production-line employees are confronted with workplace adjustments and the continuous wearing of protective equipment. It's obvious that this can all be a strain on people's mental health. Forty percent have experienced more stress than a year ago."
Working from home has changed the way we do so many things, including for managers. "These include communication, team bonding and leadership."