We use cookies for a variety of purposes, such as website functionality and helping target our marketing activities. Some cookies are essential, others help us improve your experience by providing insights into how the site is used. For more information, please visit our Cookie Notice.

Marc Steurs with the winning team
"This is the most prestigious award within PACCAR"
"I'm incredibly proud, this is a highlight in my career"
In 2018, DAF opened a new cab paint shop in Westerlo, Belgium, one of the most modern in the world. Within PACCAR, the parent company of DAF, awards are awarded annually to honor important achievements within the organization. The most prestigious is the 'President's Innovation Award'.
This year, this award went to the new cabin paint shop and the team responsible for the design and layout of the highly advanced spray system. Together with excellent quality and efficiency, attention to the environment has been a very important point of attention in the development of DAF's new cab paint shop. Thanks to the advanced paint systems, the paint consumption has been reduced by around 30% and the emission of solvents is more than halved.

A solution was also found to reduce the inevitable overspray while spraying the cabs. The heat released from the various processes is recovered and reused for heating the baths in the pre-treatment.

"This is the most prestigious award within PACCAR," said Marc Steurs, Assistant Plant Manager. "I am incredibly proud that we were able to win this award as a team. And as an environmental coordinator at DAF Westerlo, I think it is very important that we have halved the emission of solvents and also considerably reduced the consumption of paint, despite higher production numbers. It is the next highlight in my almost 35-year career at DAF. "

Marc Steurs,
Assistant Plant Manager DAF Westerloo
Image:
The award was of course handed out in the cab paint shop. From left to right: Chris Vennekens, Andy Alenteyns, Dirk Spruyt, Erwin Nevelsteen, Stijn Claes, Guido Van der Sanden, Bert Delsard, Harry Wolters (President DAF Trucks), Patrick Mertens, Marc Steurs.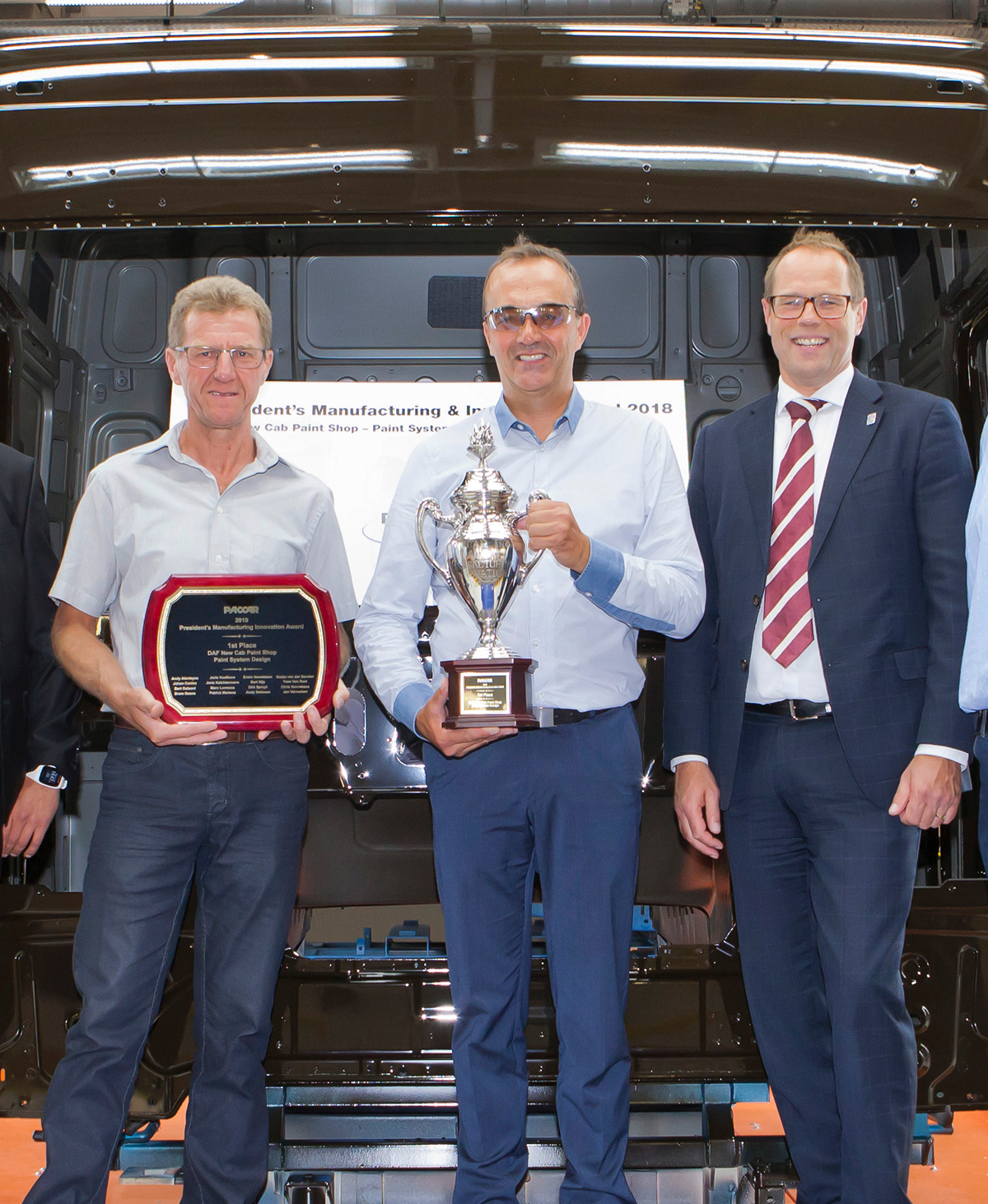 Also interesting to read: