We use cookies for a variety of purposes, such as website functionality and helping target our marketing activities. Some cookies are essential, others help us improve your experience by providing insights into how the site is used. For more information, please visit our Cookie Notice.

Jan and Dave
"The idea we had in mind, became reality"
Project 3D Online Truck Visualization
"The idea we had in mind, became reality"
Innovation and continuous improvement is what we like at DAF. In 2009, we started with the first DAF online truck configurator based on images. This was one of the first truck configurators on the internet and resulted in leads and truck being sold via internet and through our excellent DAF dealer network.
With the launch of the new DAF Euro 6 in 2012, for the first time we used CAD to create CGI (Computer Generated Images) in the new online Truck Configurator in order to show the customer not only all the trucks we had, but also some options.
In 2015 we started with the project 3D Online Truck Visualization, for which the goal was to visualize all possible truck configurations, including all options for our customers, dealers and bodybuilders and to support the further collaboration between these three parties.
The project resulted in an unique 'rendering on-the-fly' from the original CAD data from Product Development towards the dealer sales tool TOPEC, detailed information including download possibilities for the bodybuilders via our DAF BodyBuilder Information Plus website (see www.dafbbi.com) and into a unique new 3D DAF Truck Configurator for the customers. The idea we had in our mind, became reality!
The success of this project is thanks to intense cooperation and teamwork between Marketing & Sales, Product Development and ITD in Eindhoven and Leyland, supported by multiple suppliers. The cherry on the cake for the 3D OTV project was winning the Computable Award "Digital Innovation Of The Year 2018". A rightful decision, because the way we visualize our trucks is unique in the world.
Jan Feenstra Business
Project Leader of the 3D OTV project
Dave Grijseels
3D Manager and Specialist of the 3D OTV project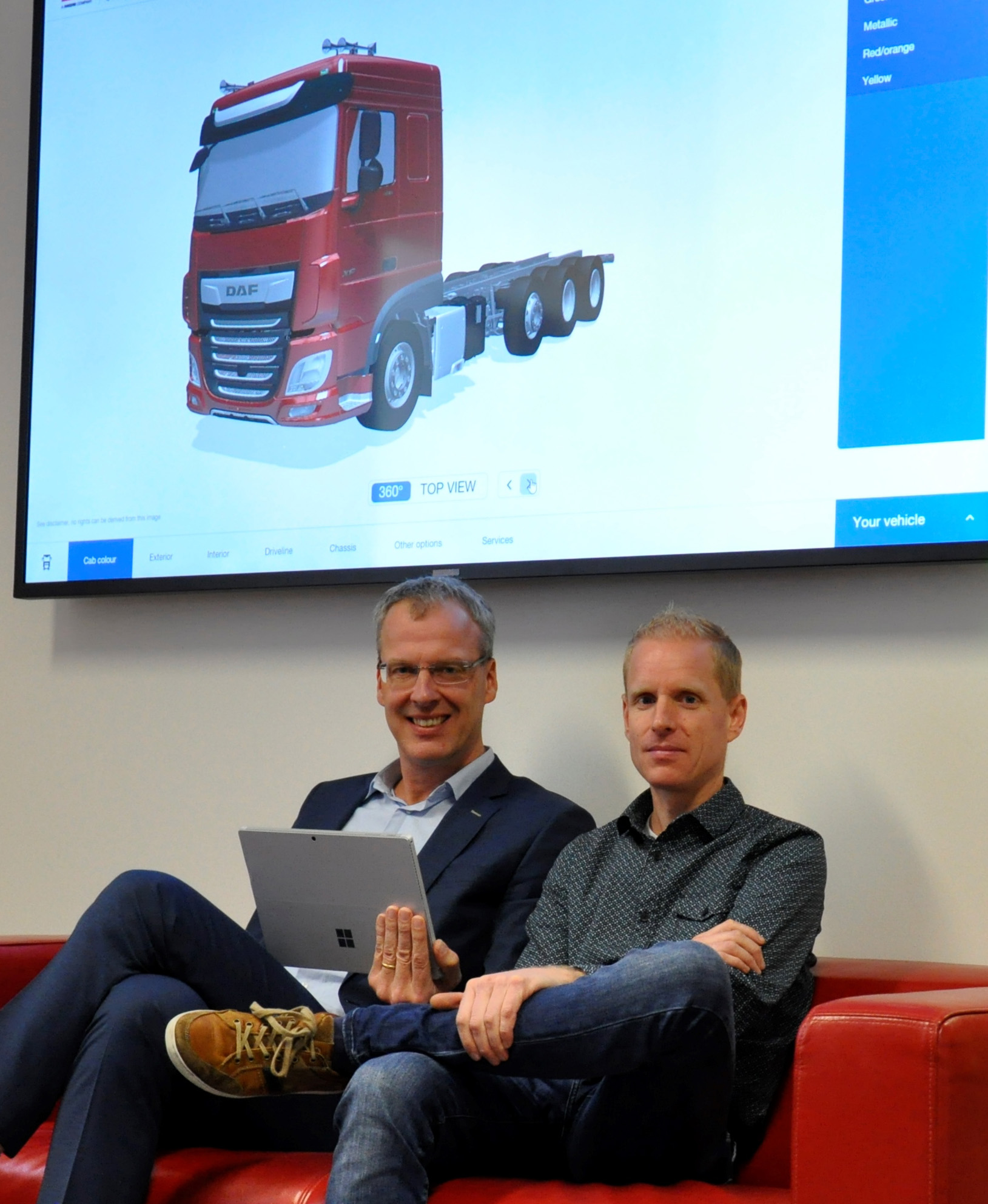 Also interesting to read: