DAF respects your privacy. We use cookies for a variety of purposes, such as website functionality, improving your experience of our website, building integration with social media and helping target marketing activities within and beyond our website. By continuing your visit on our website, you are consenting to our use of cookies. However, if you want to customize your cookie preferences, click on 'Change settings' below. You can withdraw your consent at any time. For more information, please visit our Cookie Notice.

Gudo Nijenhuis
Driver DAF XF 480 Super Space Cab
"Passion for DAF was instilled in me from a young age"
Father, Hein Nijenhuis, used to drive a DAF truck, his son Gudo has been driving this brand for over 30-years now and his 15-year-old son Jasper, is also a big fan. DAF has played a leading role within the Nijenhuis family for three generations. The passion runs deep. This becomes very clear during a conversation with an enthusiastic Gudo.
"As a little boy I seized every opportunity to ride along with my father in a DAF 2800. I recognise the sound of the engine right away, it's beautiful. Recently I was able to take a ride with an enthusiast who still has a 2800. I instantly get goosebumps when hearing the sound of the engine. And then that 'smell of the past' in the cab, a mixture of oil and diesel. For me that is pure nostalgia..."
Hein Nijenhuis had a building-materials business. Gudo: "Before I was born, that was in 1973, my father had been driving a DAF for years. The passion for DAF was therefore instilled in me from an early age. As a 14-year-old I refuelled trucks on our own property and manoeuvred them into place. I could even handle the loading cranes. There is still a video from back then that shows me serving a tray of drinks with a crane!"
As soon as Gudo received his truck driver's licence, he immediately hit the road for his father's company. That was with a DAF 2100. Currently he drives for Bleekman Beek B.V. with a DAF XF 480. "In the transport of ornamental paving, sand and gravel", says Gudo. "When I joined the company, there were no DAFs on the fleet. Some colleagues told me that I wouldn't get a DAF there either. Well, they didn't know me yet! The first DAF joined the fleet."
Gudo has had the XF 480 for two years now. It has 200,000 kilometres on the clock. He enjoys every second of driving in it. It's a sport for him to achieve maximum vehicle efficiency. "The score is currently at its highest, with 92% for anticipation and 94% for braking."
"What makes a DAF special? A DAF is always beautiful, and what I find really unique is the cab, the space and the special interior colours. I think they are really wonderful. No other brand has these colours, for most, black is the main option."
Gudo's son, Jasper, regularly rides along with his father in the XF. Gudo: "Even my daughter Marit (17) is a fan. It wouldn't surprise me if she gets her driver's licence too and keeps the family tradition alive…"
Gudo Nijenhuis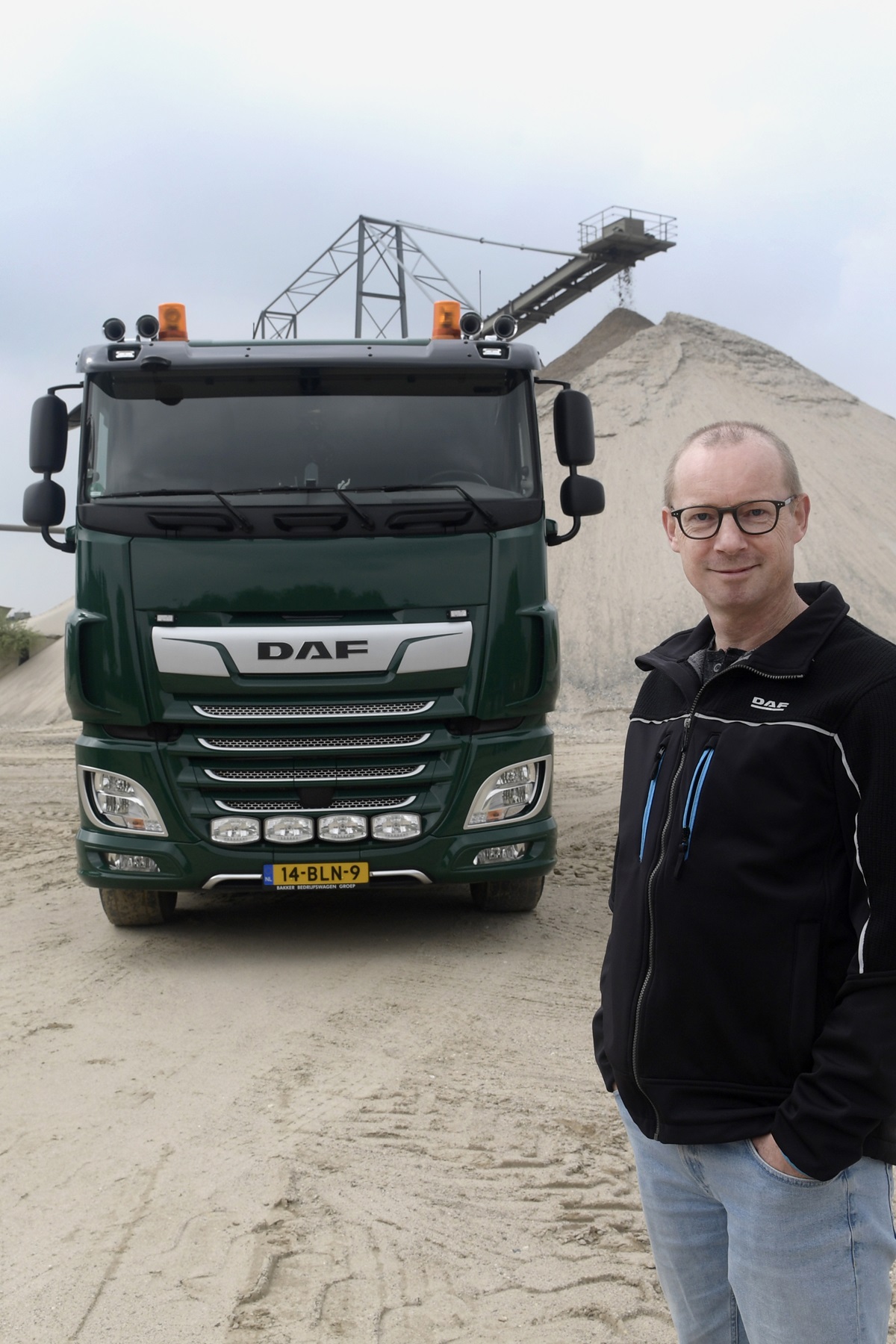 Would you like to see your story online?
Send us your DAF story and we will share your pride.

Also interesting to read: