We use cookies for a variety of purposes, such as website functionality and helping target our marketing activities. Some cookies are essential, others help us improve your experience by providing insights into how the site is used. For more information, please visit our Cookie Notice.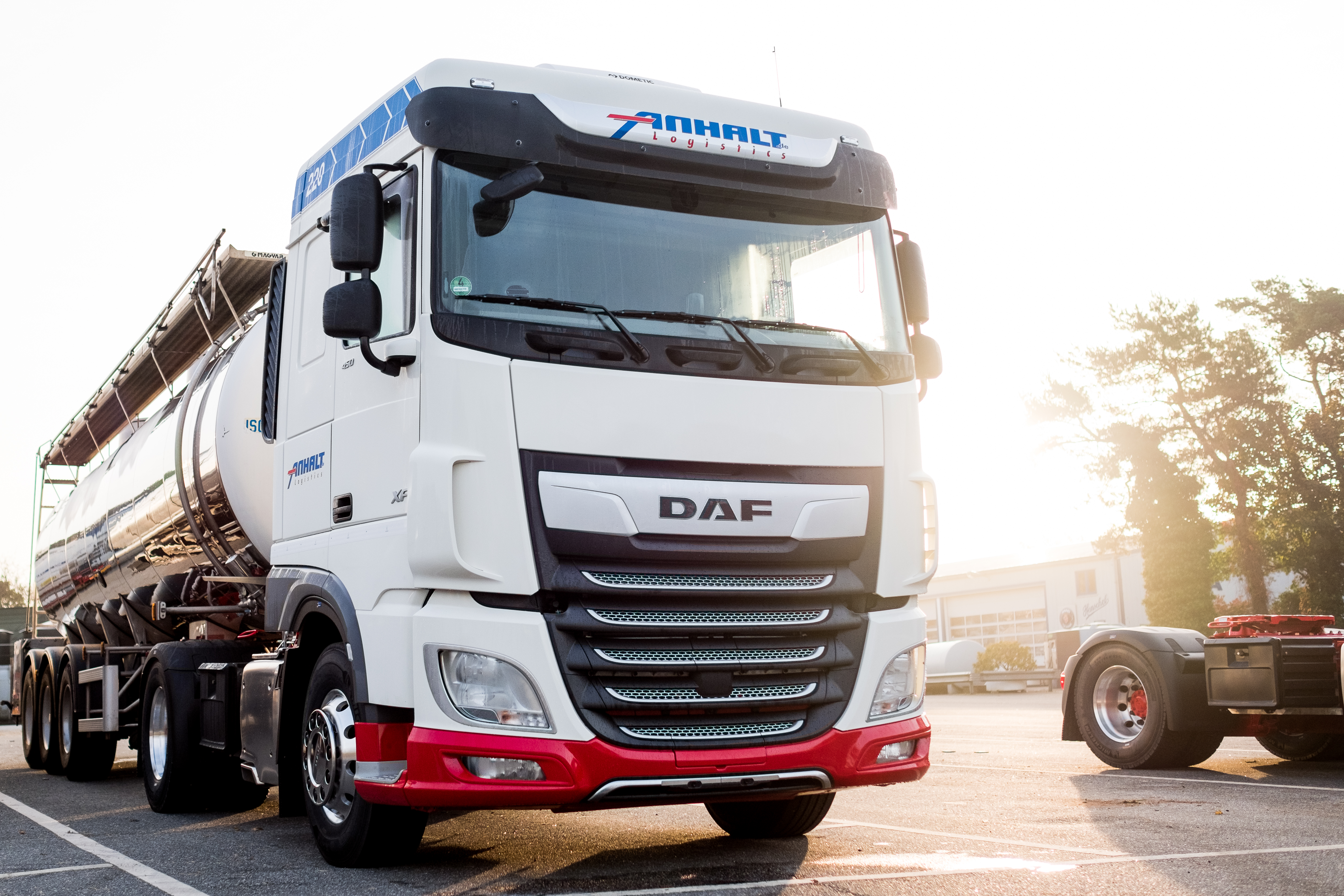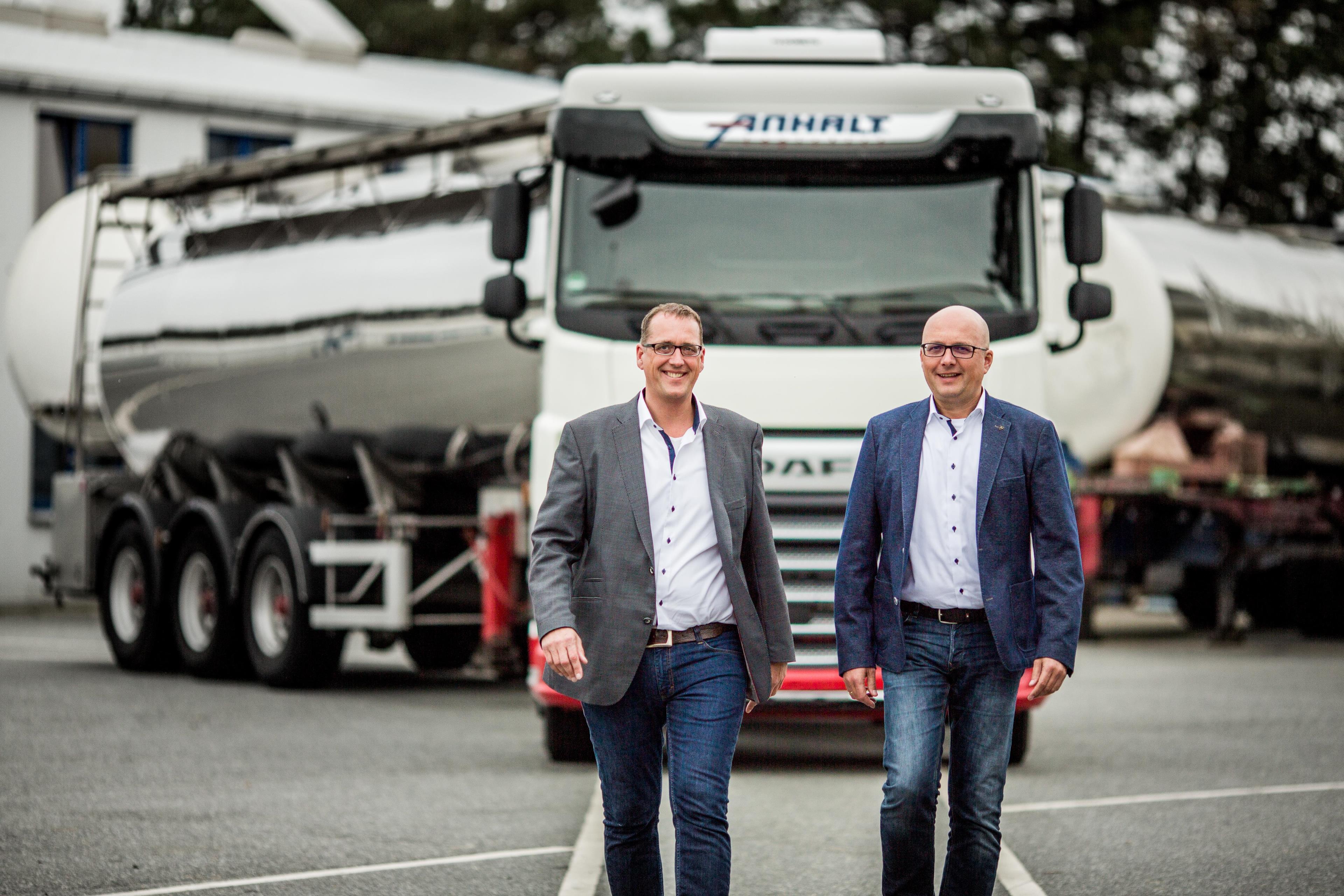 Anhalt Logistics Case proved
In its own words, liquid transport specialist Anhalt Logistics offers its customers 'liquid solutions'. The newest DAF XF generation makes an important contribution to ensuring the smooth flow of services to the firm's customers.

Instructor Ove Thomsen:
"Out of the seven different European truck manufacturers, I would always pick DAF."
When introducing the new generation of vehicles DAF promised a saving of no less than 7% on fuel consumption - a promise that was sure to grab the attention of most transport companies. Of course, such a promise would soon beg the question: is it true? At Anhalt Logistics in Germany, instructor Ove Thomsen and driver Marco Bielefeld decided to find out for themselves if the new driveline lived up to its promise. They did so by making several trips from the north of Germany to Thüringen, a route they were used to driving with another brand of truck, which consumed around 28 litres per 100 kilometers.
Low revs
"At the start we were surprised at the low RPM's in the new XF", adds Bielefeld. "It was also very unusual to discover that when going uphill the truck would reduce rpm's by itself. And then the power when it accelerated again – we were really impressed." Even more impressive in Thomsen's opinion were the figures for fuel consumption: "Less than 23 litres per 100 kilometres under the same circumstances compared to the other truck. That's a difference of 5 litres!" Bielefeld: "After three days we were used to the low revs, which incidentally also contribute to the relaxed feel of the cabin. Going up through the gears is so smooth that you sometimes don't even notice it. And the suspension is better too, as is the truck's performance on the road."
Interior
The tastefully designed interior didn't take as much getting used to. "When you step on board a DAF you want to get down to work straight away", says Bielefeld. >

"DAF knows exactly what drivers want. Everything is where you would expect it to be and within easy reach. And the sliding table is still brilliant." Bielefeld is also full of praise for the comfortable seats and the spacious bed.
New standards
Both of the directors, Heino and Thies Anhalt, are also very enthusiastic about the truck's performance. Not surprisingly, therefore, they have ordered 100 new XFs for delivery over the next twelve months. "We have been driving DAFs since the 1990s. At the time the reasons for doing so were more of a practical nature. The trucks didn't have too much in the way of electronics, they were reliable and the cabin was spacious", says Heino Anhalt. "Today, in 2017, the newest generation of XFs has developed from being a robust and uncomplicated truck into a premium vehicle that is now setting new standards in terms of technology. While at the same time retaining important qualities like robustness and reliability."
Family tradition
Appreciation of the firm's drivers is one of the cornerstones of the family tradition at Anhalt. Both directors spent the first three years of their careers at the firm out on the road and these days not a year goes by without them taking at least one long trip that has them behind the wheel for several days. "That gives us a better idea of our customers' needs, as well as a chance to see the kinds of challenges our drivers have to face", says Heino Anhalt. >
In the day-to-day running of affairs, Anhalt Logistics does all it can to keep its drivers happy. "They can drive to Sweden or Spain if they wish, or work shorter routes so that they can return home each night", according to Thies Anhalt. "All they have to do is ask."
Full range of services
Anhalt Logistics offers a full range of services to its customers. In addition to the transport of chemicals and foodstuffs, the firm's maintenance and rental activities have also become very important. "Around 25 per cent of the fleet, including the drivers, is chartered out to other companies", explains Thies Anhalt. "Our drivers have to have two hearts. One for the Anhalt team and all the benefits that accrue from being an employee, and one for our customers and their products with whom they need to be able to identify, too."
White
The charter vehicles can be identified by their white colour and subtle Anhalt logo. The customer can add their own brand name too if he wishes. At the company premises in Rehde Flehden-Bargen, the two white DAF XFs from the new series are the first to catch the eye, with the rest of the fleet painted in the more familiar Anhalt metallic blue. Far more important than the colours, however, are the intrinsic qualities of the company, its drivers and the vehicles. Qualities they will never need to worry about at Anhalt Logistics. ■

Also interesting to read: